Trump Says He's the Only Person Who Likes Cucumbers
President Donald Trump told a crowd of supporters in south Georgia, "I like cucumbers! I'm the only one."
During his first political rally since losing the presidential election, an attempt to boost Republican senatorial candidates ahead of crucial runoff elections in the state next month, Trump reaffirmed his support for Kelly Loeffler and David Perdue, whose January 5 contests with Democrats Jon Ossoff and Raphael Warnock will ultimately determine whether or not Republicans retain control over the U.S. Senate.
If both Democrats win, both parties would hold the same number of seats in the Upper Chamber, with Vice President-elect Kamala Harris holding a deciding vote.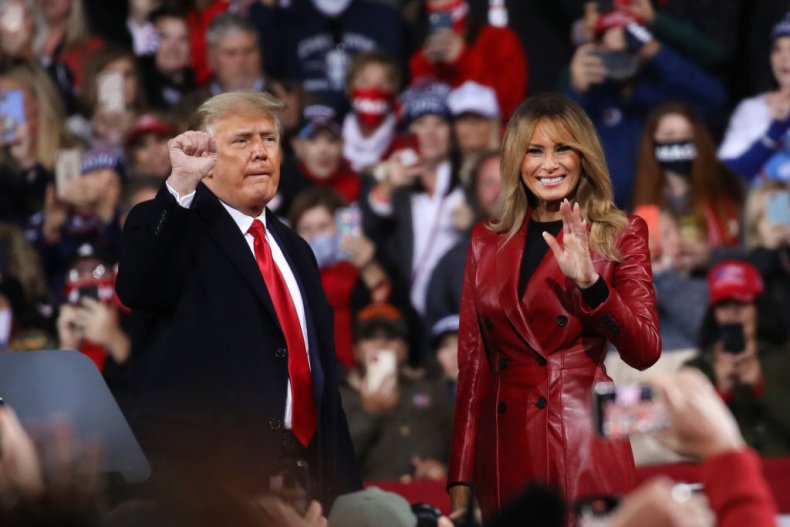 Addressing a crowd of mostly maskless and non-socially distanced supporters in Valdosta on Saturday, Trump said: "At the urging of Kelly and David, my administration took historic action to protect growers of Georgia blueberries, peppers, squash and cucumbers.
"Who does cucumbers around here? 'Cause I like cucumbers! I'm the only one. I like cucumbers."
Vegetable growing is big business in Georgia.
According to the state's Department of Agriculture their production is worth about $1.15 billion every year. Cucumbers are the fifth most most valuable crop for state farmers, contributing $70 million.
Trump returned to the state for his latest rally despite Joe Biden having become the first Democratic candidate to win Georgia in a presidential election since 1992.
The president has refused to concede to President-elect Biden and has repeatedly made unsubstantiated claims of voter fraud. Ahead of the rally, Trump called on Georgia's governor to help overturn Biden's victory in the state.
Earlier that morning, the president reportedly called Republican Brian Kemp and urged him to push Georgia lawmakers to overturn Biden's win. He also asked the Republican for an audit of mail-in ballot signatures. Kemp declined.
In a tweet addressing their call, the governor said he had already publicly supported a signature audit and does not possess the power to demand it.
Latest on the Georgia runoffs
Both the Republican and Democratic parties have invested huge funds into their candidates' campaigns ahead of the runoffs in Georgia.
The four campaigns have spent more than $189 million on election advertising between early November and early December, according to data from advertising tracking company AdImpact.
Latest polls suggest close contests.
According to a WXIA-TV poll released on Thursday, Democrat Reverend Raphael Warnock leads Republican Senator Loeffler by seven points, 52 percent to 45 percent respectively.
the same poll suggests that Democratic challenger Jon Ossoff also leads Republican Senator Perdue. That lead was even more slender at just two points, with 50% and 48% respectively, which is within the polls' margin of error.