Trump Says Russia-Ukraine Tensions 'Would Never Have Happened' Under His Presidency
Former President Donald Trump said Monday that the rising tensions between Russia and Ukraine would not have occurred while he was in office, but he didn't say how he would have handled the situation differently.
"What's happening with Russia and Ukraine would never have happened under the Trump Administration. Not even a possibility!" the former president said in a statement posted on Twitter by his spokesperson Liz Harrington.
Trump's remarks come after Russia recently told the U.S. to stop providing military aid to Ukraine, warning it had "almost completed" assembling 127,000 troops at the Ukrainian border.
The Russian Embassy in Washington said if the U.S. was "truly committed to diplomatic efforts to resolve the internal Ukrainian conflict" it would "abandon plans to supply new batches of weapons for the Armed Forces of Ukraine."
On Monday, Pentagon press secretary John Kirby said that Defense Secretary Lloyd Austin has placed military units in the U.S. in a state of "heightened preparedness" for possible deployment in Eastern Europe.
Up to 8,500 troops will be ready to move if NATO activates its Response Force team (NRF). The troops are prepared to be deployed in a short time frame.
"In the event of NATO's activation of the NRF or a deteriorating security environment, the United States would be in a position to rapidly deploy additional brigade combat teams, logistics, medical, aviation, intelligence, surveillance and reconnaissance, transportation and additional capabilities into Europe," Kirby said.
He confirmed that there are no deployment orders at the moment, but the U.S. readiness to deploy troops helps protect Ukraine because "it sends a very clear signal to Mr. Putin that we take our responsibilities to NATO seriously and we are also working inside the international community to implement severe consequences for Mr. Putin."
A number of lawmakers and officials have said the U.S. should mount a strong response to Russia's actions. On Sunday, Senator Joni Ernst said that with the "very little pushback" from the U.S. and NATO, Russian President Vladimir Putin might move into other Eastern European countries if his country invades Ukraine.
She urged using strong sanctions, including those that target the Nord Stream 2 gas pipeline between Russia and Germany and banning Russia from the SWIFT financial system.
Senator Mitt Romney made similar comments earlier this month when he said that the U.S. should back an insurgency in Ukraine in case of a Russian invasion.
The Utah Republican said that the U.S. should make sure that Putin "doesn't have the Nord Stream 2 pipeline," which bypasses Ukraine and provides "extraordinary wealth" to Putin and Russia.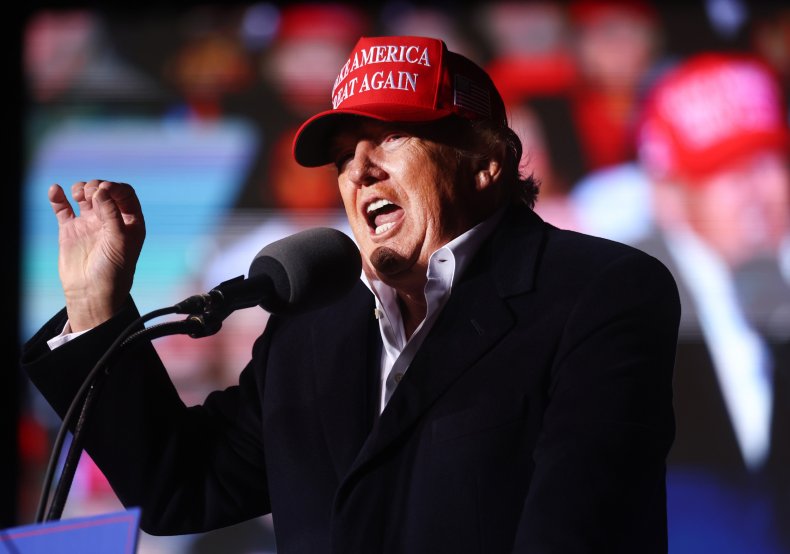 During a Sunday interview on Meet the Press, Secretary of State Antony Blinken said that the U.S. is "not sitting still" as it participates in diplomacy and dialogue with Russia.
"We are building up defense, we're building up deterrence. We have now provided to Ukraine more security assistance this year than in any previous year. We've rallied allies and partners around the world. We are preparing massive consequences for Russia if it invades Ukraine again," he said.
Newsweek contacted Trump's office for further information and comment but did not hear back before publication.
Update 01/24/2022, 5:10 p.m. ET: This story was updated with comments from Pentagon press secretary John Kirby, as well as Mitt Romney's comments for earlier this month.