Donald Trump Says He Understands Spanish Better Than English Translation in Argentina
President Donald Trump apparently struggled to understand the English-language translation of his Argentine counterpart's Spanish words on the sidelines of the G20 summit in Buenos Aires.
Following Argentine President Mauricio Macri's remarks Friday at a news conference at Macri's Casa Rosada residence, Trump shook the South American leader's hand before quipping, "I think I understood you better in your language than I did on this, but that's OK." Trump then dropped his earpiece on the floor and began his own comments, in which he discussed the leaders' shared history of family business during the U.S. president's "civilian days" and of which he had "fond memories."
"We're going to be talking about lots of good things for Argentina, for the United States, including trade, including military purchases, and other things. But we have a lot to talk about—a little bit of old times; about 95 percent business, I would say," Trump said.
"But this is a great honor to be with you. You're my friend, longtime. Great family. And you're doing a fantastic job, and I want to congratulate you," he added.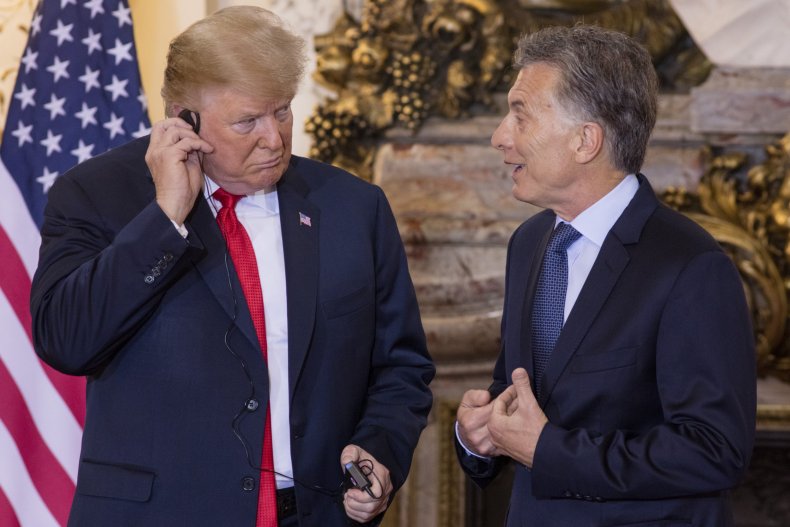 This was not the first instance of apparent mixed messages during Trump's appearance Friday. Describing Trump and Macri's closed-door meeting, White House press secretary Sarah Huckabee Sanders claimed that "the two leaders reiterated their shared commitment to face regional challenges such as Venezuela and China's predatory economic activity."
The harsh language toward China, with which the United States is engaged in a trade war, reportedly startled Argentine Foreign Minister Jorge Faurie, who clarified that he did "not think there was a reference in those terms." Beijing has invested in Buenos Aires as part of Chinese President Xi Jinping's global One Belt, One Road initiative, a project that has stirred major concerns in Washington, which feels its own worldwide financial interests threatened.
Still, the two men appeared in good spirits, despite the fact that Trump been haunted by the "Trump Baby" balloon, which has followed him on his latest international visit. The inflatable protest prop made its debut during Trump's visit to the United Kingdom last year and was spotted again earlier this month in France, where Trump traveled during the World War I centennial memorial.
Friday's translation gaffe came on the heels of another linguistic controversy for the Trump administration. Grilled by reporters on why he did not listen to a tape that allegedly recorded the death of Saudi journalist Jamal Khashoggi at Riyadh's consulate in Istanbul, White House national security adviser John Bolton snapped back, arguing he would not learn from it because he did not speak the language.
"No, I haven't listened to it. Why do you think I should? What do you think I'll learn from it?" Bolton told reporters Tuesday. "Unless you speak Arabic, what are you going to get from it?"
He added: "I don't speak Arabic."