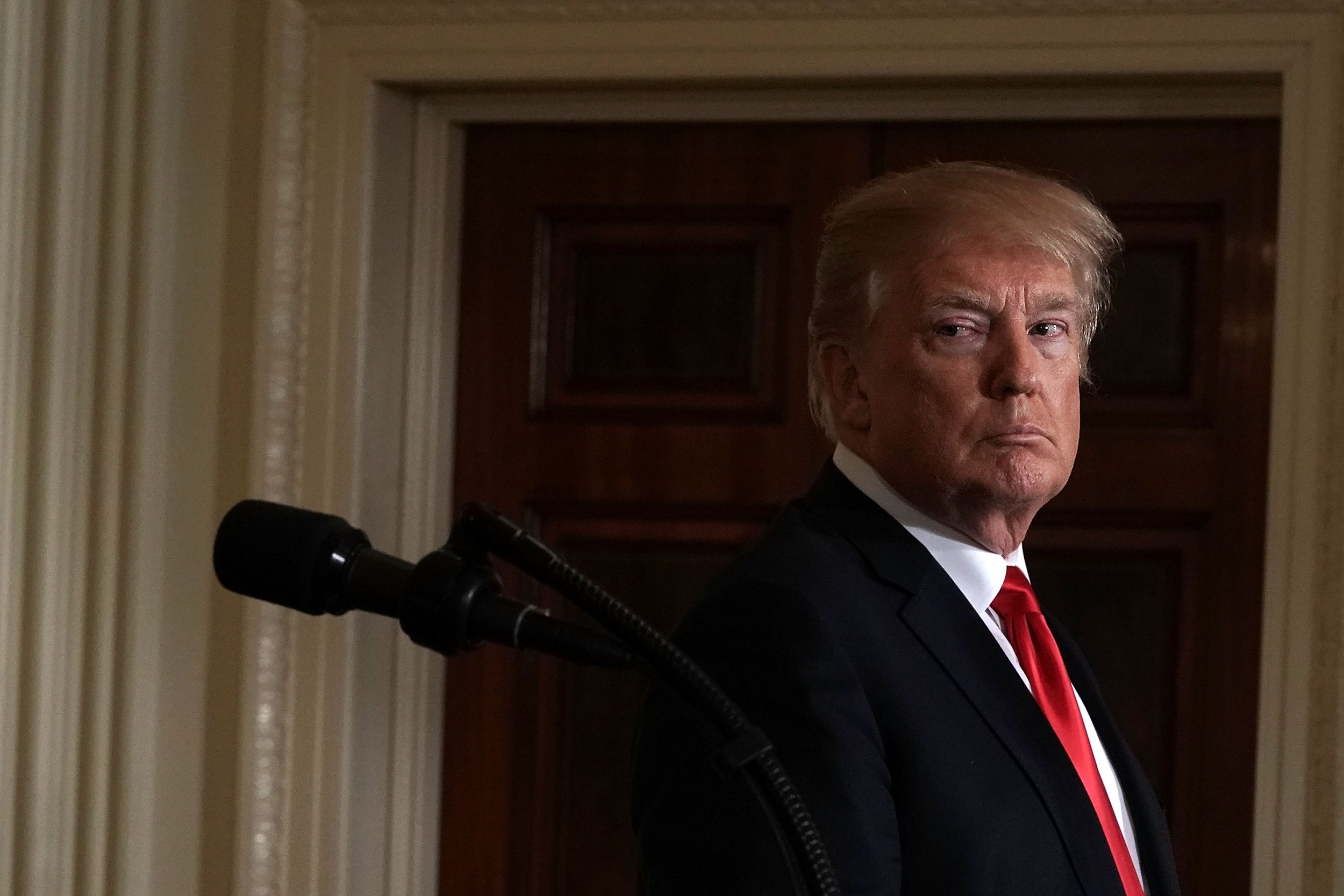 Updated | President Donald Trump said Monday he believed he would run into an active school shooting "even if I didn't have a weapon."
The president was speaking in the aftermath the high school shooting in Parkland, Florida, in which 17 people were killed and more than a dozen injured. It was later revealed that multiple sheriff's deputies remained outside Marjory Stoneman Douglas High School while the shooting went on inside.
"I really believe I'd run in there even if I didn't have a weapon," the Associated Press reported Trump as saying during a meeting with governors Monday.
The comment was far from the first time Trump has criticized Broward County deputies. On Friday, the president said that one of the deputies who decided not to run into the building lacked the "courage" to perform the duties his job required and that he either "didn't react properly under pressure or they were a coward."
Amid increasing pressure on his office and his position, Broward County Sheriff Scott Israel has confirmed that an investigation will be conducted into why personnel remained outside the school.
Following the shooting, Trump has called for up to 40 percent of teachers to be armed with guns as a potential way to prevent further school shootings. The suggestion has been met by a sharp pushback from educators, while even Trump's fellow Republicans, like Senator Marco Rubio, have not endorsed the idea.
At the gathering of governors at the White House, Jay Inslee, the Democratic governor of Washington, said that "educators need to educate."
In a further rebuke of Trump, he added, "I would suggest we need a little less tweeting right now and a little more listening."
Trump's suggestion that he would run into a school shooting unarmed was met with similar criticism on social media. On Twitter, several users noted Trump's five draft deferments during the Vietnam War, one of which was for bone spurs in his heels.
In his speech to the governors, Trump revealed that he had lunch over the weekend with the National Rifle Association's (NRA) chief executive and top lobbyist. He claimed that the powerful lobbying group would not be an impediment to efforts to prevent mass shootings.
"Don't worry about the NRA," they're "on our side," Trump said. "But sometimes we're going to have to be very tough, and we're going to have to fight them."
This story has been updated to include further comments from Monday's meeting between the president and governors.