Trump Second Term Would Be 'Existential Threat to Democracy,' Says Former Admin Member
A former top-level intelligence official in the Trump administration warned that the re-election of the former Republican president would be an "existential threat" to the nation.
Brian Murphy served as acting Under Secretary of Homeland Security for Intelligence and Analysis from March 2018 until July 2020, while former President Donald Trump was in the White House. During a Sunday interview with ABC News' This Week, Murphy discussed the possibility of Trump becoming president again after the 2024 election.
"I think it would be a disaster. I think he has denigrated...the intelligence community," Murphy said. "He puts out disinformation—and that's an existential threat to democracy. And he is one of the best at putting it out and hurting this country."
Murphy described disinformation as a "slow-moving threat" and a "deliberative campaign to put out false information, often for nefarious reasons."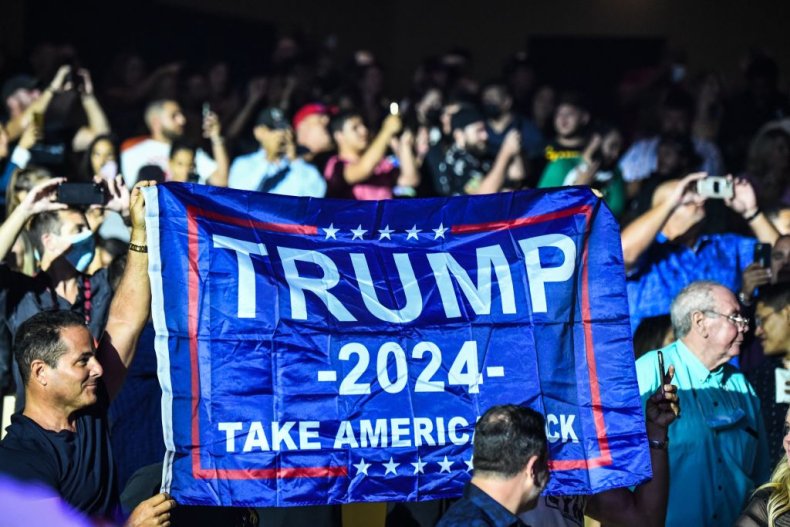 Newsweek reached out to Trump's press office for comment but did not immediately receive a response.
Murphy was critical of Trump administration activities during his tenure at the Department of Homeland Security. Early in 2020 he filed internal complaints with the Office of the Director of National Intelligence, alleging that Russian disinformation was being mishandled. He also filed a whistleblower complaint in September 2020, alleging misconduct by top Homeland Security officials.
In his September complaint, Murphy alleged that he was told to "specifically modify the section on White Supremacy in a manner that made the threat appear less severe, as well as include information on the prominence of violent 'left-wing' groups." Those instructions allegedly came after acting Homeland Security Secretary Chad Wolf and Deputy Secretary Ken Cuccinelli reviewed Murphy's initial report and raised concerns "regarding how the HTA would reflect upon President Trump."
Whether Trump runs for re-election in 2024 remains to be seen, but the former president and several of his close associates have repeatedly suggested that he will. In early September, Trump's former senior adviser Jason Miller told Cheddar News that it was "pretty clear" he would run in the next presidential election.
"I would say somewhere between 99 and 100 percent," Miller responded when asked about the likelihood of a Trump 2024 campaign.
During an interview with right-wing channel Newsmax in August, Trump didn't give a straight answer but suggested another presidential run is in the cards. "I think a lot of people are going to be very happy," the former president responded when asked about his 2024 plans.