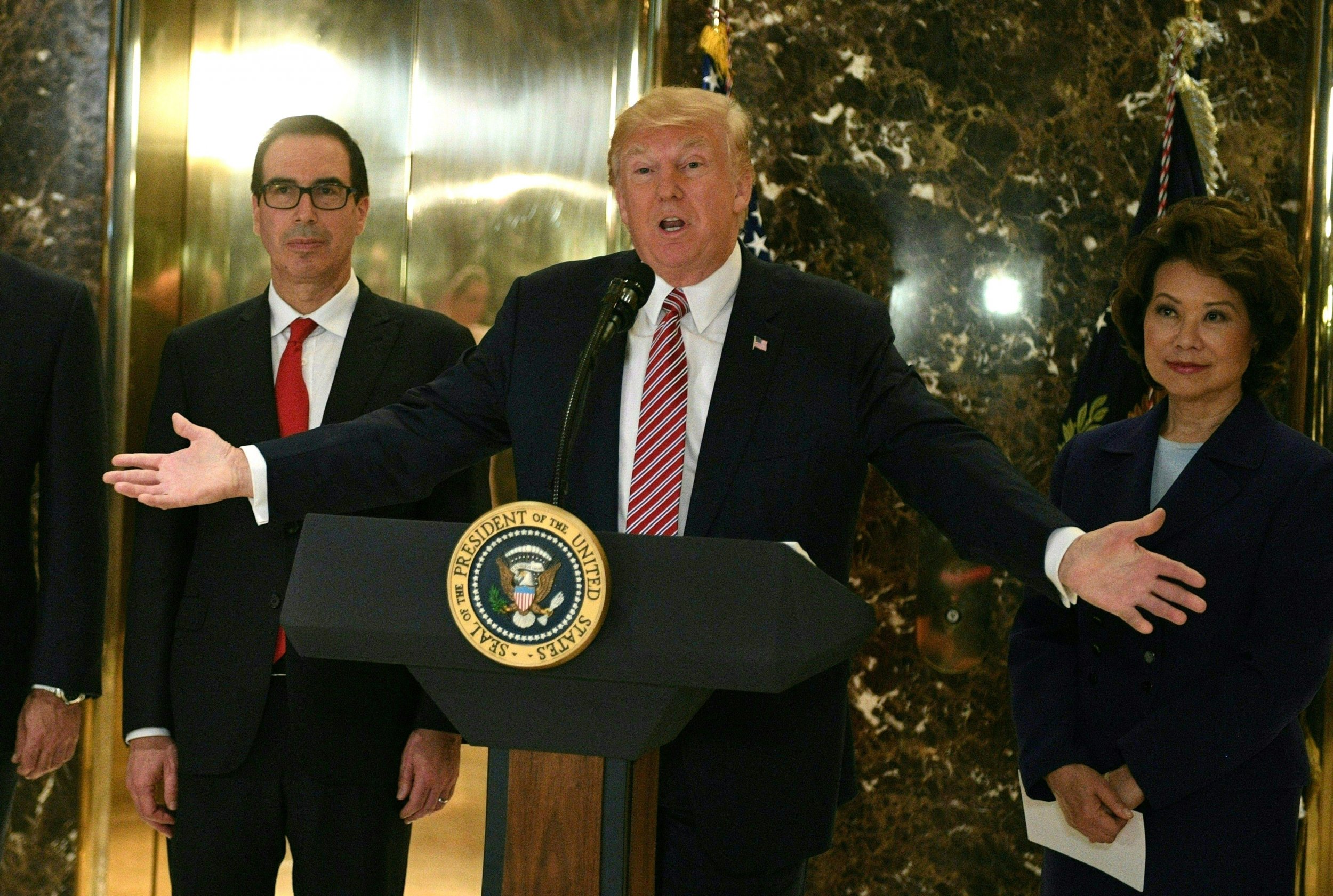 President Donald Trump's already infamous "shithole" comment is among several remarks the commander in chief has made that have energized white supremacists, rights groups fear.
Trump made the comment Thursday in the context of asking why America should accept more immigrants from Haiti and Africa—instead of places like Norway—while discussing a bipartisan immigration deal with lawmakers. The remark reinvigorated accusations that Trump is a racist, and it was embraced online by white supremacists David Duke and Richard Spencer.
The director of the Anti-Defamation League's Center on Extremism, Oren Segal, told Newsweek that Trump's remarks are "the engine that fuels white supremacy" in America.
"You have white supremacists like Andrew Anglin calling Trump's words 'encouraging and refreshing,'" Segal said, referring to the editor of Daily Stormer, a fringe, anti-Semitic conspiracy website that serves as a homepage for young, disaffected white men. Segal said that when Trump makes racially charged remarks, it gives a signal to isolated and hateful people that their views are normal and are "gaining a foothold in this country," even if that might not be the case.
The Southern Poverty Law Center noted in a 2016 report that "in the ten days following the election [of Trump], there were almost 900 reports of harassment and intimidation from across the nation." Trump's campaign "energized the radical right," it said, helping to fuel a number of white nationalist rallies like the one held in Charlottesville, Virginia, in August.
Trump was criticized heavily for his reaction to that chaotic rally, which led to the death of Heather Heyer, an anti-racist activist. The president appeared to give a pass to the white supremacists who marched that day, saying of their clash with counterdemonstrators that there were "some very fine people on both sides." White supremacists have subsequently been attached to a number of murders and an attempted terrorist attack. They also have amplified their violent rhetoric, including threatening Jews with potential violence, and have called James Fields, the man accused of murdering Heyer, a "prisoner of war."
Spencer, who in an apparent nod to the president's remarks put the Norwegian flag in his Twitter handle, complimented Trump for focusing on immigration from a race-based perspective. "It's obviously all about race, and to their credit, liberals point out the obvious," Spencer wrote on Twitter, referring to the blowback to the president's remark. On Twitter, Duke called what Trump said "perfect," adding that the president "spoke Blunt, hard truth that makes PERFECT TRUTH! So, Mr. Prez -ACT ON IT - DON'T CAVE IN!"
Other white supremacists also piped in to support the president's words on social media. Mike "Enoch" Peinovich, who helped lead the rally in Charlottesville, wrote on Twitter that "millions of white people are asking themselves today why indeed do we have to accept immigrants from shitholes?" He implied that Trump's words had helped to push forward a white nationalist agenda.
Daryle Jenkins, executive director of One People's Project, a civil rights group that monitors far-right figures, told Newsweek he felt that Trump had made a serious political miscalculation by embracing the type of rhetoric frequently espoused by white supremacists. "His administration is on borrowed time, and so is the Republican Party," Jenkins said of Trump's comments, referring to the desire of people of color to vote in the 2018 midterm elections. "People have had their fill of this rhetoric, and I think we're going to see that come November."
On Fox News, where hosts like Tucker Carlson typically voice uncritical support for the president, and where white supremacist rhetoric is also bandied about on occasion, Jenkins's warnings about potential electoral blowback didn't seem to be much of a concern.
"I don't understand what the sin is," Carlson said of Trump's remarks.