Donald Trump's Official Online Shop Shut Down by Shopify in Wake of Capitol Riots
At least one of President Donald Trump's businesses has suffered in light of the riots that broke out in Washington D.C. on Wednesday. Online retail stores operated by the Trump Organization and the Trump campaign on the e-commerce site Shopify have officially been deactivated.
When visitors click the links to TrumpStore.com or shop.donaldjtrump.com on Trump's official website, they are now directed to a landing page that displays the error message: "This shop is unavailable."
A rep for Shopify confirmed to the Wall Street Journal that Trump's store—which sold hats, t-shirts and other campaign merchandise—was taken down on Thursday morning after the company determined Trump had violated its policy prohibiting shop owners from "promoting or supporting" organizations or individuals inciting violence.
"As a result, we have terminated stores affiliated with President Trump," a spokeswoman told Wall Street Journal, adding that Shopify's trust and safety team determined that the president's brief speech on Wednesday violated their policy against the promotion of violence.
Newsweek has reached out to Shopify for further comment.
Trump wasn't just kicked off of Shopify, though, following Wednesday's chaotic events, during which thousands of people stormed Washington and many infiltrated the Capitol Building where Senators were counting electoral votes in order to confirm President-elect Joe Biden's election win. Trump has since been banned from Facebook, at least until the transition of power is complete, Facebook CEO Mark Zuckerberg said in a statement on Thursday.
"The shocking events of the last 24 hours clearly demonstrate that President Donald Trump intends to use his remaining time in office to undermine the peaceful and lawful transition of power to his elected successor, Joe Biden," Zuckerberg's statement reads. "His decision to use his platform to condone rather than condemn the actions of his supporters at the Capitol building has rightly disturbed people in the U.S. and around the world. We removed these statements yesterday because we judged that their effect—and likely their intent—would be to provoke further violence."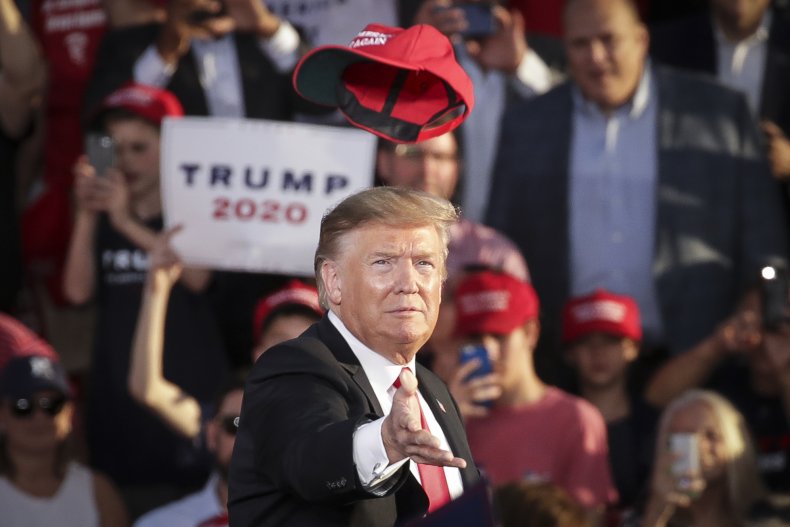 Zuckerberg's statement continues: "Following the certification of the election results by Congress, the priority for the whole country must now be to ensure that the remaining 13 days and the days after inauguration pass peacefully and in accordance with established democratic norms."
The Facebook founder said that blocks placed on Trump's Facebook and Instagram accounts would remain in effect for at least the next two weeks and may continue indefinitely.
Twitter also issued a 12-hour lock on Trump's account on Wednesday.