Trump Signals He Needs the Social Media He Hates
Former President Donald Trump has returned to Facebook after a lengthy absence, signaling that his quest for the presidency in 2024 may require him to cozy up to platforms he has spent years bashing.
Trump returned to Facebook on Friday with an all-caps post that simply declared, "I'M BACK!" He was banned from the platform following the January 6, 2021, attack on the U.S. Capitol over concerns that he could inspire further violence. Parent company Meta announced that his account would be reinstated in January of this year, reasoning that the risk he posed had "sufficiently receded."
The former president, who frequently posts to his own Truth Social, has repeatedly denounced Facebook and Twitter since being banned from both platforms after the siege on the Capitol waged by his supporters. His Twitter account is still inactive, after being reinstated by Elon Musk last year.
Trump's return to Facebook also seemed uncertain after his reinstatement was announced, with the former president wasting no time in taking shots at the platform and pushing praise for Truth Social.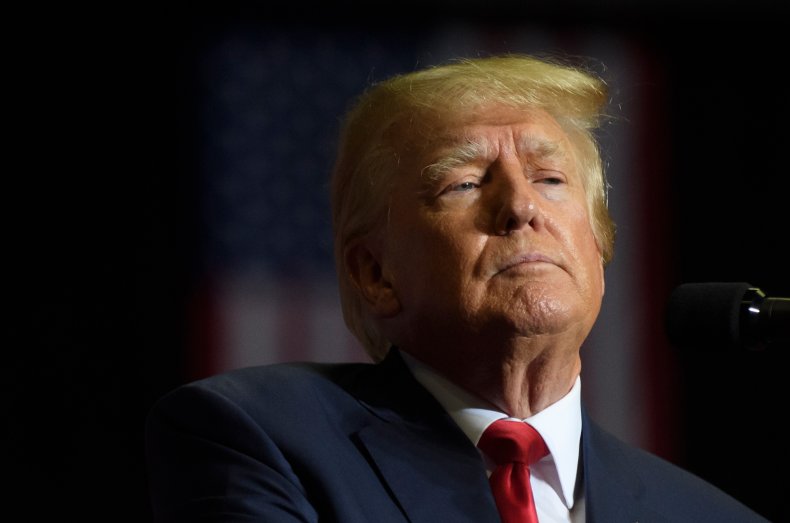 "FACEBOOK, which has lost Billions of Dollars in value since 'deplatforming' your favorite President, me, has just announced that they are reinstating my account," Trump wrote in a January 25 Truth Social post. "Such a thing should never again happen to a sitting President, or anybody else who is not deserving of retribution!"
"THANK YOU TO TRUTH SOCIAL FOR DOING SUCH AN INCREDIBLE JOB," he added. "YOUR GROWTH IS OUTSTANDING, AND FUTURE UNLIMITED!!!"
In a Truth Social post on January 2, Trump said that Facebook had become "very BORING and UNINTERESTING" since his ban, adding that the "stupid, unnecessary, and probably illegal move is now considered a major business mistake."
Trump has also waged a long crusade against Twitter after being banned from the platform that he once used prolifically, although he did praise Musk for saving the platform from the "Radical Left Lunatics and Maniacs that truly hate our country" by purchasing it last year.
The former president's Twitter account has remained dormant in favor of Truth Social, which he claimed in October had "become somewhat of a phenomena" and had "bigger numbers" than Facebook, Twitter and "the others."
In reality, Trump's social network continues to have a far smaller audience than the mainstream platforms.
Maggie Macdonald, postdoctoral fellow at New York University's Center for Social Media and Politics, said in an interview with Newsweek that Trump's return to platforms like Facebook and Twitter could help his fledgling 2024 campaign gain a wider audience and raise funds.
"Being back on one or both of [Facebook and Twitter] just means that he can reach more regular people," Macdonald said. "There's not a huge audience on Truth Social. Journalists do cover his posts, but it doesn't reach as much of an audience."
"It could help his campaign," she added. "Facebook in particular has the potential for him to raise a lot of money through ads ... that could be really useful."
Macdonald said that Facebook and Meta's other platform, Instagram, could be especially useful for the Trump campaign because their user bases are more "representative" of the U.S. population than Twitter. Trump's Instagram account remained inactive at the time of publication.
Trump campaign spokesman Steven Cheung told Fox News Digital in January that returning to Facebook would be "an important tool for the 2024 campaign," noting that the platform could help with "advertising, grassroots mobilization and fundraising."
Trump's return to mainstream platforms is complicated by his current exclusivity contract with Truth Social, which mandates that the former president cannot "make the same post on another social media site for 6 hours." There has been speculation that he may not renew the contract, which is set to expire in June.
Prior to Friday, Trump's last activity on Facebook came on January 6, 2021, when the then-president urged his supporters at the Capitol to "respect the Law and our great men and women in Blue."
Less than an hour earlier, as rioters fueled on his 2020 election lies breached the building, he wrote that "Mike Pence didn't have the courage to do what should have been done" by overturning Trump's loss to President Joe Biden.
Trump was indefinitely suspended from the platform the following day. Months later, Facebook announced that the ban would be active until at least January 2023, which the former president said in a statement was an "insult" to those who had voted for him in "the 2020 Rigged Presidential Election."
When the account was reinstated this year, Facebook Global Affairs President Nick Clegg warned that it would come with new safeguards, including the potential to restrict "content that delegitimizes an upcoming election" or inspires "the sort of risk that materialized on January 6."
Newsweek has reached out to Trump's office for comment.