Trump's Truth Social Dilemma
February 20 is the one-year anniversary of Truth Social going live on the Apple app store.
The former president now frequently posts there, choosing to ignore his reinstated Twitter account.
The question remains: will Trump dump his own social media platform and return to mainstream sites for his 2024 presidential run?
On February 20, 2022, Donald Trump's social media platform Truth Social finally went live, becoming available to download on the Apple app store just before midnight Eastern Time.
The conservative "free speech" app created by the Trump Media & Technology Group (TMTG) was a way for the former president to return to social media after he was banned from Facebook, Instagram and Twitter in the wake of the January 6 attack.
Truth Social's launch got off to a rocky start, with users struggling to set up an account and then placed in a queue with hundreds of thousands of other people before they could even start using the app.
The app's early teething problems were highlighted by the fact Trump himself didn't even really start sharing updates on Truth Social until two months after it launched.
That has all changed, with Trump now regularly posting on Truth Social to his 4.9 million followers in much the same way he did on Twitter: airing his grievances, attacking his enemies, sharing positive news articles about him and falsely claiming the 2020 Election was rigged.
Now, just one year after Truth Social launched, there have been reports that Trump may be prepared to ditch his own platform and fully return to mainstream social media to boost what critics are already saying is a floundering 2024 presidential campaign.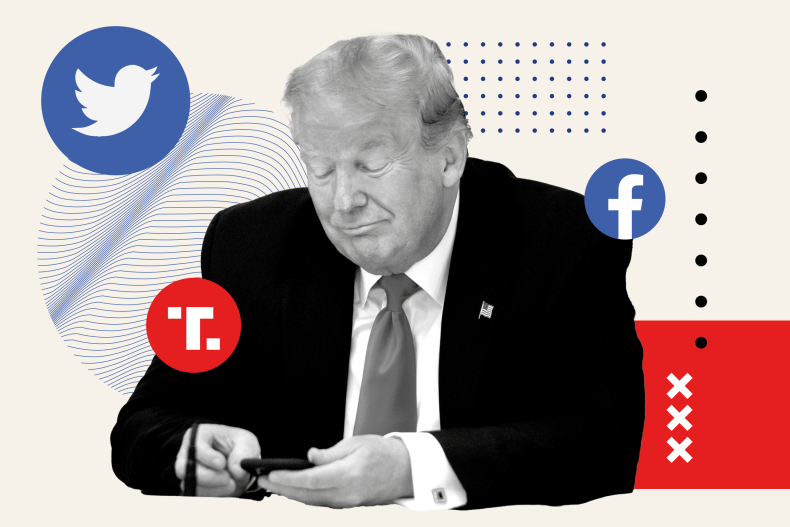 Trump Reinstated, but Not Re-Engaged
In January 2023, Meta, the company that owns Facebook and Instagram, confirmed that Trump would get both his accounts reinstated after they were suspended for two years in the wake of the January 6 attack.
Both accounts are now back online, but there are still no new posts since January 2021.
Following Elon Musk's $44 billion takeover, Trump also had his Twitter account reinstated last November. However, he has chosen not to resume posting on his previously most favored platform, instead opting to stay on Truth Social.
While Trump has repeatedly dismissed any suggestions that he will return to Twitter, Joshua Tucker, director of NYU's Center for Social Media and Politics, said the former president may have to if he wants to control the narrative of the 2024 primary and presidential cycles, which he does not achieve with Truth Social despite his frequent posts on the platform.
"Trump's great success on Twitter was his ability to use it to drive mainstream media coverage," Tucker told Newsweek.
"You could always get some outrageous quote from Trump by just scrolling through his recent Twitter feed, and in many cases, his tweets would actually drive new cycles.
"There's been less evidence of him driving new cycles as much as he used to when he was president," Tucker added. "And the question is, is that because he's not president anymore? He's not new anymore, he's been in the public eye for you know, seven, eight years now, he's not quite as exciting, or is that because he was actually off of Twitter?"
The Allure of Facebook Fundraising
In contrast to his approach to Twitter, Trump actively sought to get his Facebook account back, knowing it is a key fundraising tool for any presidential campaign in which he needs to show he is still the leading figure in the GOP.
"Trump's ability to fundraise is going to be a real important signal about his viability within the Republican primary," Tucker told Newsweek.
"And from that perspective, getting back on Facebook is vital to recreate the magic of the old campaigns where he brought in tons and tons of money from small donors that could play an important role in this kind of signaling development."
There is also the question on how Trump may choose to use Facebook, Twitter and Truth Social at the same time.
Currently, Trump has an exclusivity deal with Truth Social, meaning he must share all his social media communications on Truth Social first and "may not make the same post on another social media site for 6 hours," SEC filings show.
However, it has been reported that Trump is considering not re-signing the deal, which expires in June, meaning he would be free to post what he wants on Facebook—or better yet Twitter—first, essentially rendering Truth Social's unique selling point redundant.
"If he goes full fledged on Twitter and Facebook, that really undercuts one of the big calling cards of Truth Social," Tucker said.
"Truth Social is the social media platform you can use to get access to Donald Trump. So if he does go back to Twitter and Facebook, that is probably going to hurt Truth Social, and he's going to take a financial hit."
In one possible scenario, Trump uses Facebook purely for fundraising reasons, being careful not to violate the "new guardrails" he must abide by to avoid getting kicked off the platform again, while still freely posting whatever he wants to on Truth Social.
There is also the possibility that Musk will allow Trump to post whatever he wants to on Twitter, knowing the potential fallout if the former president is kicked off the platform after the Tesla and SpaceX CEO repeatedly vowed to make Twitter a "digital town square" where content is not as strictly moderated.
Hard Truths for Truth Social
Alexandra Cirone, assistant professor of government at Cornell University, said that while Trump will definitely take a financial hit if he no longer keeps Truth Social as his exclusive social media site, he will need to do it to aid his presidential ambitions.
"Truth Social is a failing company, whose competitive advantage is exclusive access to Trump," Cirone told Newsweek.
"Trump returning to Facebook would damage Truth Social even further, but approaching a 2024 presidential run, abandoning his platform would be worth it."
While Truth Social is in essence a Twitter clone, the impact both sites provide Trump are significantly different.
Trump currently has a fraction of followers on Truth Social compared with Twitter, where he has more than 87.6 million.
To not only win the GOP primary, and have any chance of becoming president again in 2024, Trump will need to appeal to as large a voter share as possible via social media, not just conservatives who follow him on his own platform.
"Trump's die-hard MAGA supporters aren't sufficient to get him elected, especially if the field includes popular politicians like Florida Governor Ron DeSantis," Cirone said.
"He will need the reach of social media to win."