Trump's Twitter Return Would Confirm Truth Social is a Humiliating Failure
Now that billionaire Elon Musk has finally become Twitter's owner, closing the $44 billion deal to buy the company after months of U-turns and lawsuits, the possibility that former president Donald Trump will be re-allowed on the platform looms closer.
But Trump's return to the platform would be a failure rather than a victory to celebrate for the former president. According to some experts, it would be, in fact, the definite proof that his Truth Social platform didn't succeed.
After a bumpy start marred by technical issues, Truth Social struggled to really get started, with Trump himself taking quite some time before starting to post daily on the platform.
"I think there may have been all sorts of reasons why his network didn't work. Some of them were quite technical, it was not a very well-run platform. But I also think that the point of Twitter—especially if you're an aggressive right-wing person, for example, or someone holding any aggressive views or a strong activist—is that you want a reaction," Professor Charlie Beckett, founding director of London School of Economics' Polis, a think-tank for research and debate around international journalism and society, told Newsweek.
The app only become available on Google Play Store on October 12, months after it launched on Apple's App Store on February 21, as Google rejected the app for its lack of content moderation.
But despite the brief boost offered by this expanded availability, the stock price for Trump Technology and Media Group, the company behind the app, has been in decline for a while now, proving that Truth Social is not quite the revolutionary platform Trump made it out to be.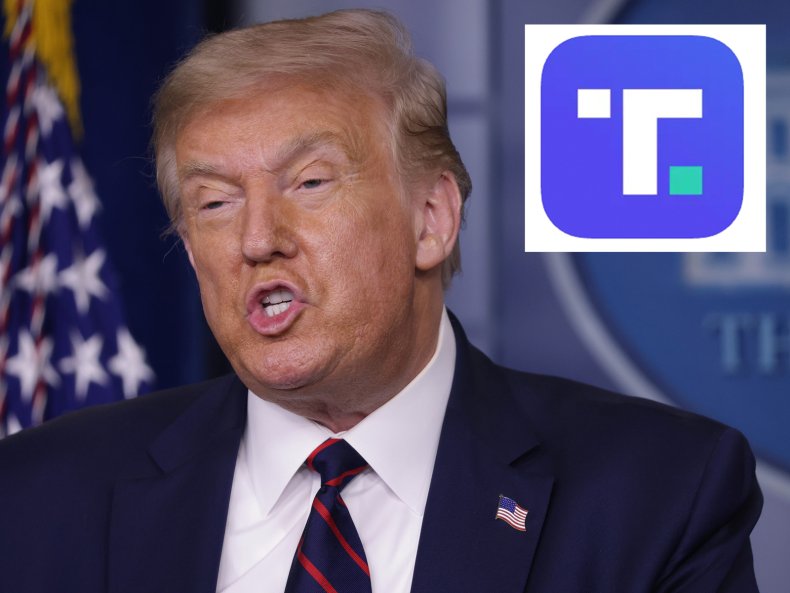 According to an investor presentation in November 2021, Truth Social was expected to increase its average revenue per user to $13.50 by 2026 and reach a total of 56 million users by 2024 and 81 million by 2026.
At the moment, the app counts only 513,000 daily active users and 2 million monthly users. Trump currently has 4.37 million followers on Truth Social, compared to the 88 million he had on Twitter before being banned from the platform in response to his role in the Jan. 6 riots at the Capitol.
Despite trying to replace Twitter or at least offer an alternative to it, Truth Social never quite managed to have the same impact on the social landscape.
"You don't just want to be there with your own tribe, you can do that on other platforms. You can go off to rant on WhatsApp groups where you can all talk in an echo chamber of people who agree with you," Beckett said, adding that Twitter offers something different.
"The point of Twitter is that it's a chance to counter other people's views and to promote your own. And that is the politically valuable bit. But it's also, I suspect the sort of secret sauce of why people enjoy Twitter, despite it being some very frictional experience."
Though many have described Twitter as a "hellhole," Beckett said, many users love that kind of friction. "And obviously, if Donald Trump comes back on that, there's going to be more friction. And, you know, I think a lot of the people who retweeted Trump or replied to Trump when he was on Twitter were his opponents, and that was very much the value of the platform to him.
"He wanted to demonstrate to people that those nasty liberals didn't like him, and that was proof of his potency and that was the attraction of him to his supporters. So in that sense, the friction of Twitter is much more useful to Trump than being on his own lonely network where everyone agrees with him."
Back in April, Trump said he wouldn't return to Twitter even if it was allowed, telling CNBC: "I was disappointed by the way I was treated by Twitter. I won't be going back on Twitter." But with Musk's takeover of the platform, Trump's comeback seems an imminent possibility.
Musk's first move after taking over the company late on Thursday night was reportedly firing Twitter's top executives, including head of legal, policy and trust Vijaya Gadde, who officially banned Trump from the platform.
This sends a strong signal that the Tesla CEO might be getting ready to bring Trump back on the platform, Beckett said.
"I personally felt that it was a strong call when they made that decision [to ban Trump from Twitter], albeit they waited until after he had lost the election. [...] But I can see that from what Musk has said, explicitly declaring that he didn't agree with that decision, he'd be prepared to take the heat [of bringing Trump back on the platform]."