Donald Trump's Twitter Return Expected as Musk Set to Reverse Ban
Donald Trump is just one of the high-profile and controversial figures who could be allowed back on Twitter following Elon Musk's takeover of the platform.
Following months of legal wrangling, the SpaceX and Tesla CEO acquired Twitter in a $44 billion deal on Thursday.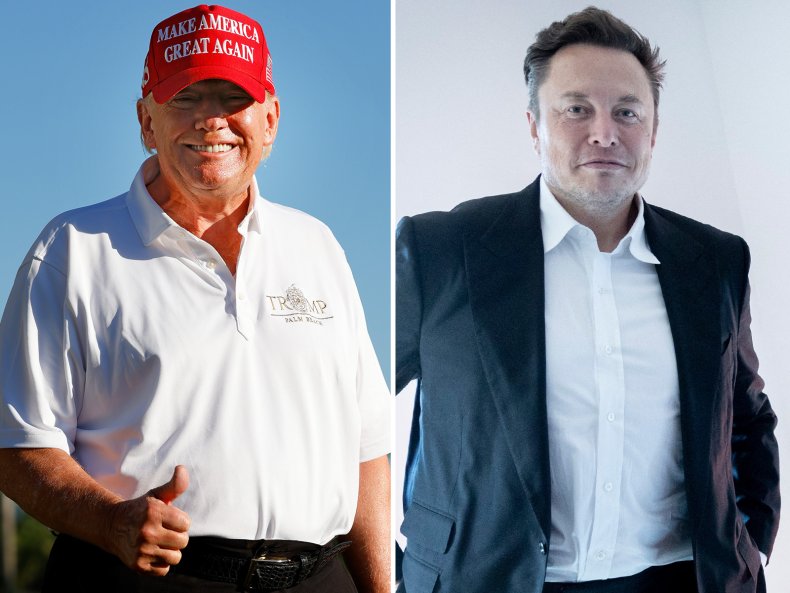 One of the billionaire's first moves was reportedly to fire several top executives at the social-media company, including CEO Parag Agrawal and Chief Legal Officer Vijaya Gadde.
The latter was behind the decision to ban permanently the former president from Twitter over fears he would use the platform to incite further violence after the January 6 attack.
Following his takeover, Musk said he intends to scrap Twitter's policy of issuing lifelong bans from the platform as he does not believe in permanent prohibitions, an unnamed source told Bloomberg.
Musk had said that he would "reverse the permanent ban" on Trump in an interview with U.K. newspaper The Financial Times in May, should his takeover of Twitter go through. He added that removing the former president from the platform was a "morally bad decision."
As noted by former attorney and Los Angeles Times columnist Harry Litman, with just a few days before the midterms, Musk could "radically alter the American political landscape, and make chaos and turmoil rain down, just by lifting his little finger and letting Trump return to Twitter."
However, there is also the possibility that Trump wouldn't want to return to Twitter if Musk's takeover permits it. He could stay posting his own Truth Social platform.
"I am not going on Twitter. I am going to stay on Truth," Trump told Fox News in April. "I hope Elon buys Twitter because he'll make improvements to it and he is a good man, but I am going to be staying on Truth.
"The bottom line is, no, I am not going back to Twitter."
Elsewhere, a hoax statement has spread on social media that purported to be from the former president congratulating Musk for buying Twitter. The message added that Trump was told his account would be "back up and running on Monday."
Devin Nunes, the CEO of Truth Social, shared the fake statement on his platform with the caption: "LOL! Left wing desperation for @realDonaldTrump to go back to Titter. #deepfakes #FakeNews."
Other high-profile names who have had their Twitter account permanently banned and who may be set to return to the platform include InfoWars conspiracy theorist Alex Jones, former White House adviser Steve Bannon, and the personal account for Georgia congresswoman Marjorie Taylor Greene.
Musk has frequently advocated for Twitter to be a "digital town square," where free speech is not restricted and content not as strictly moderated.
However, in a statement to Twitter's advertisers on Thursday, Musk said that the social-media site "obviously cannot become a free-for-all hellscape, where anything can be said with no consequences!"
Newsweek has contacted Trump for comment.