Former President Donald Trump on Sunday once again alleged that "radical racist prosecutors" are to blame for probing into his financial dealings after his longtime accounting firm dropped him as a client this month.
Mazars USA publicly announced in a February 9 letter that it will no longer work for the Trump Organization and that a decade's worth of financial statements cannot be "relied on."
That decision was based on a recent filing by New York Attorney General Letitia James alleging that the organization used fraudulent or misleading financial statements from 2011 to 2020 to obtain benefits such as loans and tax deductions. James and the Manhattan district attorney's office have each been conducting investigations into Trump's private business dealings amid allegations that he and his family committed fraud.
In Trump's statement, the former president said Mazars dropped him because they were "harassed, abused, and frightened" by prosecutors. He also alleged that those investigating him are "racist"—a comment he often makes when prosecutors involved in cases against him are Black.
"My long-term accounting firm didn't leave me for any other reason than they were harassed, abused, and frightened by DA's and AG's that for years have been threatening them with indictment and ruination," Trump began in the statement. "They were 'broken' by these Radical Left racist prosecutors, and couldn't take it anymore."
However, Mazars said in a statement that it performed its work for the Trump Organization in "accordance with professional standards."
"Their disclaimer clause in the financial statements has for years stated much the same. My company is incredible with some of the greatest assets in the world and very low debt. Also, we're loaded with cash!" he concluded.
Getting dropped by Mazars marks a major blow to Trump amid ongoing investigations, and legal experts have noted that the firm could now serve as a "valuable" asset to prosecutors.
Earlier this week, a New York judge ordered that the former president and his two children, Ivanka and Donald Trump Jr., must testify under oath about his company's finances as part of James' probe.
"There should be no doubt that this is a lawful investigation and that we have legitimate reason to seek testimony from Donald J. Trump, Donald J. Trump, Jr., and Ivanka Trump. We will continue to follow the facts and ensure that no one is above the law," James recently told Newsweek.
Furthermore, Mazars' letter contained a Bates number reading 00525838, a legal term which experts have suggested could mean that the firm has already handed over at least 525,838 pages of financial material to prosecutors.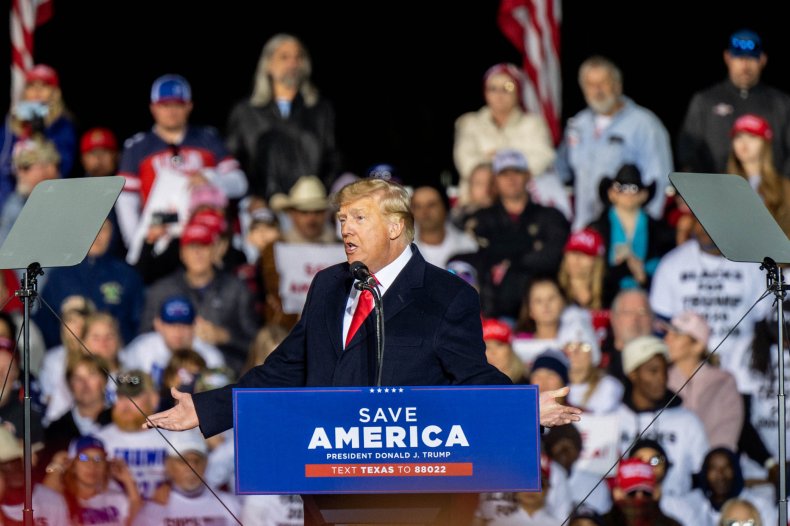 Trump has long maintained innocence in his financial dealings and chalked up investigations as being politically motivated attacks against his family. Last month, he chided prosecutors for being "racist" and urged his supporters to stage nationwide protests if investigators do "anything illegal."
"For years, they've been going after my company, many years, using every trick in the book in an attempt to literally—if they can—put me in jail. They want to put me in jail," he told his supporters during a Texas rally. "If these radical, vicious, racist prosecutors do anything wrong or illegal, I hope we are going to have in this country the biggest protest we have ever had in Washington DC, in New York, in Atlanta and elsewhere because our country and our elections are corrupt."