Donald Trump Says End of Socialism Near, Adds Ideology is 'Last Thing We Want in the U.S.'
President Donald Trump has predicted the eclipse of socialism in the Americas, arguing the ideology has failed in the United States and other nations in the region.
Standing beside far-right Brazilian President Jair Bolsonaro, Trump praised ties between the two states, going as far as to consider making the South American state a member of the U.S.-led NATO Western military alliance. Trump and Bolsonaro, two conservatives who have rallied supporters against establishment politics, mainstream media and big government have been especially united by their opposition to an ideology that has long gripped Latin America—socialism.
"The twilight hour of socialism has arrived in our hemisphere," Trump told reporters during a joint Rose Garden press conference with Bolsonaro. "Hopefully, it's also arrived in our great country, the last thing we want in the United States is socialism."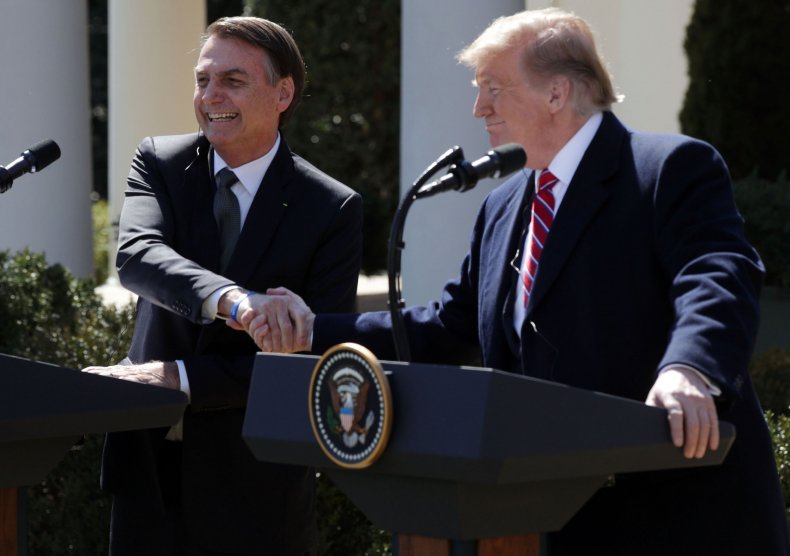 The U.S. crusade against socialism and its sister ideology, communism, dates back to the ethos's very founding, based on the teachings of German scholars Karl Marx and Friedrich Engels, in the 19th century. Washington significantly ramped up its efforts, however, after the 1917 Bolshevik Revolution transformed Russia into the Soviet Union, against which the U.S. would wage the decades-long Cold War throughout much of the 20th century.
During this period, Latin America proved fertile ground for numerous leftist, socialist-leaning movements seeking to shed colonialist powers. The region became the venue for multiple, overlapping U.S. interventions, often in support of right-wing forces. In the most recent episode, Trump has teamed up with Bolsonaro and other regional allies against socialist Venezuelan President Nicolás Maduro, whose economy has been ravaged by internal mismanagement and restrictive sanctions by Washington.
The U.S. and most other Latin American states have thrown their support behind National Assembly leader Juan Guaidó, who declared himself Venezuela's president in January. As Trump threatened "all options are on the table" to ensure Maduro's ouster, Bolsonaro has considered welcoming a U.S. military base to stave off Venezuelan ally Russia from increasing its presence in the region.
Trump and hard-line officials such as national security adviser John Bolton have long sought to see other leftist-led governments such as Cuba and Nicaragua fall, but the administration has recently taken to warning of the dangers of socialism not only abroad, but at home as well.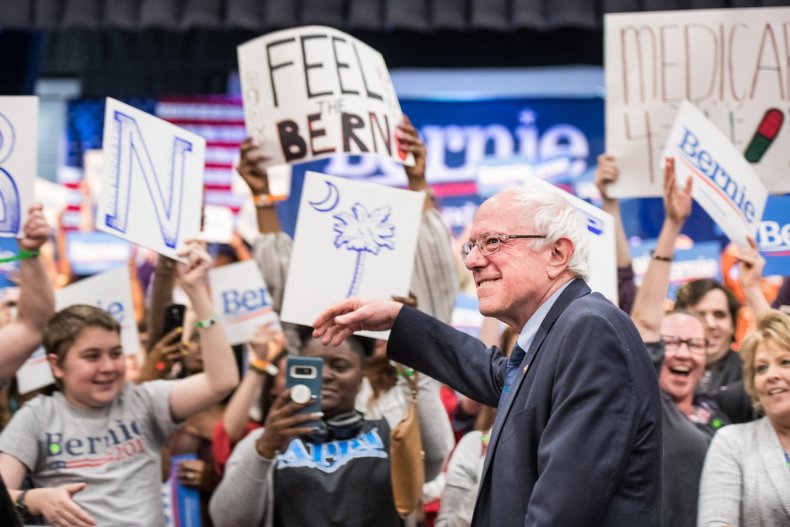 Since Trump's election, a leftist faction of the Democratic Party has grown increasingly popular. Self-described democratic socialist Independent Senator Bernie Sanders announced he would once again seek the Democratic nomination in 2020. Among the freshmen class in the House of Representatives were Democrats calling themselves democratic socialists, including Alexandria Ocasio-Cortez of New York and Michigan's Rashida Tlaib, who was one of two of the first Muslim women elected to Congress.
Trump told Breitbart News last week he felt "very strongly" that the U.S. would never elect a socialist because "socialism is easy to campaign on but tough to govern on." Vice President Mike Pence claimed earlier this month that "it was freedom, not socialism, that ended slavery, won two World Wars," despite slavery once thriving in capitalist countries such as the U.S., and the fact that the communist forces of the Soviet Union played a major, if not predominant, role in defeating Nazi Germany in 1945.
Axios shared a poll last week conducted by Harris Insights & Analytics, showing that Generation Z—those born between the mid-1990s and the early 2000s—did not view the word "socialism" as negatively as their predecessors. In fact, they joined millennials—those born between 1980 and the early 1990s—in being more supportive of socialist policies. The same report found that the two groups would constitute 37 percent of the electorate in 2020.