Trump Suggests 10 Percent of Law Enforcement Officers Are Not 'Great People'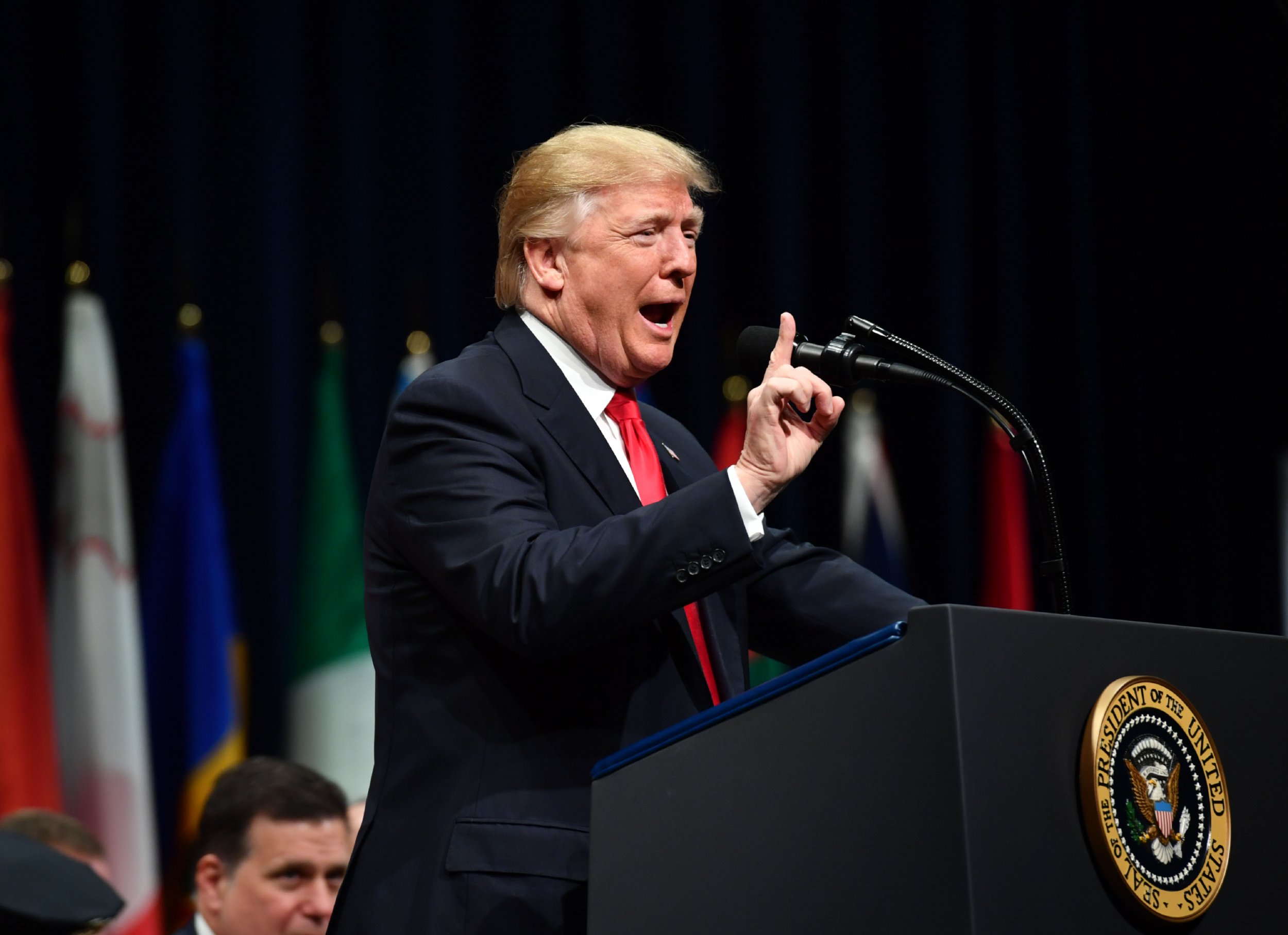 Speaking on Friday to a graduating class at the Federal Bureau of Investigation National Academy in Quantico, Virginia, President Donald Trump suggested that not all of law enforcement consists of "great people."
"You are great people doing an incredible job," he said. "But I hope your families know that. I'd say 90 percent, probably 90 percent, are great, right? The other 10 percent, that's not working out so well." Because the event was at the FBI academy but the graduates were law enforcement managers from a professional program who will not join the FBI, it was unclear if Trump's remark was about law enforcement managers or officers or FBI agents.
Related: FBI Director testifies about Trump, Mueller, Clinton
Trump's visit to the FBI academy came after he and his supporters and allies have criticized the bureau. Trump fired former FBI Director James Comey in May and has alleged misconduct by Deputy Director Andrew McCabe. At least two of the president's lawyers, along with Republican lawmakers, have called for a special counsel to investigate alleged conflicts of interest at the FBI and Department of Justice. On December 3, Trump tweeted, "After years of Comey, with the phony and dishonest Clinton investigation (and more), running the FBI, its reputation is in Tatters - worst in History! But fear not, we will bring it back to greatness." He also retweeted a post saying new FBI Director Christopher Wray "needs to clean house."
On Friday, prior to his visit to the academy, the president told reporters, "Well it's a shame what's happened with the FBI, but we're going to rebuild the FBI, it will be bigger and better than ever." He continued, "But it is very sad when you look at those documents and how they've done that is really, really disgraceful. And you have a lot of very angry people that are seeing it. It's a very sad thing to watch, I will tell you that."
He was likely referring to a draft Comey wrote of his July 2016 statement concluding the Hillary Clinton email investigation months before interviewing her, which Senator Ron Johnson released on Thursday, or text messages that the Department of Justice released on Tuesday between Peter Strzok, a former FBI official who led the Clinton investigation, and Lisa Page, an FBI lawyer, that were critical of Trump. Both Strzok and Page were on the special counsel team investigating Russia's 2016 election meddling and possible coordination with the Trump campaign.
As he waited to deliver his remarks on Friday, Trump sat two seats away from Wray, probably their first encounter since Wray interviewed for the position in May. Attorney General Jeff Sessions sat in between them. Trump did not attend Wray's installation ceremony in September, as former President Barack Obama had done for Comey.
The graduates on Friday were finishing a 10-week program and will return to their home agencies. Trump focused his comments on the "law and order" rhetoric from his campaign, which had won him praise from police organizations. He spoke about the killing of police officers and said people who commit those murders should receive the death penalty. He also spoke in favor of local police having access to excess military equipment, and about opposing gangs. "We will find you, we will arrest you, we will jail you, we will throw you the hell out of the country," he said about members of the MS-13 gang, reiterating comments he had previously made.
Trump also spoke about immigration, connecting it to two recent attacks in New York City that authorities have labeled terrorism. Of the visa lottery system, he said, "They give us their worst people, they put them in a bin…. 'Congratulations, you're going to the United States.' What a system, lottery system."
Perhaps the biggest applause and laughter from the crowd came when Trump disparaged the press in attendance as the "fake news." "No, actually some of them are fine people," he said. "Let's see who's back there. Yeah, about 30 percent."