Trump Cited My Police Officer Deaths Statistic—But Got It Wrong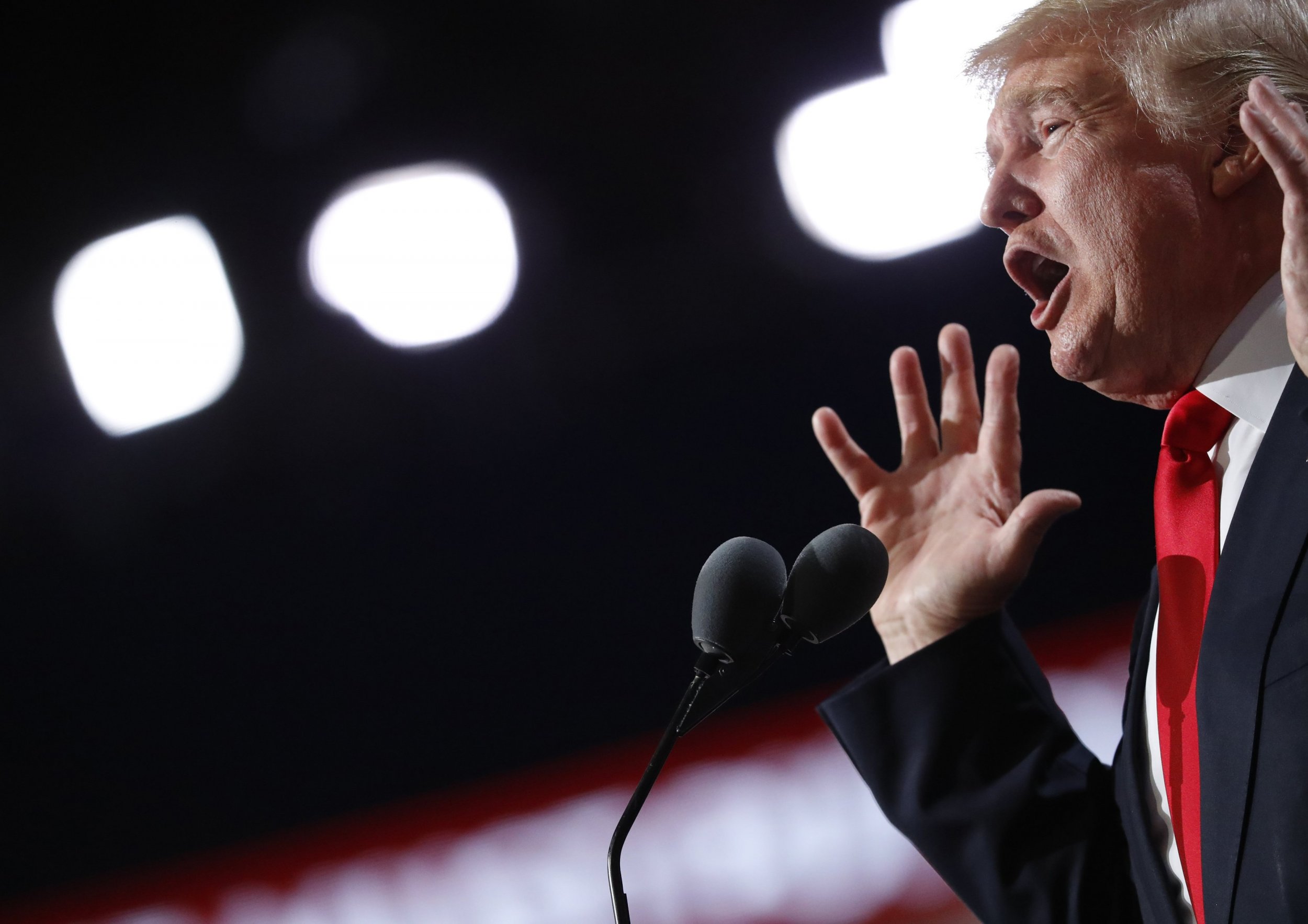 In his acceptance speech at the Republican National Convention on Thursday night, presidential candidate Donald Trump claimed that the number of police officers killed in the line of duty so far this year is up nearly 50 percent over this time last year. Political commentators have called the statistic into question.
According to an annotated version of the speech that Trump published on his website, the candidate got the statistic from me. But he got it wrong.
On July 8, the day after the Dallas attack on police that left five cops dead, I wrote that the number of fatal shootings of officers had risen 44 percent when comparing that date in 2015 to 2016. I cited the National Law Enforcement Officers Memorial Fund, a nonprofit that maintains the national memorial to fallen officers in Washington, D.C. and keeps statistics on police fatalities. Including the Dallas officers, 26 on-duty law enforcement officers had been shot and killed at that point in 2016, compared to 18 by that time in 2015.
But Trump (or his speechwriters) misstated the statistic. He said in his speech that overall on-duty officer deaths were up by that much, when the statistic only pertained to firearms-related deaths.
His annotated speech also cited a USA Today article for the same statistic. While that article's headline is vague, the rest of it specifies the figure is for firearms-related deaths.
As the political fact-checkers have noted, overall officer deaths are not up as much: 6 percent over last year, as of July 23, a figure that can include traffic accidents, drownings and falls, according to the Memorial Fund. And historically, as Newsweek has pointed out, the number of police killed in the line of duty has been declining for decades.
Trump's claim was also outdated: the nearly-50 percent figure (again, which should be for firearms-related officer deaths and not overall officer deaths) had risen the day before the convention began, when a gunman killed three officers in Baton Rouge, Louisiana. That incident brought the figures up to a 72 percent increase over the previous year, with 31 officers fatally shot in 2016. (The statistics on the Memorial Fund's website have since changed again.)
The officer deaths in Dallas and Baton Rouge were a major theme at the convention. The focus on Monday night was "Make America Safe Again," with former New York City Mayor Rudy Giuliani saying "we must apologize" to police officers involved in the "justified" shootings of civilians, and Milwaukee County Sheriff David Clarke Jr., who a day earlier on CNN had called Black Lives Matter protesters "purveyors of hate," telling the crowd, "Ladies and gentlemen, I would like to make something very clear: Blue lives matter in America."
Trump spoke several times about the police in his speech on Thursday. "Our convention occurs at a moment of crisis for our nation. The attacks on our police, and the terrorism in our cities, threaten our very way of life," he said early on.
Whether a politically-motivated exaggeration or an innocent misreading of the statistic, Trump's claiming that all officer deaths were up by so much instead of shooting deaths has given his critics fodder and distracted from the fact that, according to officer fatality experts, such ambush killings of law enforcement are part of a growing and worrisome trend.
Those experts said the Dallas shooting was the deadliest attack on law enforcement since 9/11. Craig Floyd, the Memorial Fund's president and CEO, said in a statement after the Baton Rouge killing that such an attack on officers so quickly following another one was "shocking and unprecedented in recent history."