Former President Donald Trump and Virginia Governor Glenn Youngkin laid out two clashing visions for the GOP on Saturday as the party grapples with how to best win during the 2022 midterms.
Youngkin—who narrowly eked out a victory in Democratic-leaning Virginia last November—offered a moderation in tone during his inaugural address, a contrast from the more partisan rhetoric used by Trump during his rally in Arizona.
During his campaign, Youngkin walked a fine line between appealing to moderate voters and embracing the Trump wing of the GOP. He received Trump's endorsement, but still kept a distance from him.
While appearing on Fox News Sunday, Youngkin touted his coalition, urging Republicans to work to build a "bigger tent."
"We, in fact, embraced all Virginians. I've said before that I so deeply appreciated Trump's support," he said. "We brought together a coalition of folks that had never been in the room together—forever-Trumpers and never-Trumpers. Moderates, Democrats."
The rhetoric echoed that which he used during his inaugural speech, where he opened by noting: "Today we gather, not as individuals, nor as Republicans or Democrats, but as Virginians."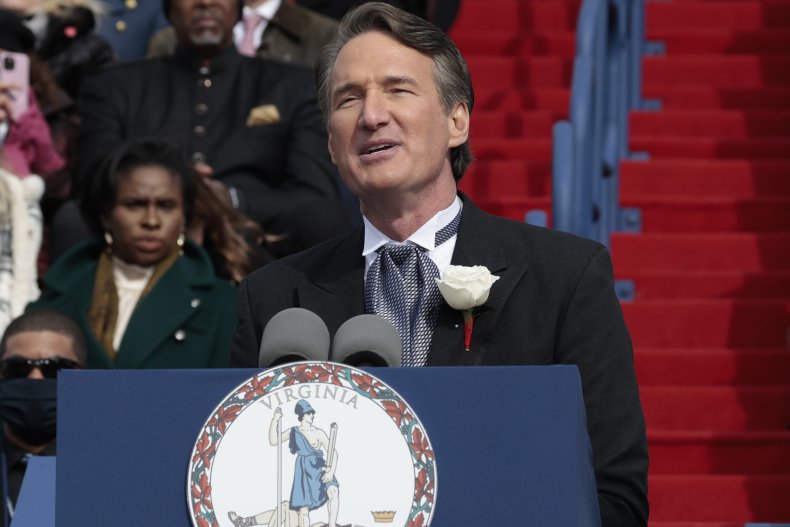 He also paid tribute to Dr. Martin Luther King, Jr. on the civil rights icon's birthday:
"Dr. Martin Luther King, Jr., whose birthday we celebrate today and whose great life we celebrate Monday with a national holiday, once said, 'We may have all come on different ships, but we're in the same boat now.' For us that boat is named Virginia, and today we set sail to a new and better day."
Though he delivered a moderate tone, Youngkin still quickly delivered on several conservative campaign promises. He signed 11 executive actions his first day in office, covering issues such as banning critical race theory from schools, lifting mask mandates in schools and ending vaccine requirements for state employees.
Meanwhile, the former president offered a different message during a rally in Florence, Arizona.
Rather than appeal to moderate voters, Trump doubled down on his unfounded claims that he only lost swing states like Arizona due to widespread voter fraud.
"I love Arizona. We had a tremendous victory in Arizona that was taken away and I just want to wish everybody a happy New Year. We're going to have, I think, a great year," he said during the rally.
No evidence has been presented to prove these claims, but Trump and his allies have continued to push the theory for more than one year after he lost the presidency.
He also attacked President Joe Biden and Dr. Anthony Fauci, the nation's top infectious disease specialist, during his rally, as the crowd chanted "lock him up" in reference to Fauci.
"Biden's made him the person. He's like the king. Fauci's the king," he said.
The two strategies—appealing to moderate voters versus the party's more Trump-friendly supporters—are likely to come to a head during the midterm elections later this year, when Republicans hope to retake the House of Representatives, Senate and several governorships across the country.
Some Republicans believe running more moderate campaigns like Youngkin's could better position the GOP to make a comeback in suburban areas, where Republicans have lost ground in recent years as voters flocked to Democrats over their dislike of Trump.
But the former president still maintains a strong grip on the party and has announced endorsements for candidates across the country, many of whom have repeated the false claim that Trump won in 2020.
If they prevail in GOP primaries, their steadfast loyalty to the ex-president could be a liability in more moderate swing districts and states where Trump-aligned candidates have previously struggled—in contrast to more moderate candidates like Youngkin, whose strong performance in Virginia's suburbs helped propel him to victory in a state Trump lost by double digits in 2020.
The battle for control over the GOP could be decided in part by the party's primaries this year.
Many Trump-skeptical Republicans opted to retire ahead of the midterms, rather than face primaries from Trump-backed candidates. Notably, John Katko, a moderate who outran Trump by 19 points in his suburban Biden-won Syracuse district, announced last week he would not seek another term. Other Trump critics to retire include Ohio Rep. Anthony Gonzalez and Illinois Rep. Adam Kinzinger.
But others, including Wyoming Rep. Liz Cheney and Michigan Rep. Peter Meijer, are running for re-election while facing primary challengers. Meijer in particular is running in a newly-drawn district narrowly won by Biden. But his outperformance against and independence from Trump could help him in the general election if he beats Trump-endorsed John Gibbs in the primary.
The results of these primaries will help gauge whether the GOP will follow Trump's or Youngkin's lead.
Regardless of the midterm results, the clash between the two wings of the Republican Party will likely continue as Trump entertains another presidential run in 2024.