Fox Business Host Says It's Impossible for Trump to 'Spin' Border Wall Failure to Maintain Support of His Base
Fox Business Network host David Asman, who regularly appears as a guest on Fox News, has warned that President Donald Trump won't be able to "spin" his failure to fund and build a wall along the U.S.-Mexico border in a way to maintain the support of his base.
Speaking on Fox News's show Outnumbered on Wednesday, Asman pointed out that "the wall is a very specific thing for the president's base." He argued that for Trump's "base the wall, those words, 'The Wall,' means a lot."
"This is one of the 'read my lips' moments for this president," Asman continued, referencing an infamous campaign slogan of former President George H.W. Bush. The former head of state, who died last month, iconically said "read my lips: no new taxes" when he accepted the Republican nomination in 1988. Bush later lost re-election in 1992 after some taxes were increased under his administration. Asman said he believes Trump's incessant pledge to "build the wall," could come back to bite him in a similar way.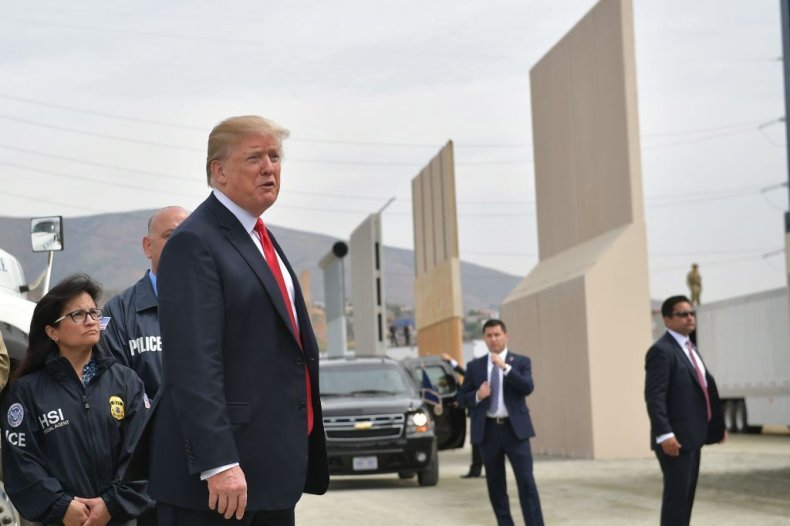 "If [Trump] is viewed by his base as caving on the issue, no matter how they try to spin it at the White House, already some of the base is beginning to fray a little bit worrying that the president is giving up on this."
The president has repeatedly claimed that his administration will build a wall on the southern border of the U.S., arguing it will stop criminals and drugs from entering the U.S. Analysts have long pointed out that such an endeavor would be enormously costly and do little to curb cartels, who generally send drugs through the border using legal routes, or by air and sea. Trump has also repeatedly argued that Mexico will pay for the wall, a proposal Mexican leaders have consistently rejected.
Last week, Trump got into a heated and televised debate with Democratic congressional leaders, in which he demanded they support $5 billion in funding for the wall. He threatened to force a shutdown of the government if they did not. Despite the president's party having control of the House and Senate, he continues to lack the necessary support from lawmakers to pay for the project.
Trump has also tried to spin his new trade deal with Mexico and Canada (dubbed the USMCA), which replaced NAFTA, as providing the funding for the border wall. However, experts have pointed out that the argument is invalid.
Geoffrey Gertz, a fellow in the Global Economy and Development program at the Brookings Institution and a research associate at the Global Economic Governance Programme at the University of Oxford, explained to Fact Check that "there are no plausible assumptions of USMCA's impact" that would see government revenues increase enough to fund the multi-billion dollar project. Such an argument is also inaccurate in that revenues coming into the U.S through the deal would go to U.S. citizens, not directly to the Treasury.
"Ultimately USMCA is very similar to NAFTA, and so we shouldn't expect any substantial economic shifts from the new agreement," Gertz pointed out. "It's difficult to argue that that NAFTA was 'anti-USA' and 'very costly' but that USMCA will save us lots of money, because there's not a huge difference between the two agreements."
Ann Coulter, a conservative political pundit who was formerly a staunch Trump supporter, has apparently already given up any hope that the president will build the wall.
"Either Trump never intended to build a wall and was scamming voters from the beginning or he hasn't the first idea in how to get it done and no interest in finding out," she told The Daily Caller on Wednesday. "My prediction is his support will evaporate and Trump will very likely not finish his term and definitely not be elected to a second term."