Trump Blames Stimulus Delay on Democrats, but Failure May Hurt Him Most at Election
President Donald Trump could suffer most politically over delay of a further stimulus package as the chances of one passing pre-election fade, political scientists predict.
Trump last week suggested his rivals do not want a package to pass, with hopes of a bipartisan agreement before November 3 fading after a so-called "skinny" package failed to garner support in the Senate.
Talks between Democratic figureheads and White House negotiators have failed to strike compromise on a plan of action likely to pass both the Senate and House.
Last week, Trump said rival lawmakers "don't want to pass a stimulus bill because they think that helps me in the election."
"I don't think it helps me at all. We are prepared to pass stimulus for people that need it," he added.
And while Trump suggested such a bill might not boost him, as the incumbent, there are suggestions the absence of one could damage his re-election bid.
"In short, the failure of a second stimulus is more risky for Republicans than Democrats. Anything that weakens the economy tends to hurt the incumbent party more—and especially the incumbent president," John Sides, a professor in the department of political science at Vanderbilt University and author of Identity Crisis: The 2016 Presidential Campaign and the Battle for the Meaning of America, told Newsweek.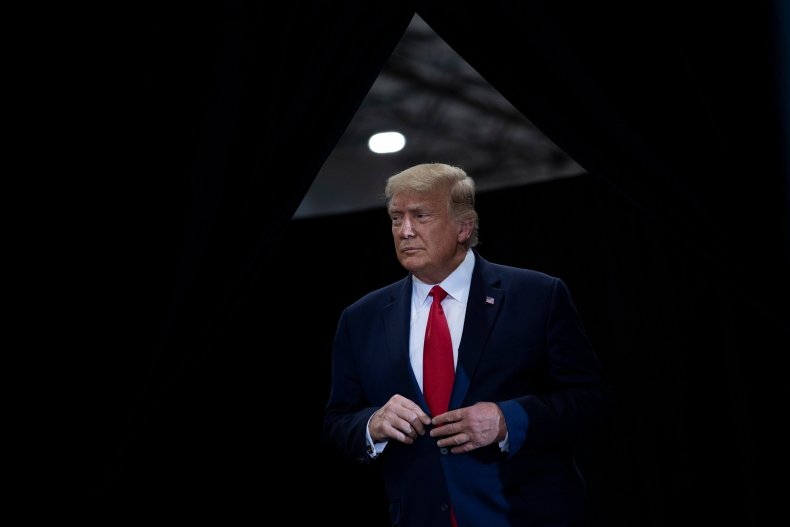 Justin Buchler, associate professor of political science at Case Western Reserve University, said Trump would be likely to receive either the credit or blame in the situation, suggesting there may be truth in the thought a package passing could boost him.
"As a general rule, credit and blame both accrue to the president, regardless of who is responsible," he told Newsweek.
"It is probably too late for a new round of stimulus to make much of a difference in the economy. However, an economic boost would help Trump, which makes it ironic that the Democrats are pushing for a package of policies that, according to conventional economics, would help Trump in November, while the Republicans are pushing for economic policies that are less helpful to their own party."
David Campbell, chairperson of the University of Notre Dame's political science department, similarly said the president is usually held "ultimately responsible" for the state of the economy.
"It thus stands to reason that the absence of a stimulus package will harm Republicans (because they hold the White House) more than the Democrats," he told Newsweek.
However, he suggested there have been instances in which the president could blame Congress—though suggested this would be harder due to the Republicans controlling the Senate.
"There have also been cases where presidents have managed to pin blame on a 'do nothing' Congress," Campbell said. "In this case, though, that will be tough, since the Republicans control the Senate."
Douglas Heye, former communications director for the Republican National Committee, said he thinks each party's supporters will blame the other side—though where those undecided on who to vote for will go is less clear.
"It's a risk for both parties—certainly each party's base will blame the other side, but for those voters who remain undecided, which way they go on this issue is uncertain," he said. "The best course would be to pass something and fight it out on other issues."
David Brockington, lecturer in politics and social science methods at University of Plymouth, said he thinks the debates over stimulus might not cut through other issues.
"The debate around the stimulus would need to punch through the weight of the West Coast on fire, Woodward's taped interviews about Trump's handling of the virus, and the ongoing rumblings about Trump's demeaning statements regarding those who have served, and died, for the country," he told Newsweek.
He added that it would be difficult for the issue of the negotiations to "break through to the consciousness of the general public" given other ongoing situations across the United States.
If it were to do so, responsibility for the delay might be hard for voters to assign thus nullifying what impact it might have at the election, Brockington suggested.
Newsweek has contacted the Trump campaign, the White House, Pelosi, Schumer and McConnell for comment.
A bill proposed by Senate GOP leadership failed to pass the upper chamber of Congress last week, with Democrats insisting it did not provide sufficient support in the circumstances.
The Democrats' proposed HEROES Act passed the House in May, though Republicans swiftly rejected this and branded it dead on arrival in the Senate.
A major point of contention has been the budget of any proposal. The HEROES Act was worth around $3.4 trillion, while Republicans looked to work within a cap of around $1 trillion. Each side has suggested the other would not compromise sufficiently on the budget of such a package.
Pelosi said Friday she is optimistic an agreement can be reached.
"I do think that we should have an agreement," she said, speaking on CNN's The Situation Room. "That's what we all want."