Donald Trump Is the 'Strangest President' in U.S. History; Montenegro's Former Leader Responds to World War III Comments
Montenegro's former parliamentary president has responded to Donald Trump's comments about his country, referring to the U.S. leader as the "strangest president" in American history.
Trump told Fox News Tuesday evening that Montenegrins are "very aggressive people" and suggested they could start a new global war.
"Montenegro, you know, is a tiny country with very strong people," the president said. "By the way, they're very strong people, they're very aggressive people. They may get aggressive and congratulations, you're in World War III. I understand that, but that's the way it was set up."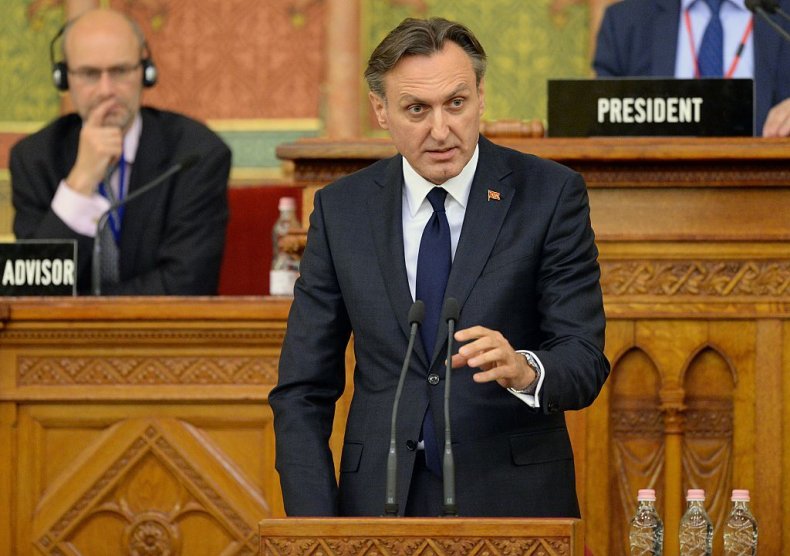 Commenting on Trump's assertions, Ranko Krivokapic—who served as Montenegro's president of Parliament from 2003 until 2016 and remains the leader of the country's Social Democratic Party—suggested the president lacks foreign policy skills.
"He's the strangest president in the history of the United States," Krivokapic told the BBC. "With this kind of president, with his knowledge of foreign policy, who knows what is going on? Foreign policy is not his big thing."
Trump's unusual remarks came in response to a question about NATO from Fox News anchor Tucker Carlson. "Why should my son go to Montenegro to defend it from attack?" he said.
According to Article 5 of the founding treaty of NATO, an attack on one member state is seen as an attack on all nations in the alliance.
A NATO official told Newsweek by email that "Article 5 is unconditional and iron-clad." The official also pointed out that since NATO was founded in 1949, the article has only been used one time, and it was in support of the U.S.
The article was "invoked once, in support of the United States after the 9/11 attacks," the official explained.
Boris Raonic, a program director at the Civic Alliance human rights organization in Montenegro, expressed confusion at Trump's response.
"We are used to having [a US president] who unites and promotes Western values," Raonic told the BBC. "Now, instead of a leader, we have a showman."
Taking his criticism further, Raonic said that Trump "obviously" does not read reports given to him by the U.S. State Department. "So we get these stupid statements, which clearly show a lack of knowledge and respect for role that the U.S. had until now," he said.
Trump's comments on Montenegro occurred a week after a NATO summit in Brussels. Since the meeting, Trump has repeatedly claimed credit for garnering additional pledges from alliance members to increase their contribution to defense spending. However, French President Emmanuel Macron rejected Trump's assertion and added that NATO countries had only agreed to meet their existing commitments of a 2 percent contribution from their budgets by 2024.