President Donald Trump's praise of Russian leader Vladimir Putin's expulsion of hundreds of American diplomats is making America look weak in front of the foreign strongman, say diplomats who have served both Republican and Democrat presidents.
At his New Jersey golf course Thursday Trump told reporters he wants to thank Putin for expelling the diplomats "because we're trying to cut down our payroll."
"There's no real reason for them to go back," Trump said. "I'm very thankful that he let go of a large number of people because now we have a smaller payroll," the president added. "We're going to save a lot of money."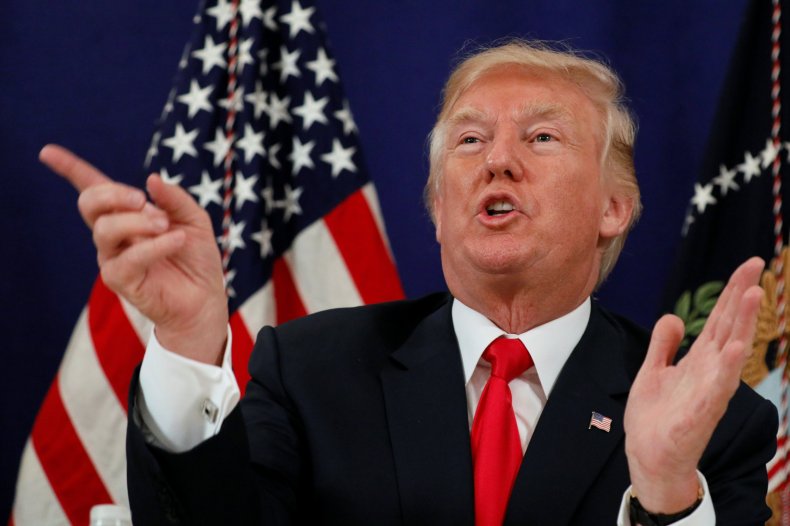 The president's remarks are the first he has made in response to Putin's announcement late last month that Moscow will force the U.S. to cut 755 staff from its Russian embassies and consulates by September 1. Many of those employees are locally hired Russians, but hundreds are American diplomats and spies.
"It's astonishing to see our President submissively take Putin's side against U.S. State Dept personnel," tweeted Congressman Don Beyer, a Democrat who served as Ambassador to Switzerland and Liechtenstein from 2009 to 2013.
"Having served at State for 25 yrs under R/Ds, Trump's defense of Putin over expelled U.S. diplomats one of most shameful of his presidency," wrote Aaron David Miller, an adviser to both Republican and Democratic secretaries of state who worked on Arab–Israeli negotiations during the George W. Bush administration.
Related: Rex Tillerson rejects $80 million from Congress to fight Russian propaganda because it would anger Moscow
"Imagine wanting to know less about Russia's military modernization! That's what Trump praised today," tweeted former U.S. Ambassador to Russia Michael McFaul. "There is nothing conservative, Republican, patriotic or MAGA-ish about appeasement of Putin. Nothing."
Trump's decision to commend Putin "shows that he doesn't understand diplomacy," McFaul wrote.
Before Trump praised Putin, Secretary of State Rex Tillerson said that the U.S. would formulate a response to the Kremlin's move before September 1. Trump's response makes plain he is OK with letting the embassy staff go.
The Kremlin's expulsion of American diplomats comes in response to the Obama administration's expulsion of 35 diplomats and the seizure of two Russian diplomatic properties in the U.S. late last year. The move was made after key American intelligence agencies found they were used for spying and interference in the 2016 election. Moscow has said it will also seize two American diplomatic properties.
Early this year Tillerson said that U.S.-Russia relations had reached an all-time low point. But relations with the Kremlin have become even more tense after Congress passed a bipartisan law last month by a veto-proof majority that limits Trump's power to roll back a series of American sanctions against Russia.
In a briefing to reporters at the State Department last Tuesday, Tillerson said that "neither the president nor I were very happy" about Congress's recent decision to pass the bill. When Trump signed the bill the following day, he said it was "seriously flawed" because "it encroaches on the executive branch's authority to negotiate" and "strike good deals for the American people."
Congress's distrust of the Trump administration's handling of U.S.-Russia relations stems from the president's response to Russia's interference in the 2016 election, which he calls a "hoax." An investigation is currently probing whether the Trump campaign assisted the Russian interference.
The State Department has even resisted spending money to counter Russian disinformation campaigns against the U.S. for fear of aggravating Russia.
Former U.S. Ambassador to the United Nations from 2013 to 2017, Samantha Power, called Trump's response to Putin "unfathomable" because he is "thanking a foreign dictator for deciding America's business."