Trump Tells Barstool President Dave Portnoy He Regrets His Tweets 'Too Often'
President Donald Trump acknowledged he "too often" regrets content he publishes on Twitter, and said retweeted posts in particular tend to be problematic among people who keep tabs on his social media feeds.
Trump discussed his Twitter use during a one-on-one interview Thursday with Dave Portnoy, the founder of the sports and culture blog Barstool Sports. Portnoy, who began the interview by telling Trump he was not overtly liberal or conservative, questioned Trump on a broad array of topics ranging from sports figures who kneel in support of the Black Lives Matter movement to the intense partisanship currently felt throughout the country.
When the interview circled around to Twitter, Portnoy asked Trump—who is known for tweeting every day to communicate with his 84 million followers—if he enjoys using it.
"There are times when I love it. Too much sometimes, right?" Trump said.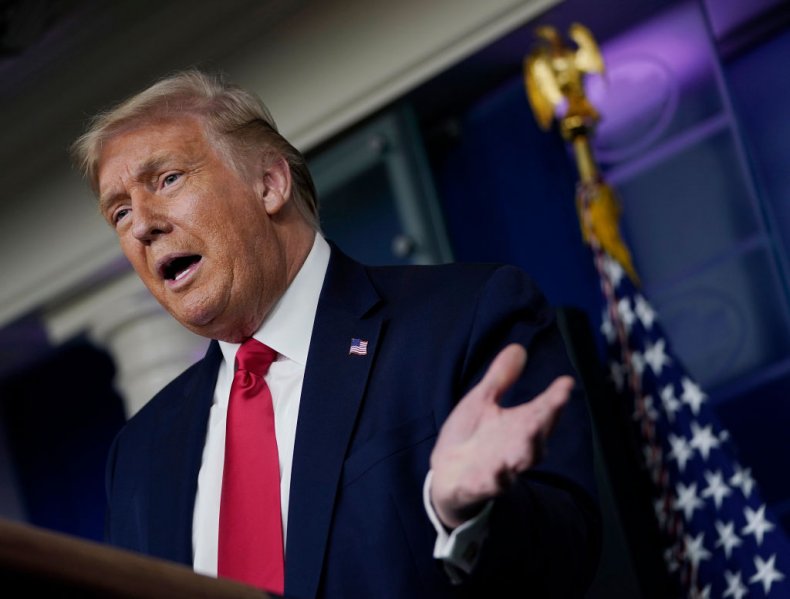 Portnoy asked the president if he ever regrets any of the content he posts.
"Often. Too often," Trump said. "It used to be, in the old days, you'd write a letter, and you'd say, 'This letter's really big.' You'd put it on your desk, and then you go back tomorrow and you say, 'Oh, I'm glad I didn't send it.' Right? But we don't do that with Twitter. Right? We put it out instantaneously, we feel great, and then you start getting phone calls: 'Did you really say this?'"
The president went on to specify that retweeted content in particular could be problematic.
"You know what I find? It's not the tweets, it's the retweets that get you in trouble," Trump said.
"You see something that looks good, and you don't investigate it—you don't look at what's on the helmet exactly, right, which is in miniature, and you don't blow it up," he said. "But I have found almost always it's the retweets that get you in trouble."
Twitter has been one of the president's most reliable methods of communication throughout his time in office. He frequently posts his own content and retweets that of others—and has come under fire for both kinds of posts. In recent weeks, he has retweeted criticism of the Centers for Disease Control and Prevention (CDC); a video of a person in Florida who could be heard saying "white power"; and posts by other conservative public figures that allege health officials are dishonestly reporting the threats posed by the coronavirus pandemic.
Though politicians across the political scale have criticized Trump for his social media use over the years, it hasn't deterred the frequency with which he posts content. Twitter and Facebook have for the most part allowed Trump to publish and share content unabated, only recently stepping in to regulate some posts that company officials determined to be either spreading misinformation or acting in violation of their platform's rules.
As Portnoy pointed out during the interview, Trump has become one of the most famous people in the world since winning the 2016 election. But Trump has been a public figure for much of his life due to his background in real estate and roles he played on reality television. The Barstool Sports founder asked Trump if he ever regrets the heightened attention that the presidency brings.
"The best day of my life in terms of business and life and everything was the day before I announced I'm running for president," Trump said. "Everything was good: the company was good, I had finished up a lot of jobs that were very successful. And then I said, 'I want to do this.' Now, I'm really glad I did, but I was treated very unfairly," he said, referencing allegations that inspired an investigation into his campaign's ties with Russia.
"I love doing it. But there was this phony deal that I was devastated when I won, because I couldn't have my life. I had a great life, I did."
The president recalled a moment after he announced his run for office when he and his wife, Melania, heard people booing their presence for the first time. "And now, I would say this: I have more fervor on the one side and I have far more animosity on the other side," he said.
Newsweek reached out to the White House for comment, but did not receive a response in time for publication.
This article has been updated with background and additional information.