Trump Tells Rally He's Kept More Promises Than He's Made
President Donald Trump was the star turn at a rally on Thursday in Columbia, Missouri, where he was backing Republican Senate candidate Josh Hawley, who is locked in a tight race with Democratic Senator Claire McCaskill.
A rally supporter behind Trump held a placard stating "Promises Made, Promises Kept," and that was what the U.S. president addressed.
Boasting about how good he was at keeping promises, Trump said, "It's all happening much faster than anybody can believe. Even one of them recently said that President Trump made promises but he's kept many more promises, I mean far more than I made. Think of it, it's true," he said, without specifying how that would be possible.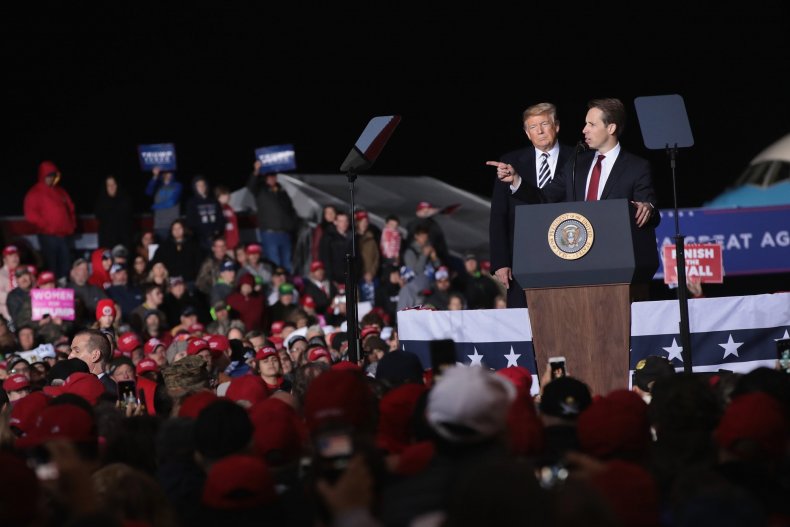 Some may beg to differ on Trump's claims of promises kept. The Washington Post reported in September that of the 60 pledges made after he was elected, he had kept 14 and broken 16. Ones he had broken, according to the Post, included reducing tax brackets, fully repealing Obamacare and making Mexico pay the United States for the full cost of the proposed southern border wall.
Read more: Trump says Pittsburgh shooter and mail bomber stopped GOP's 'tremendous momentum'
However, the crowd did not appear to care as they cheered wildly in the fevered atmosphere in which mentions of Trump's opponents were booed.
In a wide-ranging speech, Trump told the rally about the economy, his good relationships with North Korean dictator Kim Jong Un and Chinese leader Xi Jinping, and how the media is against him.
Trump also said that the swearing-in of Brett Kavanaugh into the Supreme Court followed defeating the "Democrat mob," and that Kavanaugh was a "great scholar" who was "treated as unfairly as any human being I've ever seen. We are much tougher, much smarter, much more sane… The Democrats lie," Trump said.
The race is expected to be close for Missouri, with a CNN poll of Missouri voters last month putting the Democrat McCaskill at 43 percent and Republican candidate Josh Hawley only one point behind.