A conservative radio host offered some advice to Donald Trump, who recently visited Georgia to stump for gubernatorial candidate David Perdue.
John Fredericks, host of The John Fredericks Show, told Trump on Tuesday to "face reality" as polls show Perdue behind incumbent Governor Brian Kemp in the Republican primary.
"You've got to get to another rally in Georgia," Fredericks said during the interview. "I think if you do that, Perdue can turn the corner and, sir, win this election. But we're behind. You've got to face reality. But we need you in Georgia again."
Trump replied that the press will "blame" him and no one else if Perdue loses.
Trump's influence in the Peach State—which he lost to Joe Biden during the 2020 election—will be tested this year as he has endorsed several candidates.
The former president encouraged Perdue to challenge Kemp in large part due to Kemp's refusal to overturn Georgia's election results. Several audits and recounts of the race conducted by state officials reaffirmed Biden's victory in 2020, the first time a Democratic presidential candidate won the state in 28 years.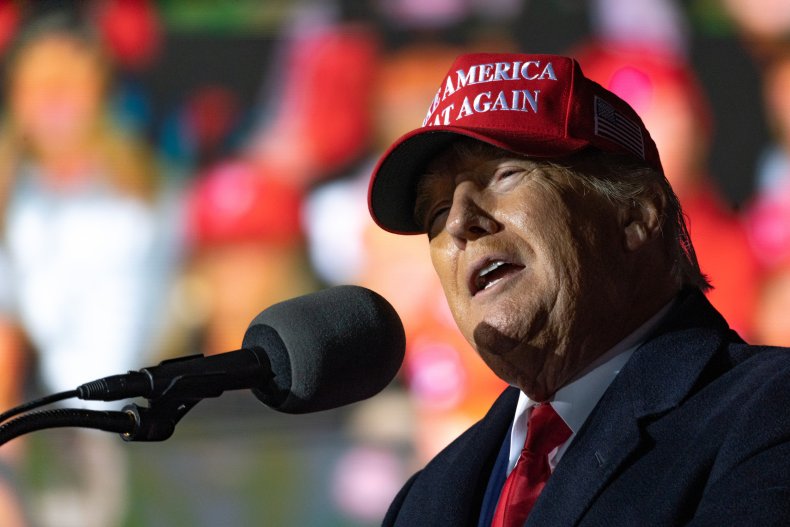 Trump continued to rail against the state's handling of the election in a rally in Commerce last month.
"We're going to save your state from the RINOs," Trump said, referring to Kemp as a "coward" and "Republican in name only."
Perdue repeated Trump's claims, stating the elections in 2020 were "absolutely stolen."
A recent Fox News poll showed Kemp leading Perdue by 11 points in the GOP primary. The current governor received 50 percent of the vote from Republicans primary voters while Perdue garnered 39 percent.
A Quinnipiac University poll from earlier this year showed Kemp with a 7-point advantage over Perdue.
Trump told Fredericks that he thinks Perdue has "a very good shot" and that his poll numbers might go up following the rally in Commerce.
While Perdue has lagged in the polls, one of Trump's other picks is leading a primary race. Senate candidate Herschel Walker is far ahead of any other Republican seeking the nomination to challenge Democrat Raphael Warnock.
In the Fox News survey, Walker received 66 percent support from GOP primary voters. The closest candidate to Walker was Agriculture Commissioner Gary Black, who received just 8 percent.
Trump again teased a 2024 White House run during the rally in Georgia, telling the crowd: "The truth is I ran twice, I won twice and I did much better the second time. And now we just may have to do it again."
Newsweek reached out to Trump's Save America PAC for comment but didn't receive a response before publication.