Trump Can Torture the GOP if He Doesn't Get His Way: Ex-Bush Speechwriter
Former President Donald Trump could make it more difficult for Republicans to win the 2024 presidential race if he does not get his way in the primaries, warned William McGurn, a former George W. Bush speechwriter.
Trump, who served as president from 2017 to 2021, is running in the 2024 GOP presidential primary, seeking the party's nomination for the third consecutive election. Despite years of legal woes and other scandals, Trump remains generally popular among Republican voters and is seen as the frontrunner to win the primary.
Trump will not go unchallenged in the primary. Former South Carolina Governor Nikki Haley, who served as Trump's United Nations ambassador, has already announced a challenge, though she is not seen as his top threat. That would be Florida Governor Ron DeSantis, who has not formally announced a run, but polls point to him being the Republican with the best chance of beating Trump, though Trump still leads most polls.
Should Trump eventually lose the 2024 nomination to another Republican, he could make it more difficult for Republicans to beat President Joe Biden and win the White House by launching a third-party bid, McGurn warned in an opinion piece in The Wall Street Journal.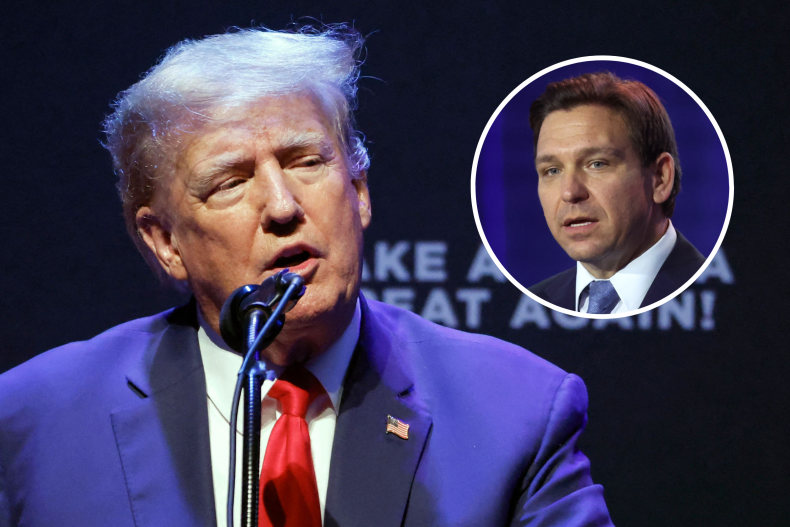 "Even if Mr. DeSantis managed to win the nomination, Mr. Trump might still be able to frustrate his chances," McGurn wrote. "Thin margins in some swing states clearly show that a shift of a few thousand votes in three or four states could mean a different president."
Both the 2016 and 2020 races were decided by a handful of battleground states, by extremely narrow margins. In 2020, for instance, Biden flipped five states—Arizona, Georgia, Michigan, Pennsylvania, and Wisconsin. He won three of those states by less than a single percentage point.
McGurn explained this dilemma leaves other Republican candidates in a tight spot as defeating Trump could run the risk of him launching a third-party contest, siphoning off enough votes in these key states to deliver a victory to the Democrats.
"Not only does Mr. DeSantis have to beat Mr. Trump in the primaries, he has to do it in a way that won't provoke the former president into stalking off and running as a third-party candidate in the general election," he wrote.
Already, Trump and DeSantis have exchanged attacks. Trump took aim at DeSantis during a speech in Davenport, Iowa, on Monday, accusing him of trying to "decimate" Social Security by raising the minimum retirement age to 70. DeSantis addressed Trump's attacks in a Fox News interview, saying that his jabs won't "trump the achievement[s]" he secured for conservatives as governor.
Trump has not committed to supporting the eventual Republican nominee if it is not him.
"It would have to depend on who the nominee was," Trump said during an interview with Hugh Hewitt last month.
Newsweek reached out to Trump's campaign press office via email for comment.