Trump Touts 'VERY High Marks' for Coronavirus Handling, Doesn't Say Who From
President Donald Trump has tweeted that the U.S. is getting "VERY high marks" for its handling of the COVID-19 pandemic, without stating who is giving these marks.
Polls suggest the Trump administration is not getting "very high marks" on how it has dealt with the crisis, at least from the U.S. public.
In a tweet posted on Labor Day, the president stated: "Starting to get VERY high marks in our handling of the Coronavirus (China Virus), especially when compared to other countries and areas of the world. Now the Vaccines (Plus) are coming, and fast!"
The president made the remarks as the U.S. continued to lead the world in COVID-19 diagnoses, hitting 6 million last week, and deaths, at 188,942. That is more than all the U.S. service members killed in the First World War, and Vietnam and Korea wars combined.
Trump did not state which vaccines he was referring to. Newsweek has contacted the White House for comment.
There are currently three COVID-19 vaccines in phase 3 trials in the U.S. being conducted by pharmaceutical firms AstraZeneca, Moderna and Pfizer/BioNTech. On Friday, Trump told reporters at a news conference that the country is on track to deliver a coronavirus vaccine "maybe even before November 1st," days before the 2020 election. Last month, U.S. Food and Drug Administration commissioner Dr. Stephen Hahn denied accusations that the agency was speeding up the process to boost Trump's re-election campaign.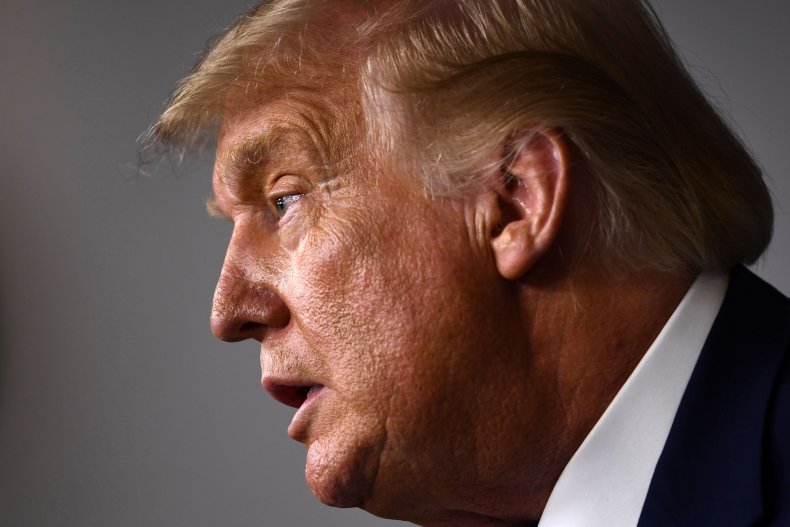 According to FiveThirtyEight, which collects poll data on how people in the U.S. view the government's response to the COVID-19 pandemic, 57.1 percent disapprove of Trump's response to the coronavirus crisis, while 39 percent approve. The trend has remained largely stable over the past few months.
A CBS News poll published on Sunday, for instance, showed half of voters surveyed thought Democratic presidential nominee Joe Biden would do a better job handling the coronavirus outbreak, while 38 percent indicated a preference for Trump in this area. Only 4 percent said both equally, and 8 percent neither.
Some 60 percent of respondents said the U.S.' attempt to handle the coronavirus outbreak was going "very badly" or "somewhat badly," versus 40 percent who said "very well" or "somewhat well."
When asked whether the Trump administration is doing all it can to fight the coronavirus, 42 percent agreed, while 58 percent said it could be doing more.
The poll also revealed that 66 percent of voters agreed the death toll could have been lower if plans to combat the outbreak were made sooner.
When asked to consider whom they trust to give accurate information about the virus, 60 percent said they did not trust the president.