Donald Trump's Trade Wars Are Hurting the World Economy, IMF Warns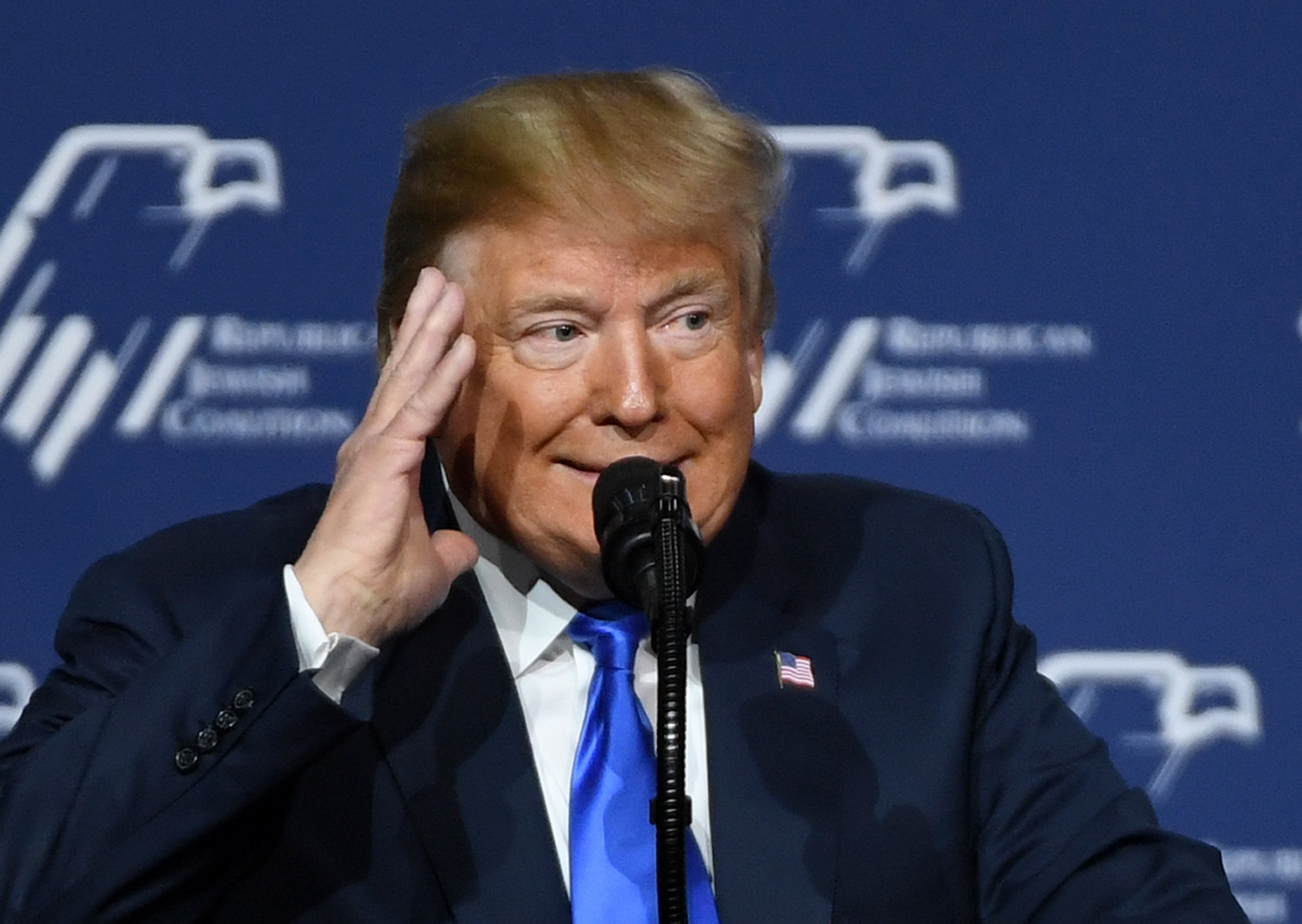 The International Monetary Fund (IMF) has warned that the ongoing trade tensions between the U.S. and its trading partners are contributing to a slowdown in the global economy.
In its latest World Economic Outlook, the IMF cut its global growth forecast for 2019 to 3.3 percent.
That is down from the 3.5 percent predicted in January's edition of the quarterly report, which had itself been cut from 3.7 percent. But 2020 should see 3.6 percent growth if risks are mitigated.
One of the major factors in slashing the estimate is the U.S.-China trade dispute kicked off by President Donald Trump, who accuses Beijing of ripping America off.
He says China does not play fair on goods such as steel, a heavily subsidized industry in China, and also allows intellectual property theft from American firms to run rife.
The pair have hiked tariffs on each other's products. The Chinese targeted sectors in agricultural pro-Trump heartlands that rely on exporting their products to the Asian giant.
Talks are ongoing between the two, and have shown positive signs in recent weeks, such as China's commitment to reducing tariffs on U.S. auto imports.
As well as China, Trump has used tariffs to force others to the negotiating table on trade, including Canada, Mexico, the European Union, Japan and South Korea.
Trump views America's bilateral trade deficits as negative for the domestic economy and a sign that its companies are losing out.
Many economists, however, say bilateral trade deficits do not matter all that much.
They are a sign of America's economic power. A strong dollar allows businesses to access cheap goods, materials and labor overseas, which reduces costs and aids profitability.
The Trump administration ditched NAFTA, the trade deal with Canada and Mexico, to negotiate a new deal, USMCA, which was signed by all parties in November.
To do so he threatened both Canada and Mexico with tariffs unless they agreed to reopen the trade deal.
"Global trade, investment, and output remain under threat from ongoing trade tensions," the IMF said in its report.
The IMF noted that the signing of USMCA and some recent softening of U.S.-China tensions, such as the extended truce on tariff rises, are steps in the right direction.
But it also said negotiations between Washington and Beijing remain unresolved and Congress still has not ratified USMCA.
There is also a proposal under consideration by the Trump administration to raise tariffs on all imported cars and car parts.
"Failure to resolve differences and a resulting increase in tariff barriers above and beyond what is incorporated into the forecast would lead to higher costs of imported intermediate and capital goods and higher final goods prices for consumers," the report said.
"Beyond these direct impacts, higher trade policy uncertainty and concerns of escalation and retaliation would reduce business investment, disrupt supply chains, and slow productivity growth.
"The resulting depressed outlook for corporate profitability could dent financial market sentiment and further dampen growth."
Other reasons for slowing global growth include declining growth in China and Europe and recent tightening of monetary policy among central banks.
But the IMF warned that countries must urgently move forward on trade or risk causing more damage.
"At the multilateral level, the main priority is for countries to resolve trade disagreements cooperatively, without raising distortionary barriers that would further destabilize a slowing global economy," the IMF report said.