Trump's Trade War Is Hurting Manufacturers. But Some Firms Think Fighting China Is Worth It
Mike Schmitt's sales team at his Ohio-based manufacturer The Metalworking Group was supposed to be out in the market expanding the firm's roster of clients, which currently includes the Department of Defense. Then the Trump administration's trade war hit, and hit hard.
The tit-for-tat tariffs between the U.S. and its trading partners, including China and the European Union (EU) among others, have increased Schmitt's steel and aluminum costs by 25-40 percent. And that means price rises for everyone else.
"We had to increase our prices to every customer," Schmitt told Newsweek. "The alternative was not to be a viable business. Our competitors were in the same position. Therefore our customers were left with little choice but to take increases at some level.
"Instead of working on growing our business, our sales force spent three to four months doing nothing but repricing and negotiating new pricing. This was extremely disruptive to our business."
The data suggests that American manufacturers are, on the whole, hurting from the tariffs.
Talks between the Trump administration and those partners with which it is in a trade war are ongoing. Tentative progress appears to be happening with China, though a comprehensive deal is not yet in sight, and further escalation is possible.
The Institute for Supply Management's Purchasing Manager's Index (PMI) is a closely watched monthly report that surveys the manufacturing sector. There are some troubling warning signs coming out of the data, which show the sector is contracting amid the trade war.
New orders, both domestic and for export, are drying up as tariffs and the slowing global economy bite down on demand.
As a result, the backlog of manufacturers' work is wearing down. Manufacturers are also dwindling their inventories of raw materials rather than ordering more in, a signal their confidence about future sales is waning.
There's a growing number of reports in the surveys that companies are not replacing employees who leave, and that some may lay off those that still remain if the situation continues to deteriorate.
Tim Fiore, chairman of the Insitute for Supply Management's Manufacturing Business Survey Committee, who is a procurement executive in the sector, told Newsweek that the trade issues and the weak global economy have frozen investment.
"Unless those new orders—demand—come back, we're looking at a fairly significant decline here," Fiore said.
"We are now in a position where we are receiving about 1.6 negative comments to one positive. That's been going on for the last couple of months. We peaked at three positive to one not-so-positive in May...before everything blew up in June."
Back in June, the China-U.S. trade war exploded, with new tariffs introduced and Beijing accusing Washington of backtracking on past commitments. Later in the month, talks resumed, and there have since been more positive sounds—including the announcement of the first phase of a deal—from both camps.
Drew Greenblatt, president of the Maryland-based manufacturer Marlin Steel, said tariffs are hurting but business is still good and he supports the Trump administration's efforts to take China to task over its unfair trading practices, particularly the theft of intellectual property.
"The tariffs have impacted us. Our costs have gone up. But our clients are familiar with the challenge and are accommodative, and the economy is so good people are just saying, 'That's nice, when are you going to ship to me? I need to order more,'" Greenblatt told Newsweek.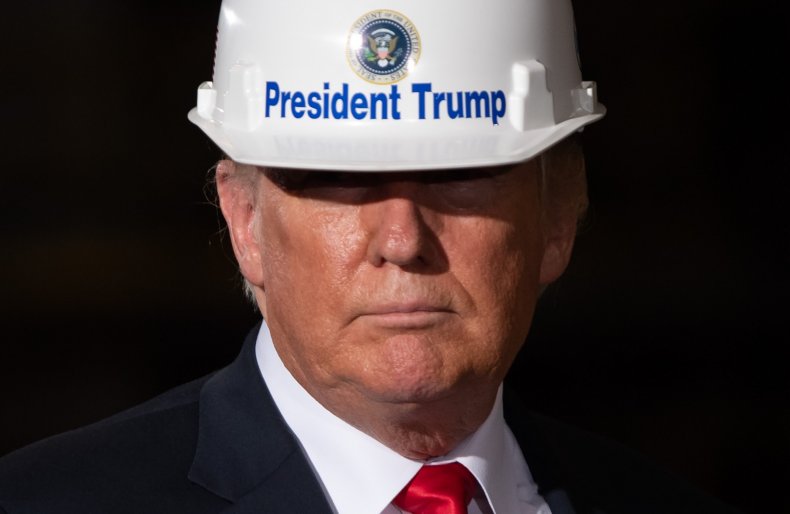 His company has six intellectual property patents and he worries that Chinese businesses have their eyes on his ideas.
"We're very scared that Chinese companies are going to steal those good ideas and pretend that they're their novel ideas and introduce them to the American market under their banner. If we can fix intellectual property it'll be a big win for the American factories," he said.
"This is a long-term conversation. Obviously this is not pleasant. However, the big picture is, if you look with a 20-year view, or a 50-year view, we have to make sure that people don't steal our secret sauce, our innovations...I don't know if there's going to be a quick fix."
It is his big advantage against Chinese firms that operate in the American market. He says that, unlike his competitors in China, he pays good wages and does not despoil the environment.
"The only way I'm going to stay ahead of them is by offering novel, innovative fresh ideas that blow away my clients so they keep on coming back," Greenblatt said. But for now, things are good despite the tariffs. "The industry is very hot. American manufacturing is very hot."
He is not alone in wanting to see China tackled over its behavior on trade. Kathie Leonard, president and CEO of Maine-based Auburn Manufacturing, which makes textiles that can handle extreme heat, says she is actually benefitting from the tariffs.
Leonard told Newsweek that the state-subsidized Chinese textiles imported to the U.S. had been eroding her company's market share for almost two decades. Now, the tariffs are helping to mitigate that. "Customers who had left us are now returning to us," Leonard said.
"Stick with the program!" she urged the Trump administration.
"Duties were to go up another 10 percent this month, but that's been put off by the administration while talks continue with China. Wavering now is not helpful to U.S. businesses.
"Also, they need to support customs enforcement activities in order to prevent the transshipment of Chinese goods through other countries and to facilitate U.S. companies' complaints regarding goods coming in under false classifications."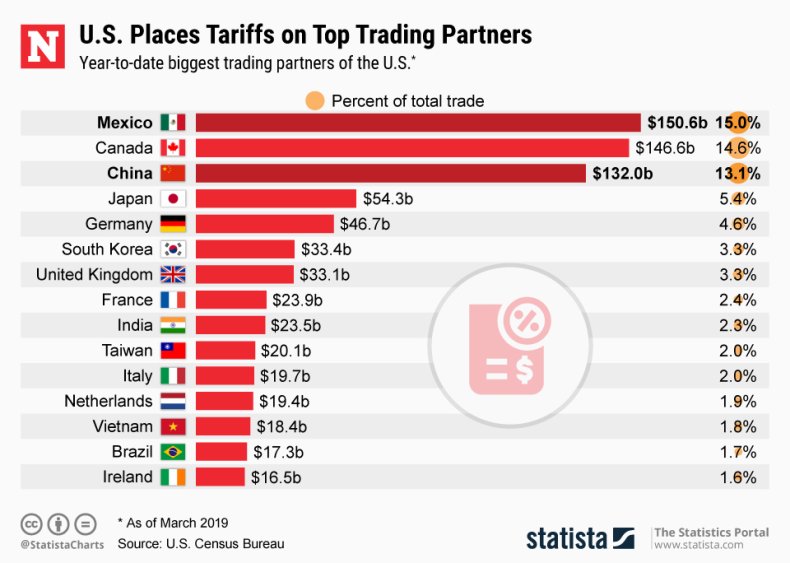 Fiore said that those who have done business in China agree that it is not a fair player and exploits old trading rules that need updating. But, he said, the tariff war is not the way to address those problems, and that it is arguably a "catastrophic event" for manufacturing.
"This is essentially self-inflicted for other than economic reasons," he told Newsweek.
The Trump administration, he added, is creating instability and uncertainty for businesses by constantly changing things. Fiore cited President Donald Trump's threat earlier in the year, which did not come to pass, that he would halt all Mexico trade over the border dispute.
"That really froze everybody. That's like, you've got to be kidding me? That will just tank the U.S. economy overnight. And then obviously he didn't do it. But the fact that [Trump] was going to do it kind of indicates that he could do it," Fiore told Newsweek.
"That's the problem right now. Nobody really knows what tomorrow's going to bring when it comes to the president using his favorite weapon for whatever he wants.
"The conclusion here, I think, is there's not really going to be a recovery until there's a better idea of what 2021 looks like...If you were to make a major investment in plant equipment you just wouldn't do it because you just don't know. And it's indicative of this administration."
Fiore added: "The fact is the administration is not really credible anymore. It's not predictable and it's proud of not being predictable and as a result, it's affecting the world economy."
Greenblatt does not recognize the negativity he reads about the manufacturing sector.
"There's over a half-million factory workers, American factory job openings, that cannot be filled because the market is so hot. You read all these articles about how dire things are right now. It's just not matching reality," he told Newsweek.
"If American factories had a magic wand they would bring on a half-million new people to make things this instant. It's a stunningly high number."
But the trade war rumbles on, and research by academics suggests the full burden of the tariffs are being felt by domestic businesses and consumers. Schmitt of The Metalworking Group is left wondering if his customers will keep buying American.
"Our customers are sophisticated and global companies. As time goes on, they can elect to produce their products in other parts of the world," he told Newsweek.
"The United States is simply a high-cost country for manufacturing. The U.S. has the most productive workforce anywhere, but tariffs are another obstacle placed in our way to be successful.
"I am not a trade policy expert. I would think that more holistic approaches involving currency manipulation of the yuan, better policies and penalties for protecting IP, and requirements for safety and environment would be better.
"I would imagine those policies are harder to devise and implement, so maybe it is just easier to throw tariffs into the mix."
Schmitt has one small request for the Trump administration.
"It would be nice to have the administration at least acknowledge that U.S. companies are paying the tariffs—not the Chinese," he said.