Today in Transition: Trump in Florida As Questions Swirl Around Mitt Romney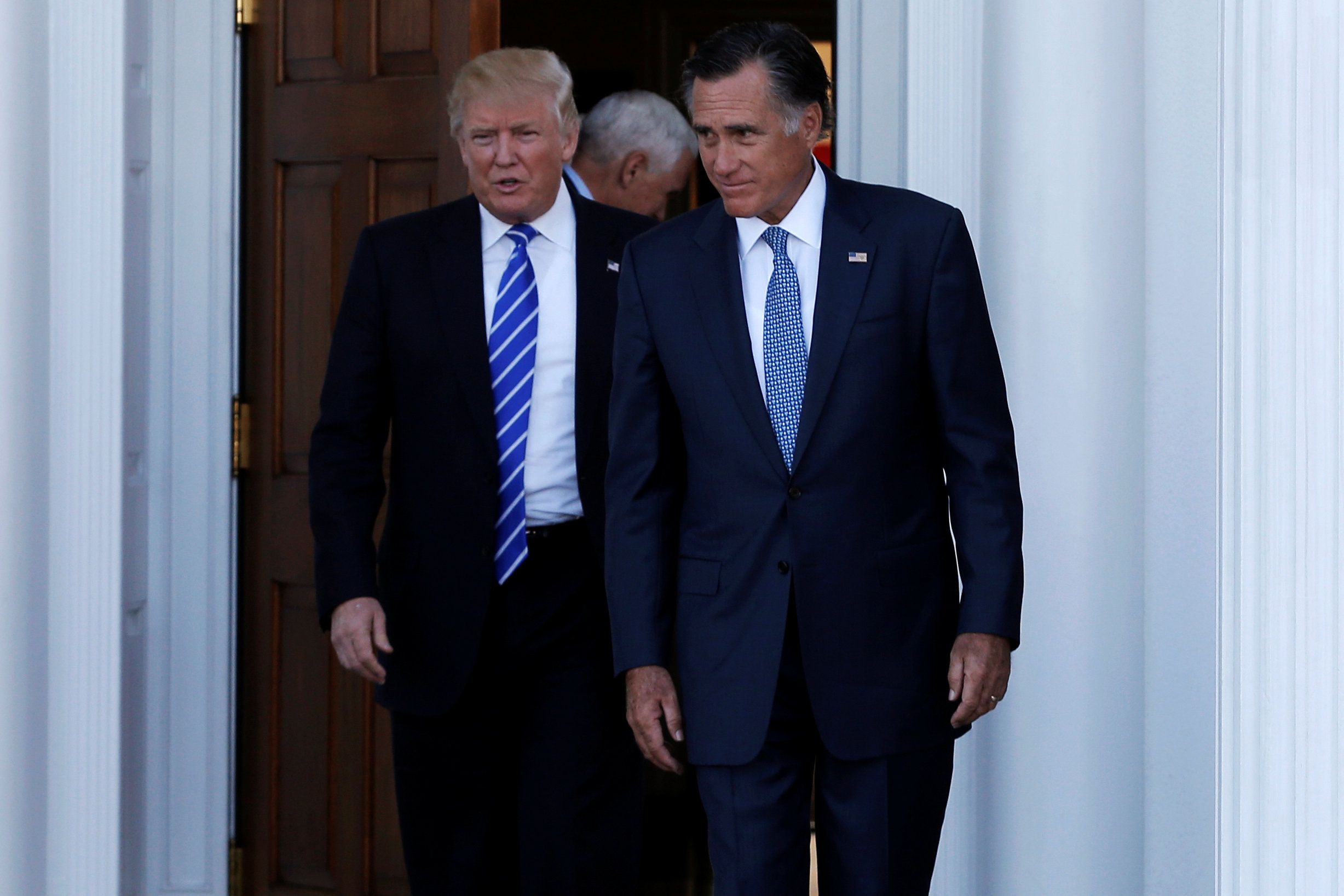 Welcome to Newsweek's daily rundown of President-elect Donald Trump's transition process. There are about 4,000 positions to fill, and we'll be keeping track of appointees through the January 20 inauguration.
After a short hiatus for Thanksgiving, Trump's transition team provided an update on the president-elect's plans for next week, as inauguration day inches ever closer. Trump will be at his Mar-A-Lago resort in Palm Beach, Florida until Sunday and will begin the next round of meetings for potential staff and cabinet positions on Monday.
The transition team is expected to announce two staff-level positions on Friday.
Trump and Vice President-elect Mike Pence are expected to hold eight meetings on Monday, including sit-downs with Sandeep Mathrani, CEO of General Growth Properties, who, according to Fortune, had the largest raise of any CEO on 2015—he was paid a whopping $39 million last year, a 702 percent increase on the year before—Scott Pruitt, the attorney general of Oklahoma; John Allison, founder of Unio Holdings; and Sheriff David Clarke.
Cabinet nominee tally: 4
Attorney General: Jeff Sessions
CIA Director: Mike Pompeo
U.N. Ambassador: Nikki Haley
Education Secretary: Betsy DeVos
White House staff tally: 3
Chief of Staff: Reince Priebus
National Security Advisor: Lt. General Michael Flynn
Senior Counselor: Stephen Bannon
Clarke, the cowboy hat-wearing sheriff of Milwaukee County in Wisconsin and a staunch Trump supporter, is rumored to be a potential choice to head the department of Homeland Security. Jason Miller, communications director for Trump's transition team, declined to comment on whether Clarke will be offered that position during a media call on Friday. Clarke, however, said in an interview earlier this month that while he's not expecting to be offered a position, he will serve if asked by Trump.
Related: Who will Donald Trump pick for his cabinet?
Two additional names, Wilbur Ross and Ben Carson, also are being floated around for the positions of commerce secretary and head of the department of housing and urban development, respectively. Miller said that "both are very well-regarded," but declined to provide any additional comment on their potential positions in the cabinet on Friday's call.
Which brings us to the question of Mitt Romney. The former Massachusetts governor met with Trump last weekend at the president-elect's Bedminster, New Jersey, golf course and is reportedly being considered for the role of secretary of state. On Thursday, Kellyanne Conway, Trump's spokeswoman, tweeted that she's been "receiving a deluge of social media & private comms re: Romney" and linked to a Politico article detailing warnings from Trump loyalists about the pick, a move clearly designed to draw attention to infighting.
Politico reports that both former Arkansas Governor Mike Huckabee and former House Speaker Newt Gingrich are attempting to steer Trump away from Romney, who they believe will be disloyal to the president-elect. Huckabee told Fox News that he's "still very unhappy that Mitt did everything he could to derail Donald Trump," including attacks on "a personal level about his character, integrity, his honor." Former New York City Mayor Rudy Giuliani is reportedly also being considered for the role.
Asked about the tweet on Friday morning, Miller said: "I think a lot of the palace intrigue gets a little bit overblown at this stage" and reiterated that "the president-elect will make public his decision when he's finalized it."
Read more at Newsweek.com:
Trumptransition: Nikki Haley tapped for U.N. ambassador, Betsy DeVos for education secretary