Trump Transition: Public Thinks President-Elect Is Too Close to White Nationalist Groups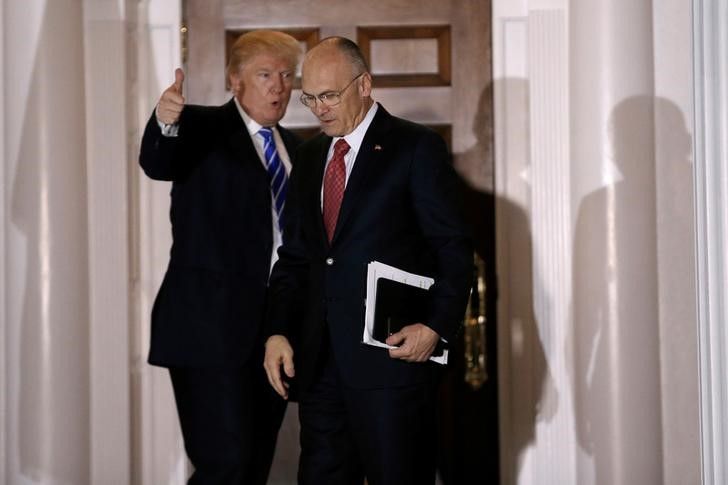 Welcome to Newsweek's daily rundown of President-elect Donald Trump's transition process. There are about 4,000 positions to fill, and we'll be keeping track of appointees through the January 20 inauguration.
Now that the dust has (sort of) settled around the idea of a Trump presidency, a Pew Research Center survey published on Thursday takes a look at public opinion one month after the election.
More than half of those polled say Trump hasn't done enough to distance himself from the white nationalist groups—also known as the "alt-right—who largely viewed his victory as a vindication for their xenophobic, racist and sexist beliefs. Thirty-one percent of those polled say he's distanced himself "about the right amount," while six percent think he's put too much space between himself and the groups. Shortly after the election, a video emerged of white nationalist leader Richard Spencer declaring "Hail Trump" at a neo-Nazi gathering in Washington, D.C. Earlier this week, Spencer told an audience at Texas A&M University that "America, at the end of the day, belongs to white men."
Related: Environmentalists outraged over Trump's EPA pick, Scott Pruitt
The public's approval of Trump's transition process is also much lower than for previous incoming administrations, according to Pew. Just 41 percent of those polled approve of the job Trump has done explaining his policies and plans, while 40 percent approve of his cabinet choices and high-level appointments. In December 2008, shortly before President Barack Obama took office, 72 percent of people approved of his policy explanations, and 71 percent approved of his cabinet picks.
More than 80 percent of those surveyed in the poll also said they want a "more cautious" Trump in the White House (his recent tweeting could indicate they'll be disappointed), and slightly more than a third view him as well-qualified. The poll surveyed 1,502 adults between November 30 and December 5.
Cabinet nominee tally: 14
Attorney General: Jeff Sessions
CIA Director: Mike Pompeo
U.N. Ambassador: Nikki Haley
Education Secretary: Betsy DeVos
Secretary of the Department of Health and Human Services: Tom Price
Transportation Secretary: Elaine Chao
Treasury Secretary: Steve Mnuchin
Commerce Secretary: Wilbur Ross
Defense Secretary: Retired General James Mattis
Secretary of the Department of Housing and Urban Development: Ben Carson
Homeland Security Secretary: General John Kelly
Head of the Environment Protection Agency: Scott Pruitt
Director of the Small Business Administration: Linda McMahon
Labor Secretary: Andrew Puzder
White House staff tally: 5
Chief of Staff: Reince Priebus
National Security Advisor: Lt. General Michael Flynn
Deputy National Security Advisor: Kathleen Troia "KT" McFarland
Senior Counselor: Stephen Bannon
Assistant to the President and White House Counsel: Donald F. McGahn
On Thursday, Andrew Puzder, CEO of CKE Restaurants Holdings, the company that owns the fast-food chains Hardee's and Carl's Jr., was announced as Trump's expected nominee for labor secretary. Puzder is a staunch critic of efforts to increase the minimum wage above $9 an hour, of overtime pay and of worker protections brought about under the Obama administration. A 2012 SEC filing listed a base salary of $1 million for Puzder, who fundraised for Trump during the presidential campaign.
Like Trump, he also supports repealing the Affordable Care Act. Carl's, Jr. is known for its calorie-laden offerings and suggestive advertisements that usually feature women in bikinis eating large hamburgers in slow motion. Puzder has told Entrepreneur magazine that he believes these ads to be "very American." Earlier this year Puzder told Business Insider that he was interested in an automated, employee-free version of one of the restaurants he owns because machines, unlike people, are "always polite, they always upsell, they never take a vacation, they never show up late, there's never a slip-and-fall, or an age, sex, or race discrimination case."
New York Senator Chuck Schumer criticized the pick, saying: "The Labor Secretary should be someone who wakes up every day thinking about how they can raise American wages and fight for American workers. Mr. Puzder's career has shown exactly the opposite." House Minority Leader Nancy Pelosi said that "choosing a secretary of labor who opposed overtime pay and is raising the minimum wage sends a clear signal about what the incoming administration has in store for working families in our country."
Meanwhile, 2016 is the year that wrestling finally got a hold on the federal government. On Wednesday, Linda McMahon, the former CEO of World Wrestling Entertainment (WWE), was announced as Trump's choice for the next administrator of the Small Business Administration. McMahon, the wife of billionaire Vince McMahon, with whom she co-founded WWE, twice unsuccessfully ran for Senate on the Republican ticket in Connecticut.
Again, criticism of Trump's pick was quick to emerge. Karl Frisch, executive director of Allied Progress, a Washington, D.C.-based nonprofit group that focuses on special interests, called it "bad decision-making on steroids" and claimed that McMahon "is far more interested in looking out for her own bottom line than the well-being of her employees."
For those unintiated with professional wrestling, here's an idea of some of McMahon's job duties during her time at WWE.
Read more on Newsweek.com
-Site on dark web fundraises for Donald Trump's assassination
-Donald Trump's Carrier deal is a scam
-Trump's surprise Taiwan call was smart politics