Former President Donald Trump suggested that the trucker protests that started in Canada could cause more significant disruptions in the U.S., saying the country is "more of a tinderbox" than its northern neighbor.
The trucker protests—or "Freedom Convoy"—began in Ottawa in late January. The movement rallied supporters against vaccine mandates for truckers implemented in Canada and led to the convoy blocking the Ambassador Bridge, a key border crossing between the U.S. and its ally to the north. Right-wing groups have jumped behind the movement, with many staunchly pro-Trump Republicans expressing support for the convoy.
During a Saturday morning interview with Fox News, Trump commented on the movement and suggested the U.S. could see an even worse situation. "Freedom Convoys" are now planning to launch related demonstrations in the U.S.
"I see they have Trump signs all over the place and I'm proud that they do," Trump told the hosts of Fox & Friends during a live phone interview. "But that's what happens, you can push people so far and our country is a tinderbox too, don't kid yourself. And there are plenty of [people from] our country up there right now."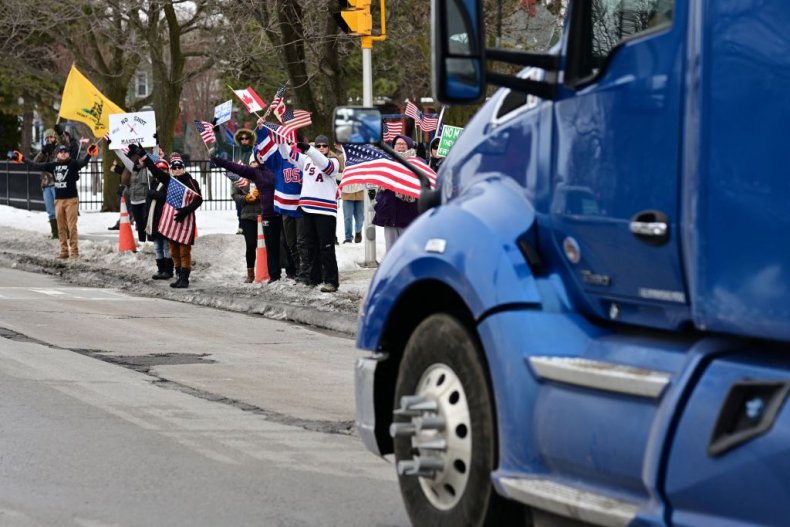 The former president continued, saying, "when you look at what's happening in Canada—our country, I think, is far more of a tinderbox than Canada."
The Department of Homeland Security warned law enforcement agencies that trucker protests could cause problems this weekend as the nation tunes in to the Super Bowl. Specifically, DHS warned about the possibility that the movement could cause disruptions in Los Angeles, where the big game will be held on Sunday.
"The convoy will potentially begin in California as early as mid-February and arrive in Washington, DC, as late as mid-March, potentially impacting the Super Bowl LVI scheduled for 13 February and the State of the Union Address scheduled for 1 March," the DHS warned in a bulletin first reported by Yahoo News.
NBC News reported on Friday that there appeared to be foreign meddling involved with the "Freedom Convoy" protests. Facebook said that it had taken down accounts and posts linked to content farms in Vietnam, Bangladesh, Romania and several more countries, according to the report. Furthermore, large pro-Trump groups on social media have reportedly been changing their names to align with movement.
Facebook told NBC News that some of the online groups involved with promoting the trucker protest frequently linked users to websites that sold pro-Trump merchandise as well as anti-vaccine products. Meanwhile, right-wing figures in the U.S. appear to be attempting to replicate similar protests to the one in Canada. Pro-Trump lawmakers have voiced solidarity with the movement as well.
"I support Truckers. Because of the important role they have in our society delivering all our goods that we need to survive, but also because Truckers are God fearing peaceful Patriots who have the ability to end tyranny through peaceful protests," Representative Marjorie Taylor Greene, a Georgia Republican, tweeted on Saturday.
Newsweek reached out to Trump's press office for further comment but did not immediately receive a response.