Fears over the risk of coronavirus infection at President Donald Trump's rally in Tulsa this Saturday continue as new cases emerge in Oklahoma. New infections in the state have surged by over 50 percent in the past two weeks, according to data compiled by Johns Hopkins University.
The state recorded a total of 1,421 new cases from June 11 to 17, just over a 52 percent increase from the 678 new cases reported between June 4 and 10, according to data from Johns Hopkins University.
Tulsa County, whose county seat is the city of Tulsa, saw a nearly 60 percent jump in new infections in the last week from the previous week.
Tulsa County recorded 517 new cases between June 11 and 17, just over a 57 percent rise from the 221 new cases seen from June 4 to 10, according to the latest figures from the Tulsa County Health Department.
On Wednesday, Oklahoma reported its highest daily case count since the outbreak began, with 259 new infections on June 17. The previous record was set just a day earlier, with 228 new cases reported Tuesday.
Also on Wednesday, the seven-day rolling average of new cases in Tulsa County more than quadrupled the figure reported May 1, when the city of Tulsa entered the first phase of reopening.
The seven-day rolling average of new cases was 73.9 on June 17, over four times higher than the 16.7 recorded on May 1, according to the latest figures from the Tulsa County Health Department.
Tulsa County's seven-day rolling average of new cases on Wednesday was five times higher than the figure reported June 1, when the city began the third phase of reopening. An average of 13.7 was reported June 1, according to the Tulsa County Health Department.
The upcoming rally, which will be Trump's first since the start of the outbreak, has raised concerns over the potential spread of infection at the mass gathering. Large-scale political rallies were paused in March due to the threat of spreading infection among crowds.
Almost a million people have requested tickets to attend the rally on Saturday, according to a post on the president's official Twitter account.
Oklahoma Governor Kevin Stitt has since said the event could be moved from its current venue of the BOK Center, which has a capacity of just over 19,000, potentially to an outdoor space.
"I'm looking for a potential other venue that maybe we could move it outside. It's still kind of in the works," Stitt told reporters Monday.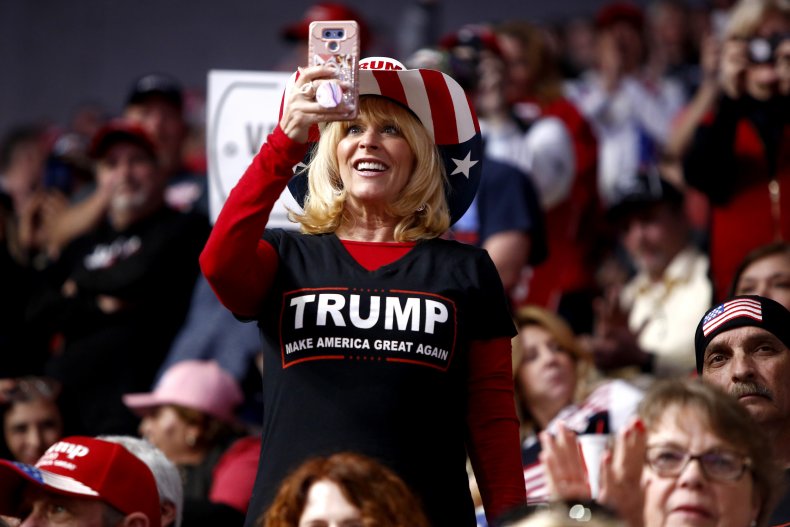 In an interview last weekend, Tulsa Health Department Director Dr. Bruce Dart told Tulsa World: "I wish we could postpone this to a time when the virus isn't as large a concern as it is today.
"I think it's an honor for Tulsa to have a sitting president want to come and visit our community, but not during a pandemic. I'm concerned about our ability to protect anyone who attends a large, indoor event, and I'm also concerned about our ability to ensure the president stays safe as well."
Speaking to Newsweek on Monday, a physician and an infectious diseases specialist at the University of Oxford's Saïd Business School, Peter Drobac, highlighted the risks of holding the Tulsa rally.
"If you tried to design a superspreader event for COVID-19, it would look a lot like one of these rallies," Drobac said.
"It's perfectly designed to foster the spread of a respiratory virus. I worry about the risk to attendees, to their loved ones, and to the president," he added.
Newsweek has contacted the White House and the Tulsa County Health Department for further comment.
There are at least 8,904 confirmed cases in Oklahoma, including 364 deaths. The novel coronavirus has infected more than 8.3 million people across the globe, including more than 2.1 million in the U.S. More than 449,500 people have died globally, while over four million have reportedly recovered from infection, according to the latest figures from Johns Hopkins University.
The graphics below, provided by Statista, illustrate the spread of COVID-19 in the U.S. and the worst-affected countries.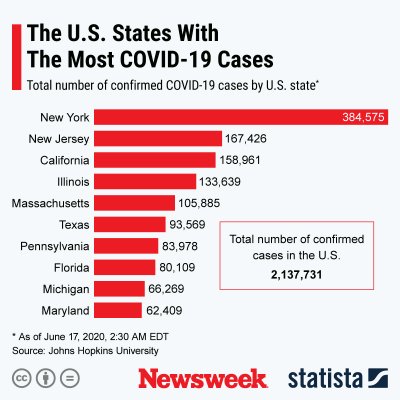 About the writer
Soo Kim is a Newsweek SEO Reporter is based in London, UK. She reports on various trends and lifestyle stories, from health, fitness and travel to psychology, relationships and family issues. She is also a South Korea expert who regularly covers Korean culture/entertainment for Newsweek, including the latest K-dramas, films and K-pop news, and is the author of the book How to Live Korean, which is available in eight languages. Soo also covered the COVID-19 pandemic extensively from 2020 through 2021 after joining the general news desk of Newsweek in 2019 from the Daily Telegraph (a U.K. national newspaper) where she was a travel reporter/editor from 2010. She is a graduate of Binghamton University in New York and the journalism school of City University in London, where she earned a Masters in international journalism. Languages spoken: English and Korean.
Follow her on Twitter at @MissSooKim or Instagram at @miss.soo.kim
You can get in touch with Soo by emailing s.kim@newsweek.com