Tulsa County Coronavirus Cases Rise by Over 75 Percent in One Week Ahead of First Trump Rally Since Outbreak
New cases of the novel coronavirus in Oklahoma's Tulsa County have nearly doubled in recent weeks, according to the latest data from the Tulsa Health Department. The county is home to the city of Tulsa, where President Donald Trump is scheduled to hold his next rally on June 19.
Tulsa County reported a total of 263 new cases from June 5 to 11, a jump from 149 new cases reported from May 29 to June 4, a rise of over 76 percent.
The county's seven-day rolling average of daily cases has been on a sharp increasing trend from June 1 to 11, the Tulsa Health Department reports.
While Oklahoma's stay-at-home order was extended to May 6, some businesses were allowed to reopen from April 24 with restrictions, including dining and entertainment venues and personal care services.
Confirmed cases of the novel coronavirus have now climbed to at least 7,626, including 358 deaths, according to the latest figures from Johns Hopkins University.
Fears of a second wave of cases have been looming over the country as mass demonstrations continue since the killing of George Floyd, who died last month shortly after being pinned to the ground with a knee to his neck during an arrest made by the Minneapolis Police Department.
Trump's upcoming rally will be his first since the start of the outbreak. Large scale political rallies were paused in March due to the threat of spreading infection among large crowds.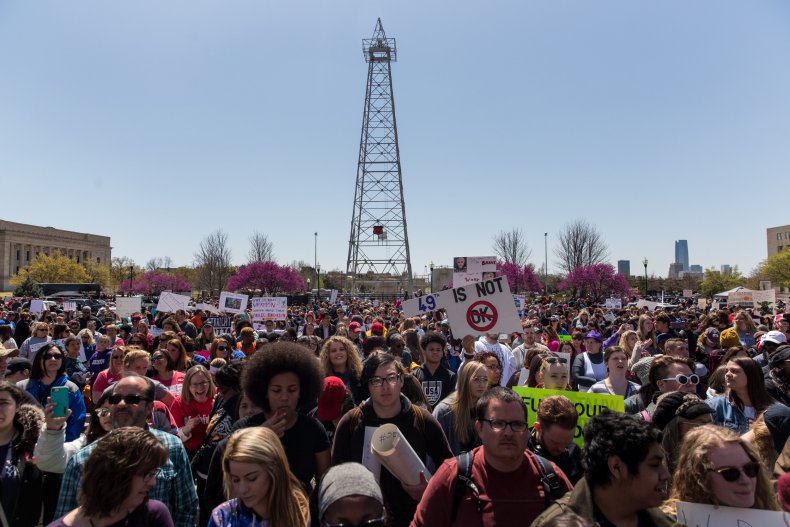 Tulsa Mayor G.T. Bynum said in a statement to Newsweek that his office was in the process of confirming the details regarding Trump's next rally. "Tulsans have managed one of the first successful reopenings in the nation," Bynum said, "so we can only guess that may be the reason President Trump selected Tulsa as a rally site."
Trump told reporters on Wednesday: "They've done a great job with COVID, as you know, in the state of Oklahoma."
The president's decision to hold the rally on June 19, a day when the country marks the end of slavery, has come under criticism by the Chair of the Oklahoma Democratic Party, Alicia Andrews, who called the move a "calculated insult" as well as "loathsome" and insensitive to the community.
The novel coronavirus, which was first reported in Wuhan, China, has spread to over 7.5 million people across the globe, including more than two million in the U.S. Over 422,400 have died, while more than 3.5 million have reportedly recovered from infection, according to the latest figures from Johns Hopkins University.
The graphics below, provided by Statista, illustrate the spread of COVID-19 in the U.S. and the worst-affected countries.