Trump Video on 'Greatest Threat' Ripped by Ex-Pence Adviser as 'Horrifying'
Former President Donald Trump's latest video on Russia and what he deems the most dangerous threat to America is "horrifying," according to Olivia Troye, ex-adviser to former Vice President Mike Pence.
Troye, who advised Pence on homeland security and counterterrorism before resigning in August 2020, said in a tweet on Thursday that Trump's remarks on the war in Ukraine, NATO and domestic issues could have "dangerous implications" for the future of the country.
Troye was responding to a video originally posted to the former president's Truth Social account earlier in the day. The video features a denouncement of President Joe Biden for siding with Ukraine over Russia, argues that the U.S. should "reevaluate" NATO and claims that "World War III" is on the horizon.
"Horrifying Pro-Putin message from Trump with ongoing dangerous implications for our national security & the future of our country," Troye tweeted. "Republicans need to rebuke this. Full stop."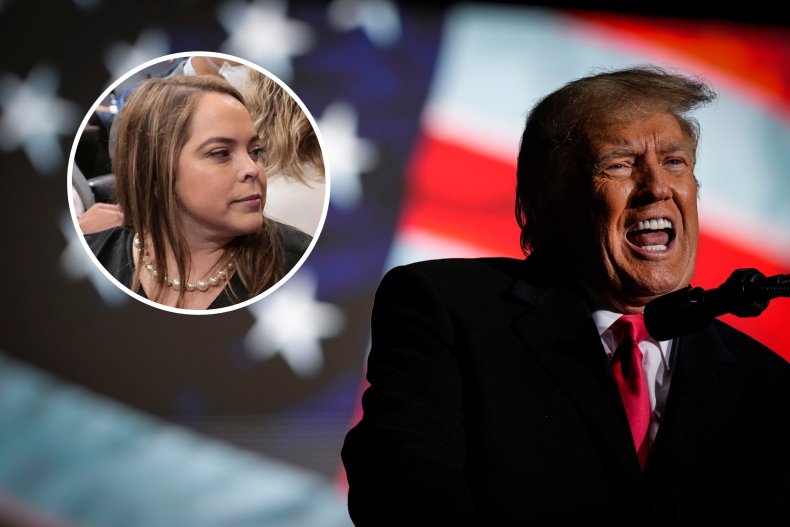 In the video, Trump echoes his recent apocalyptic rhetoric by claiming the U.S. has "never been closer to World War III than we are today under Joe Biden." He describes the war in Ukraine as a "proxy battle" that could lead to "nuclear armageddon."
"Every day this proxy battle in Ukraine continues, we risk global war," Trump says in the video. "We must be absolutely clear that our objective is to immediately have a total cessation of hostilities."
Trump, who has repeatedly claimed he could personally stop the Russia-Ukraine war within 24 hours, goes on to say that he will save the country from "globalists" and "deep staters" who are "chasing monsters and phantoms overseas" and "perpetually dragging us into endless wars."
The ex-president then vows to begin "fundamentally reevaluating NATO's purpose and NATO's mission" if elected in 2024, before bemoaning a host of domestic issues, including culture war topics, which he claims represent a greater "threat" to "Western civilization" than Russia.
"The greatest threat to Western Civilization today is not Russia," says Trump. "It's probably, more than anything else, ourselves and some of the horrible, U.S.A. hating people that represent us."
"It's the collapse of the nuclear family and fertility rates, like nobody can believe is happening," he continues. "It's the Marxists who would have us become a Godless nation worshipping at the altar of race, and gender, and environment."
The video ends with the former president boasting that he is "the only one" capable of "evicting the sick and corrupt establishment" because he knows "exactly what has to be done."
Trump has made similar comments in recent campaign speeches and Truth Social posts.
His campaign has also recently touted a supposed "final battle" being waged, while Trump pushes the idea that a nuclear world war will start if he is not elected president in 2024.
Troye has been an outspoken critic of Trump since leaving his administration. She previously blasted the former president for praising Russian President Vladimir Putin as "very savvy" and a "genius" in the early days of the Ukraine conflict.
Newsweek has reached out to the offices of Trump and Pence via email for comment.