New Trump Video Calls Mitt Romney a 'Democrat Secret Asset'
President Donald Trump tweeted a video Friday evening accusing Senator Mitt Romney of being a "Democrat secret asset." The video also alleged Romney of trying "to infiltrate Trump's administration as Secretary of State."
The new clip came after Romney addressed the Senate floor Thursday in which he was critical of Trump's decision to withdraw U.S. troops from Syria.
Along with the video, Trump tweeted, REPUBLICANS MUST STICK TOGETHER AND FIGHT!" before singling out Romney.
The minute-long video opens by calling Romney, "Slick, slippery, stealthy-Mitt Romney had us fooled." The video also claims that Romney was "posing as a Republican," during Romney's 2016 bid for secretary of state. It goes on to show clips from Romney's 2012 campaign for president against Barack Obama, including one where Romney thanks Trump for his endorsement. It then cuts to footage of broadcasts showing Romney's loss juxtaposed by clips from election night 2016 when Trump won.
In Romney's Senate address on Thursday, he spoke about what has happened in Turkey and Syria since Trump decided to remove troops, before stating: "The announcement today is being portrayed as a victory. It is far from a victory."
He continued: "The ceasefire does not change the fact that America has abandoned an ally." Before warning that the decision to withdraw troops strengthened Russia, Iran, and Assad, Romney said, "The decision to abandon the Kurds violates one of our most sacred duties. It strikes at American honor. What we have done to the Kurds will stand as a blood stain in the annals of American history."
Romney closed his address saying: "I note that lives are already lost, and American honor has already been tarnished. We once abandoned a red line. Now, we abandon an ally. Mr. President, we need answers. What has happened in Syria, must not happen again, and we, the Senate, must take action to make sure that it does not."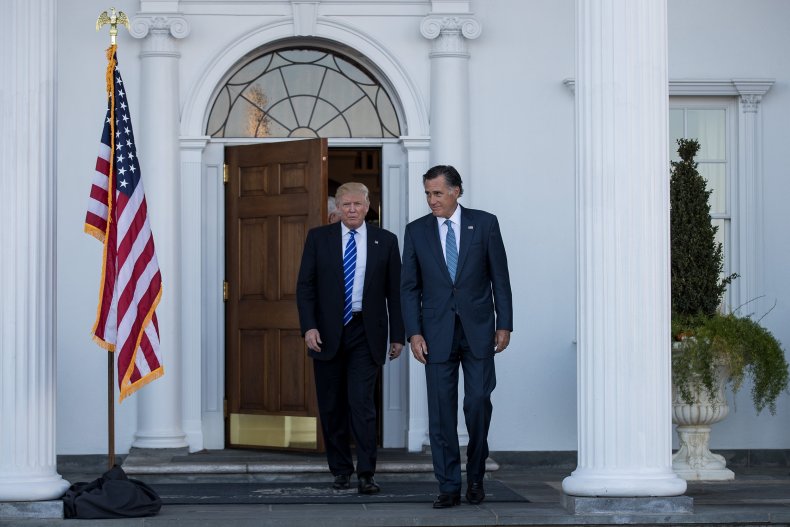 Trump and Romney have long had a contentious relationship. On October 5, after Romney criticized Trump's insistence on a Ukraine investigation into Joe Biden and his son Hunter, Trump tweeted that Romney was a "pompous a--." In April, Romney addressed the Senate following the Mueller report, stating: "I am sickened at the extent and pervasiveness of dishonesty and misdirection by individuals in the highest office of the land, including the President."
In a Washington Post op-ed published on January 1, Romney wrote of Trump. "On balance, his conduct over the past two years, particularly his actions this month, is evidence that the president has not risen to the mantle of the office."