Trump Visits Largest U.S. Military Overseas Base and Boasts He Could Have Built it for Less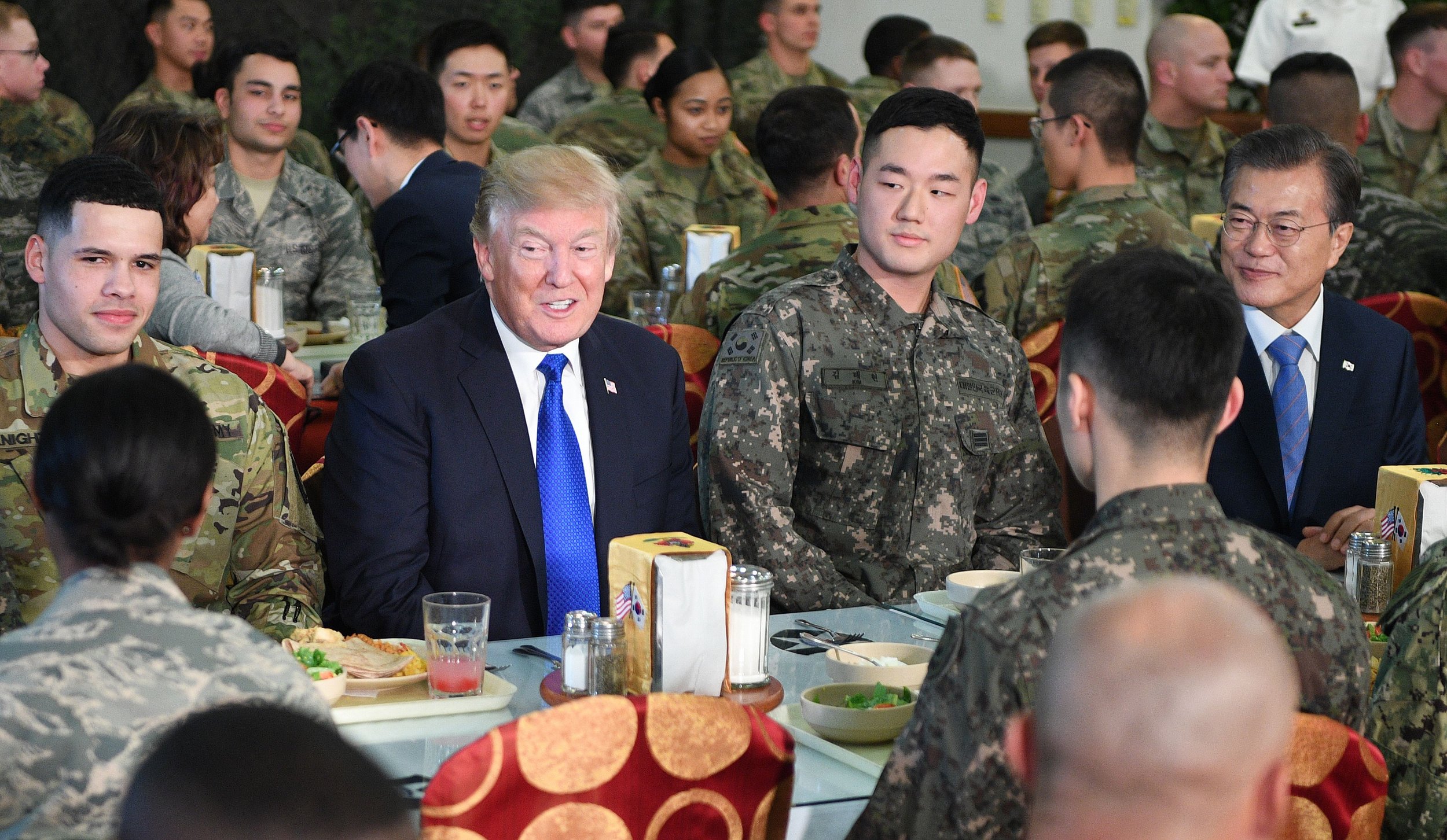 President Donald Trump visited the United States' biggest overseas base as soon as he touched down in South Korea, on the second leg of his five-nation tour of Asia.
South Korean President Moon Jae-in met the American delegation as the Marine One landed Tuesday morning in Pyeongtaek, 40 miles south of Seoul, where the U.S. Army Garrison Humphreys base has nearly completed its massive expansion.
It was reportedly Moon who suggested Trump visit Camp Humphreys to show the South Korean contribution to the peninsula's safety, after the White House ruled out a visit to the demilitarized zone serving as a buffer border with North Korea.
But addressing the troops after a military briefing and a Mexican-style lunch, Trump said: "This was my choice, this is where I wanted to be."
The president thanked the troops of both countries for their service and then addressed his countrymen, promising them a "nice strong economy," and "something very very special" when they return home.
The facility is set to be completed by 2020, and will have the capacity to host 36,000 people on nearly 3,500 acres which include four schools, an 18-hole golf course, a water park, a food court, three Starbucks and a hospital, as Stars and Stripes reported.
The largest overseas American base in the world, and a symbol of U.S. military might, has come at a cost of around $11 billion, largely contributed by the South Korean government.
"I'm sure I could have built it for a lot less," Trump remarked at a press conference in Seoul later in the day, "That's what I do," he added, perhaps forgetting for a moment he was no longer a real estate tycoon but the democratically elected leader of one of the world's superpowers.
Trump made the remarks in response to a reporter's question about the base and military spending, which indirectly referred to the U.S. president's previous criticism of South Korea (Trump has claimed the country is not paying enough for U.S. protection against North Korea.) Trump told the reporter it was fair for Seoul to shoulder the majority of the cost as the base has been built to ensure South Korea's safety, not that of the U.S.
South Korea's military alliance was one of the issues discussed in the leaders' summit, with President Moon announcing the renegotiation of South Korea's ballistic missile range guidelines and President Trump celebrating the sale of "billions of dollars" of military equipment to Seoul.
In a similar vein as his speech in Japan on Monday, in which he congratulated Prime Minister Shinzo Abe for purchasing "massive amounts" of military equipment, Trump said it "made sense" for Seoul to purchase what he called "the greatest military equipment in the world" and that it would "mean jobs" for the U.S.
The president described the alliance with Seoul as "more important than ever" in dealing with the threat posed by North Korea.
"South Korea is very important to me" Trump said at the press conference. "I've developed great friendship, not just with the president, but with others. We're not going to let them down and they aren't going to let us down. We are doing a lot for them, to be honest, we are doing a lot for them."