Trump Volunteers to Lead Negotiations With Putin
Former President Donald Trump, whose dealings with the leaders of Russia and Ukraine inspired several investigations and an impeachment trial, says he wants to spearhead efforts to broker peace between the two countries as Russian President Vladimir Putin has begun escalating tensions between his country and NATO.
In a pair of posts on his Truth Social website, Trump expressed his concern with the apparent sabotage of the critical undersea Nord Stream gas pipeline between eastern Russia and Europe and urged U.S. leadership to remain "cool, calm and dry" in addressing the situation.
He then suggested he could potentially lead the effort to broker a deal.
"Do not make matters worse with the pipeline blowup," said Trump. "Be strategic, be smart (brilliant!), get a negotiated deal done NOW. Both sides need and want it. The entire World is at stake. I will head up group???"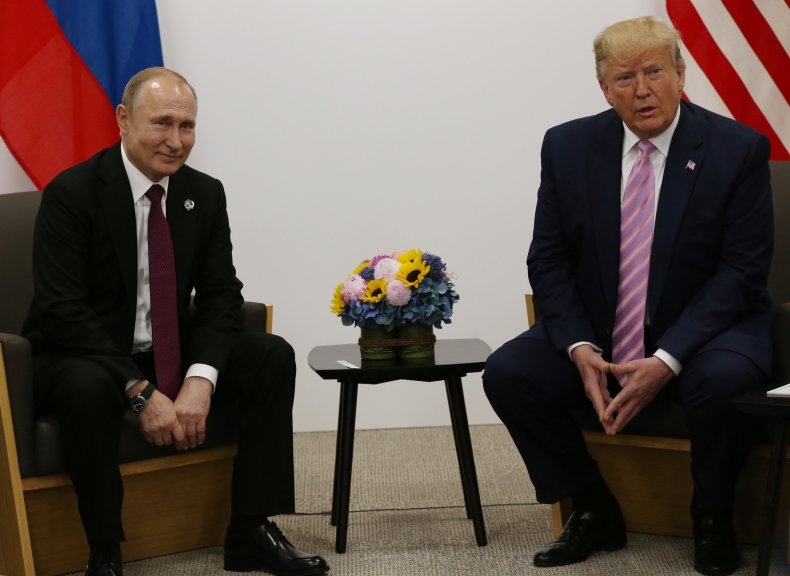 The apparent sabotage of the pipeline, which provides fossil fuels critical for eastern European countries to meet their energy demands, was seen by some as an apparent threat by the Kremlin to cripple the economies of Ukrainian allies like Germany into alleviating economic sanctions that have served to stall the Russian war effort.
On Tuesday, U.S. Secretary of State Antony Blinken told reporters the leaks in the line, which investigators say resulted from a series of explosions, would "not have a significant impact on Europe's energy resilience." He noted the United States' aspirations to end Europe's dependence on Russian energy and accelerate the transition to renewable fuel sources as a means to reduce the region's exposure to Russian influence.
In recent weeks, the European Union and the United States have sought to impose price caps on Russian oil in an effort to help those countries meet energy demands entering the colder months while limiting the country's ability to substantially profit from its sale—a strategic boondoggle for EU member nations caught between desires for a quick end to the war and the need to keep its economy moving.
Prior to the war, Russia's Natural Resources and Environment Ministry estimated the country's collective energy resources accounted for approximately 60 percent of its annual gross domestic product and 39 percent of its overall revenues, according to numbers compiled by Russian economist Igor Makarov.
July estimates from the International Monetary Fund (IMF) pegged EU member nations' reliance on Russian fossil fuel exports to meet energy demands anywhere between 20 and upwards of 40 percent. In Germany alone, a complete shutoff, the IMF reported, could lead to gas shortages of 9 percent in the second half of 2022 alone, escalating to 10 percent in 2023.
Whether Trump—if he were invited to broker peace talks—would be successful in doing so is another issue.
While Trump and his supporters have said they believed Putin never would have invaded Ukraine were he still president, Trump once described Putin's invasion of the country as "genius," adding the United States should use a similar approach to dealing with influxes of migrants on the southern border with Mexico.
Trump has regularly pushed for the leaders of the two countries to meet and hash out their differences, telling Ukrainian President Volodymyr Zelensky in 2019 that he hoped he and Putin could "get together and solve your problem." A clip of that statement gained significant traction on social media shortly after Putin invaded Ukraine.
Notably that same year, Trump was impeached by the House of Representatives after a whistleblower described a telephone call where he was overheard pressuring Zelensky to look into debunked claims about the 2016 U.S. presidential election in exchange for $400 million in military aid to confront Russian-backed separatists in the country. Some believe the separatists were installed there to create a pretext for the invasion.
Newsweek reached out to Trump's office for comment.