Trump Voters Hold a More Favorable View of Putin Than They Do Biden: Poll
While a significant majority of Americans agree that Russia's invasion of Ukraine was not justified, Republicans are more likely to hold an unfavorable view of President Joe Biden than they are of Russian President Vladimir Putin, according to a new poll.
Seventy-four percent of the over 1,500 U.S. adults surveyed from February 24-27 said the invasion was not justified. And 95 percent of those who said they voted for former President Donald Trump in 2020 held an unfavorable view of Biden, compared to 78 percent who said the same about Putin.
The Yahoo News/YouGov poll comes on the same day as several others that report Biden's job approval rating is at or near the lowest point of his presidency. Biden's State of the Union address is set to take place Tuesday, which White House press secretary Jen Psaki said will focus on Russia and Ukraine and what's next.
"Leaders lead during crises," Psaki said. "That's exactly what President Biden is doing. He'll speak to that, but he's also going to speak about his optimism about what's ahead and what we all have to look forward to."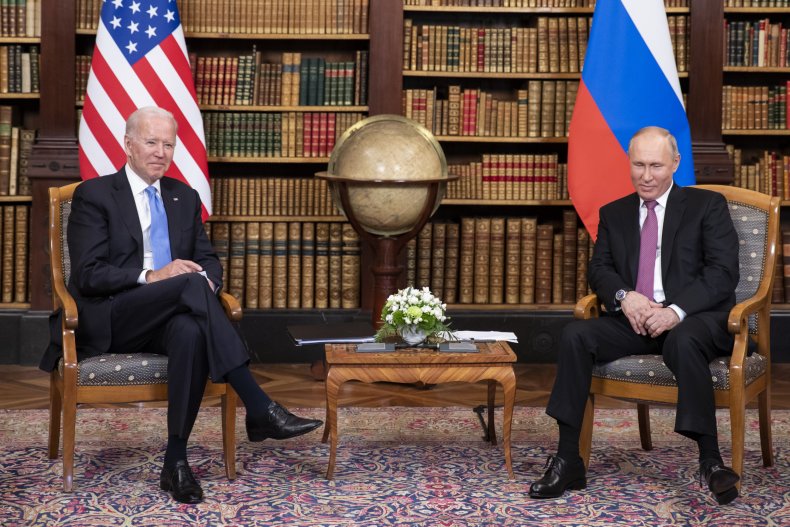 The escalation of Russia's invasion of Ukraine has also led more Americans across the political spectrum to support Ukraine, with 57 percent expressing their desire for the U.S. to intervene in the conflict and 25 percent who feel the U.S. should remain neutral. Three weeks ago, 49 percent were in favor of neutrality and 46 percent were in favor of supporting Ukraine, according to Yahoo.
However, just 44 percent of Republicans polled said it would be in the best interest of the U.S. to side with Ukraine and stop Russia's invasion compared to 66 percent of Democrats who said the same.
Overall, the poll showed that while a growing number of Republicans dislike Putin and approve of the sanctions levied by Biden and other countries, it hasn't changed their overall feelings toward Biden as a president.
Fifty-six percent of those surveyed also said they agreed with Biden's vow not to send U.S. troops to Ukraine, along with 62 percent who want the U.S. to continue penalizing Russia whether it be through economic sanctions, use of the U.S. military, or other military support of Ukraine.
The poll also found that 89 percent of Republican respondents said they disapproved of Biden's handling of the Russia-Ukraine conflict, and 67 percent said his response has not been "tough enough." However, Republicans in the survey were also less likely than Democrats to support stronger economic or military sanctions of Russia.
Update 02/28/22 6:43 p.m. ET: This story has been updated with additional information.