Trump Wanted to 'Stay in Power Forever' Like Putin, Says His Ex-National Security Adviser
A former top national security adviser to Donald Trump said the ex-president admired Russia's Vladimir Putin and wanted to "stay in power forever" like the strongman leader.
"He saw Putin as the kind of epitome of the badass populist, frankly, you know, the kind of person that he wanted to be: super-rich, super powerful, no checks and balances, and essentially being able to stay in power forever," Fiona Hill, who previously served as senior director for Europe and Russia on Trump's National Security Council, told Molly Jong-Fast of The Daily Beast on an episode of The New Abnormal podcast uploaded on Sunday.
Trump's affinity for Putin has long been criticized, as the former president often appeared to be publicly defensive of the authoritarian Russian president before and during his tenure in the White House.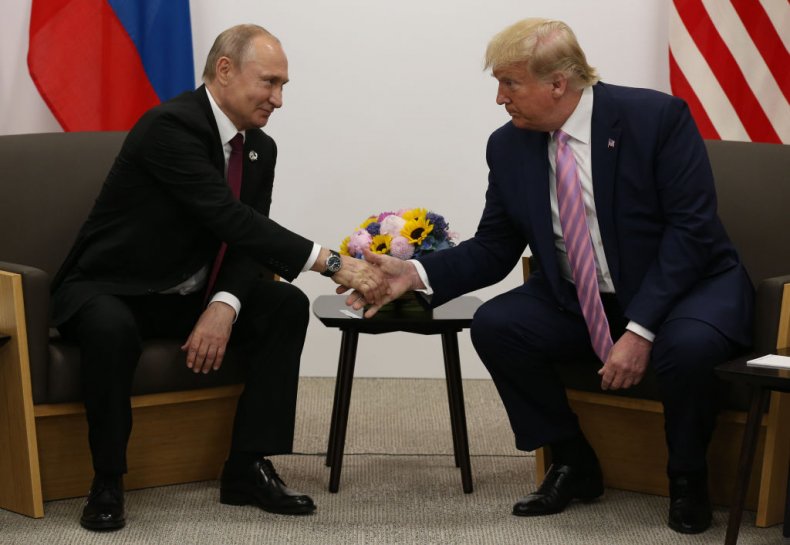 Putin has held power in Russia as either president or prime minister since 1999—more than two decades. He has routinely been accused of jailing, poisoning and killing his critics and political opponents throughout his tenure leading Russia.
Hill also told Jong-Fast that Putin appeared to use women to distract Trump in his interactions with the former U.S. president.
"Putin made a big point, a big show of introducing Trump to the [female] interpreter," Hill said. "Here's a really pretty woman. She's also a brilliant interpreter, but it was clearly meant to get Trump to look at her and not to be paying attention to what Putin was saying," the former Trump administration official explained.
Trump routinely has spoken favorably of Putin and his leadership of Russia. Many in Washington—Democrats and Republicans—raised concerns about the former president's apparent affinity for Putin, as Russia has long been seen as a top adversary of the U.S. on the world stage.
The former president's connections to Russia also came under intense scrutiny and investigation from Democrats, some of whom alleged he was compromised by Putin due to his financial and business ties to the country. The 2016 Trump campaign's interactions with Russia were probed as part of special counsel Robert Mueller's investigation into Moscow's meddling in that presidential election.
Many Democrats alleged that Trump colluded with Russia in its effort to undermine former Democratic presidential candidate Hillary Clinton's 2016 campaign. Mueller's probe concluded that Russia interfered in a bid to benefit Trump but did not find evidence to demonstrate that the Trump campaign was working with the Russians.
Trump and his administration regularly pushed back against accusations that he was working to benefit Russia. The former president would point to harsh sanctions implemented by his administration against Moscow, as well as his decision to give Ukraine weapons amid its ongoing conflict with Russia. Trump also strongly opposed the Nord Stream 2 pipeline being constructed between Russia and Germany, which would provide Russian natural gas to Europe.
Newsweek reached out to Trump's press office for comment but did not immediately receive a response.