Former President Donald Trump wants Republican Governor Chris Sununu of New Hampshire to face a challenger and be removed from office in the upcoming election, according to a close adviser.
Sununu, who is currently running for re-election in 2022, on Sunday came out strongly against Trump's suggestion that he may pardon rioters who attacked the U.S. Capitol on January 6, 2021, if he decides to run for president and wins in 2024. The GOP governor has also previously been critical of the pro-Trump efforts to alienate Republican lawmakers opposed to the former president.
Corey Lewandowski, who served as Trump's campaign manager in 2016, spoke to radio host Howie Carr on Wednesday, explaining that the former president is against Sununu's re-election.
"The president is very unhappy with the chief executive officer of the state of New Hampshire, Chris Sununu," Lewandowski told Carr. "And Sununu, in the president's estimation, is someone who's never been loyal to him. And the president said it would be really great if somebody would run against Chris Sununu."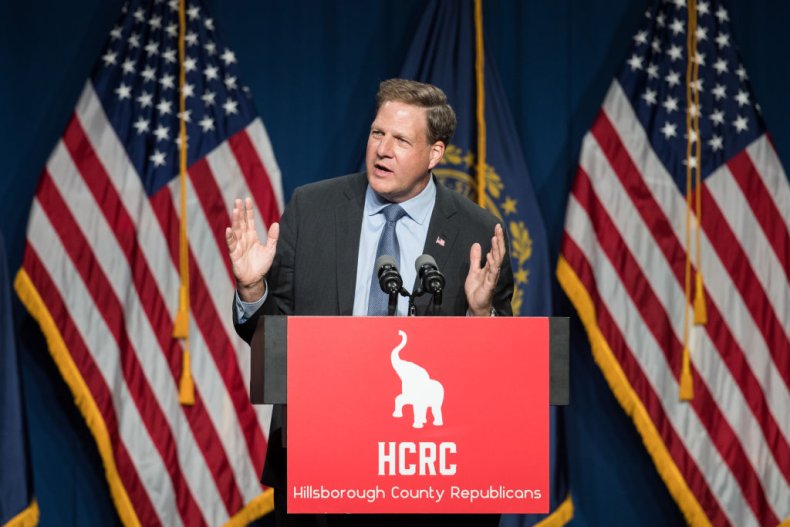 Lewandowski told the radio host that Trump has tasked him with finding and backing a candidate to oust not only Sununu, but also Senator Maggie Hassan, a New Hampshire Democrat. Hassan, like Sununu, is up for re-election this year.
"One [task] is making sure we've got a great candidate in U.S. Senate race who can beat Maggie Hassan, another failed hack, Washington, D.C., politician who never delivered. And the second is potentially finding someone to run against Chris Sununu, to make sure they understand that the 'America First' agenda is more than just a saying. It's actually about putting people first and listening to what constituents have to say," Lewandowski said.
The Trump adviser's remarks about Sununu came after the New Hampshire Republican criticized and opposed the former president's suggestion that he could pardon January 6 rioters.
"And another thing we'll do, and so many people have been asking me about it, if I run [in 2024], and if I win, we will treat those people from January 6 fairly," the former president said at a Texas rally on Saturday. "We will treat them fairly, and if it requires pardons, we will give them pardons."
Sununu was asked about Trump's remarks during a Sunday interview on CNN.
"Folks that were part of the riots and, frankly, the assault on the U.S. Capitol have to be held accountable," the GOP governor responded "There's a rule of law."
"They shouldn't be pardoned?" CNN host Dana Bash asked.
"Of course not," Sununu asserted. "Oh my goodness, no!"
A number of other leading GOP lawmakers condemned the idea floated by the former president as well. Senator Lindsey Graham, a South Carolina Republican who is generally viewed as a close Trump ally, described the idea as "inappropriate" in remarks to CBS News on Sunday.
"Those who did it, I hope they go to jail and get the book thrown at them because they deserve it," Graham said. He also suggested that Trump's idea "will make more violence more likely."
Trump later criticized Graham in an interview with Newsmax on Tuesday. "Well, Lindsey Graham's wrong. I mean, Lindsey's a nice guy, but he's a RINO [Republican in name only]. Lindsey's wrong," he said.
Newsweek reached out to press representatives for Trump and Sununu for further comment but did not immediately receive responses.