Trump Wants His Son Back in School, But It Refuses to Fully Reopen
President Donald Trump's son will not be attending school as normal this fall despite his father's repeated wishes, as the school announced it will not fully reopen out of concern for the coronavirus pandemic.
Barron Trump, 14, has spent the past three years attending St. Andrew's Episcopal School, a private academy in suburban Maryland.
In a recent letter sent to parents, school officials wrote they had not yet decided whether to implement virtual learning or a hybrid model, which would allow for limited in-person education.
"We are hopeful that public health conditions will support our implementation of the hybrid model in the fall," the letter stated, adding that school administrators would make their final decision the week of August 10.
If St. Andrew's does select the hybrid model, students in grades 7 through 12 would rotate between on-campus and virtual learning, so that half of the school's population would be learning remotely each week, according to the letter.
Newsweek contacted St. Andrew's Episcopal School and the White House for comment, but did not hear back in time for publication.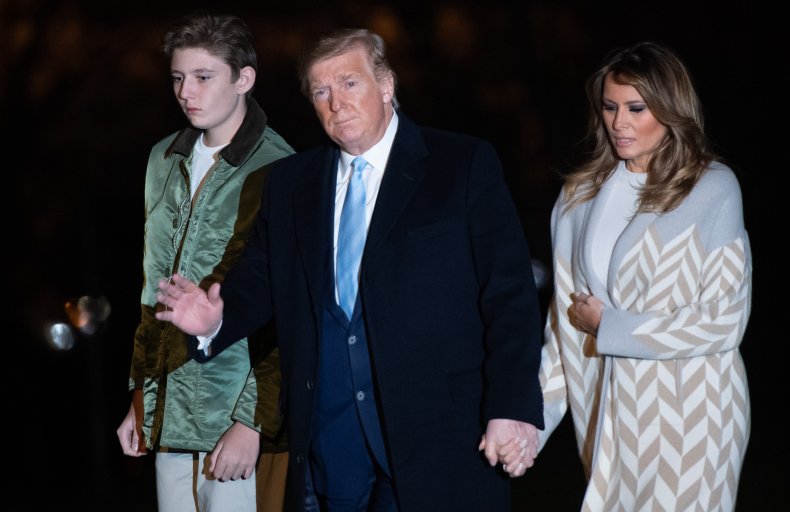 At a coronavirus briefing Wednesday, Trump said he was "comfortable" with his son and his school-aged grandchildren returning to classrooms.
The Trump administration has spent much of July touting plans to have schools reopen in the fall, even going as far as threatening to withhold federal funding to school districts that refuse to reopen.
"I would like to see the schools open 100 percent. And we'll do it safely. We'll do it carefully," Trump told reporters at the Wednesday press briefing.
The U.S. Centers for Disease Control and Prevention (CDC) released guidelines in late May that outline the ways in which schools could safely reopen during the pandemic. But Trump expressed his disapproval of the proposal, which is now in the midst of being modified.
A new GOP-backed economic stimulus plan prioritizes safely reopening schools amid the pandemic, as the proposal includes $105 billion for public K-12 schools, Senate Majority Leader Mitch McConnell said Tuesday.
But the vast majority of Americans are wary of sending children back to classrooms, even if major adjustments are made.
According to a recent survey by The Associated Press-NORC Center for Public Affairs, just 8 percent of Americans said they believed schools could reopen for in-person instruction as usual.
Nearly half of respondents, 46 percent, said they thought major adjustments such as daily temperature checks, disinfections and mask requirements were necessary. About 31 percent answered that they didn't think schools should open at all.