Donald Trump Wants North Korea to Denuclearize in a Year, But Experts Say That's Impossible
The Trump administration has a plan to dismantle the "overwhelming bulk" of North Korea's weapons of mass destruction within a year, national security adviser John Bolton said Sunday.
"If they have the strategic decision already made to do that and they're cooperative, we can move very quickly," Bolton said on CBS's Face the Nation. "Physically, we would be able to dismantle the overwhelming bulk of their programs within a year."
Bolton said that Secretary of State Mike Pompeo should discuss the proposal when he visits North Korea. According to a report by the Financial Times, Pompeo plans to go there again this week. The White House confirmed Monday that Pompeo will travel to North Korea on Thursday.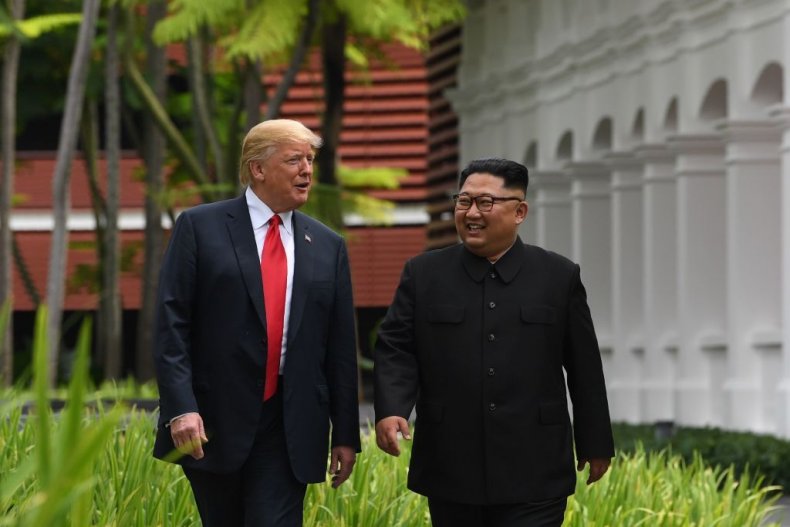 Despite the Trump administration's apparent optimism about completely dismantling the threat from North Korea, some denuclearization experts are skeptical.
"I think it's highly unlikely that denuclearization will happen at all, let alone in a one-year timeline," Beatrice Maneshi, an Iranian-American global security and development consultant based in the Netherlands, told Newsweek. "It's important to remember there is currently no agreement in place, only a general mutual agreement."
Maneshi also pointed to growing evidence from satellite imagery and security agencies that appear to show North Korea has in fact moved to expand its nuclear facilities, contrary to promises its leader, Kim Jong Un, made to President Donald Trump at the June 12 Singapore summit. Commenting on these reports, Maneshi said there is "little doubt that business is going on as usual despite talks of peace."
Richard Johnson, senior director for fuel cycle and verification at the Nuclear Threat Initiative, also told Newsweek that it's "very unlikely" that North Korea could be denuclearized within a year.
"The size and complexity of [North Korea's] nuclear program alone cast doubt on the physical ability to complete denuclearization in a 12-month time frame," Johnson said. He explained that such a rapid timeline would also be contingent on North Korea disclosing all information about its programs and facilities. "Past history suggests this is not a likely outcome."
Johnson explained that this "does not mean that denuclearization is unachievable." But, he said, "it does mean it will take time, likely years." Sharing Maneshi's concerns, Johnson also added, "It is evident that North Korea has not yet abandoned its nuclear weapons or existing nuclear programs, nor its missile programs."
Calling out the Trump administration's "mishandling" of the nuclear negotiations, Maneshi said that it "is completely delusional and is more interested in the unjustifiable praise of a general conversation." She also pointed out that North Korea has made similar moves in the past, which should have served as red flags to the current administration.
Despite criticism and reports of expanded activity around nuclear sites, Trump has insisted that negotiations with North Korea are moving forward smoothly. Axios reported Monday that some administration officials are even optimistic about the possibility of a second meeting between Trump and Kim, in September in New York.
Responding to criticism of his handling of North Korea, Trump posted on Twitter, using his typical defense by mentioning "fake news."
"[If President Barack Obama] had gotten along with North Korea and made the initial steps toward a deal that I have, the Fake News would have named him a national hero!" the president wrote on June 18. However, in an interview with Fox News Sunday, Trump acknowledged that the agreement he reached with Kim in Singapore "could collapse."
Regardless of concerns, the experts also hope denuclearization will be possible.
"We should still look positively on any diplomatic effort that could realistically achieve complete and verifiable denuclearization and avoid active conflict," Johnson said. He explained that the challenge is to design an approach that "will involve specific commitments from the North Koreans and the United States, coupled with credible verification."
"There are opportunities here for a cooperative approach to denuclearization that could benefit both [countries], but the devil is in the details," he said.