Trump Will Lead Republican Party Until His Dying 'Breath': CPAC Head
Former President Donald Trump will lead the Republican Party "till he takes his last breath," said CPAC Chairman Matt Schlapp.
Despite the numerous investigations surrounding the January 6, 2021, riot at the U.S. Capitol, Trump remains popular with large swaths of the GOP—and he continues to wield his power by endorsing candidates who embrace his brand of politics while adding pressure to elected officials to fall in line with his positions or risk facing the wrath of his loyal supporters.
His influence was on full display over the weekend at the Conservative Political Action Conference, where his rhetoric and leadership echoed across other Republican attendees, many of whom offered praise for the former president.
Schlapp, during an interview with Fox News, dismissed people who question whether or not Trump will remain the leader of the Republican Party into the future.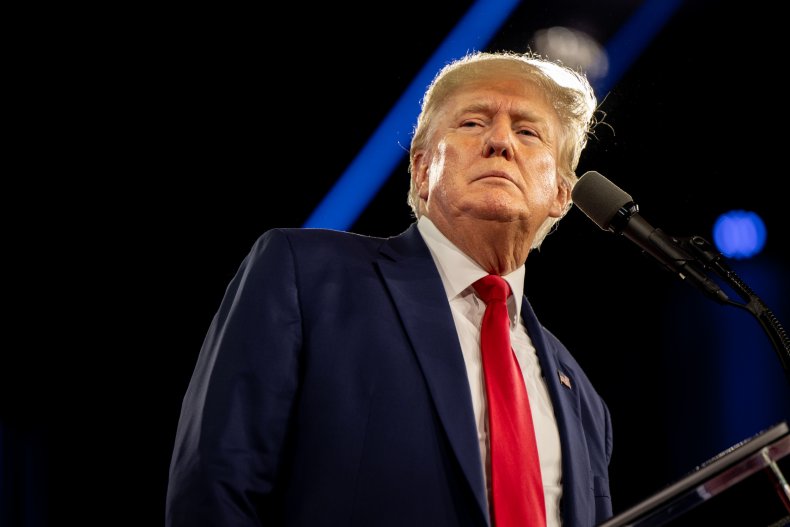 "Still the question is, it's almost like people are confused—they ask the question, 'Is he the leader in support from these folks?'" he said. "Yes, and I think he will be until he takes his last breath because of everything he did."
He also offered praise to Trump for expanding the GOP's reach, saying the former president "rekindled" the idea that the Republican Party is a party of opportunity for people of color. Trump did make some inroads with people of color, specifically Hispanic voters, but the GOP as a whole has still shown struggles with them in recent polls.
Trump's popularity among Republicans was reinforced by a CPAC straw poll over the weekend, where attendees were asked who they would support for president in the 2024 GOP primary.
About 69 percent of attendees backed Trump, while Florida Governor Ron DeSantis—widely considered to be Trump's closest opponent should he run for president—won about 24 percent of attendees' backing.
Trump has repeatedly teased the prospect of another presidential run in 2024, when he would potentially face President Joe Biden in a rematch of the 2020 presidential election.
Trump Approval Numbers Show Backing for Ex-President
Even as Trump remains a popular, influential figure in conservative politics, polls have found he is less popular among the general electorate.
His approval rating has taken a toll amid public, televised hearings from the House select committee investigating the January 6, 2021, attack—when a mob of his supporters rioted at the U.S. Capitol in a failed attempt to force Congress to block President Joe Biden's electoral win.
Still, polls find him and Biden, who has faced struggling approval numbers amid economic concerns, in a tight race in a hypothetical 2024 matchup. A YouGov/Yahoo News poll conducted from July 28 to August 1 found Biden with a narrow 2-point lead over Trump. But a Redfield & Wilton Strategies survey conducted July 28 found Trump with a 7-point lead over Biden among likely voters.
Newsweek reached out to Trump's office for comment.