Trump Will Move to Another Florida Home if Booted From Mar-a-Lago, Lawyer John Marion Says
Former President Donald Trump will move to another one of his Florida homes if he is removed from Mar-a-Lago, according to his lawyer John Marion.
"During the Town Council meeting on February 9, I cautioned the individuals who oppose former President Trump residing at Mar-a-Lago, that on the remote possibility they were somehow successful in preventing him from living there, he could choose to live on Woodbridge Road where they live and where he owns several homes," Marion told Newsweek on Wednesday.
The Palm Beach Town Council spent nearly seven hours Tuesday considering issues important to the community, including the availability of the coronavirus vaccine, revitalizing the town's shopping district, and whether Trump may continue to live at his Mar-a-Lago club, among other things.
The issue of Trump's residency, however, only consumed 30 minutes of the council's time at the end of the meeting. The question was placed on the agenda due to neighborhood complaints.
Philip Johnston, an attorney representing a group of concerned residents called Preserve Palm Beach, said during Tuesday's council meeting that the neighbors of the club fear that Trump's residency would turn Mar-a-Lago into "a permanent beacon for his more rabid, lawless supporters," destroying the community's "genteel" character.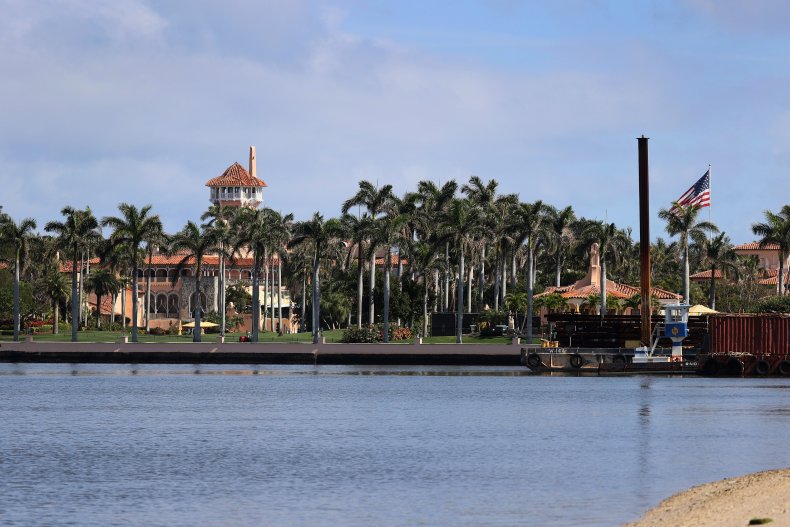 The Mar-a-Lago Club's 1993 agreement with Palm Beach, however, doesn't prohibit Trump from residing there, according to Skip Randolph, attorney for the Town of Palm Beach.
"This guy, as he wanders the property, is like the mayor of Mar-a-Lago. He's always present," Randolph said during the council meeting, adding that Trump would be considered an employee of the club.
Randolph and Marion noted that the town permits clubs and resorts to provide onsite housing for their employees and Trump's residency at Mar-a-Lago would adhere to that standard.
Marion added if Trump moves to one of his homes on Woodbridge Road, located under 0.2 miles from the Mar-a-Lago club, the former president would require security checkpoints that could be a burden for other homeowners in the area.
"In that event, there would be a security checkpoint constructed at the head of Woodbridge where it meets South Ocean Boulevard, and any time they or any other of their guests entered or exited Woodbridge Road they would be subjected to security checks by secret service and dogs sniffing their cars," Marion said.
"That would be a huge imposition for them and something I do not think they would really want," Marion added.
Trump purchased Mar-a-Lago for $10 million in 1985 from the estate of Marjorie Merriweather Post, the owner of General Foods. The former president has been living at Mar-a-Lago since departing from the White House on January 20.