Trump Will Snub Macron's Peace Forum During WWI Armistice Commemorations
President Donald Trump will not attend an anti-nationalist peace conference organized by French President Emmanuel Macron as part of World War I commemorations in Paris this weekend, organizers said.
Trump is among dozens of world leaders traveling to France to mark the centenary of the end of World War I, but he will not take part in a forum designed to fight back against the rising tide of nationalism and extremism worldwide, Agence France-Presse reported.
Macron has repeatedly warned of the dangers of nationalist sentiment, and warned last month that Europe must guard against rising right-wing movements to avoid the kind of violence that consumed the continent in the 20th century.
His criticism extended to Trump's "America first" stance, and in April Macron told the U.S. Congress: "We will not let the rampaging work of extreme nationalism shake a world full of hopes for greater prosperity."
Macron will host the inaugural Paris Peace Forum this weekend. Earlier this week, chief organizer Justin Vaisse explained that the event would "show that there are lots of forces in the international system—states, NGOs, foundations, intellectuals, companies—who believe we need a world of rules, an open world and a multilateral world.
"This world needs to meet up and defend itself," Vaisse said. "It doesn't matter if those who don't believe in multilateralism aren't there."
Macron has used war commemoration events as a platform to warn the world of the dangers of nationalism, which he compared with "leprosy." Earlier this month, he told a French newspaper, "I am struck by similarities between the times we live in and those of between the two world wars."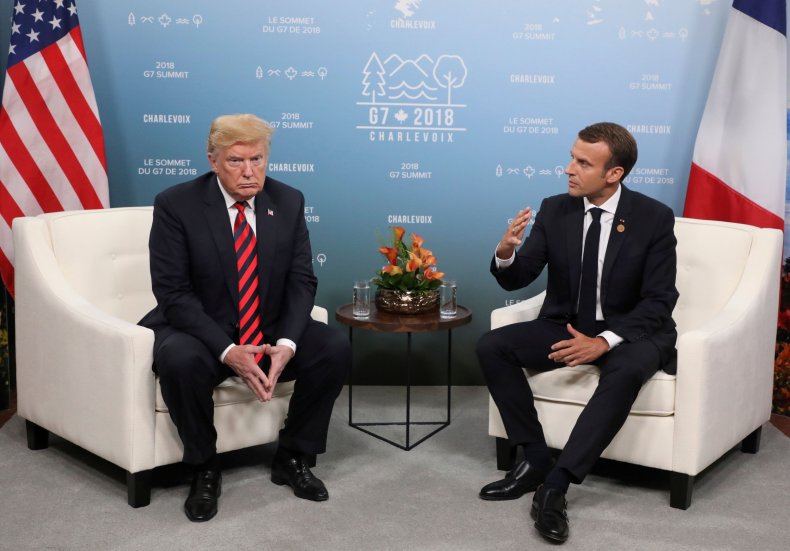 Trump has consistently disparaged multilateral organizations and agreements, including the United Nations, European Union, NATO, the World Trade Organization and the North American Free Trade Agreement, or NAFTA. The self-described nationalist's belligerence has damaged U.S. ties with many of its staunchest allies, even as the president ingratiates himself with dictators like Vladimir Putin in Russia and Kim Jong Un in North Korea.
Macron and Trump initially enjoyed close ties, leading some media outlets to brand their relationship "Le Bromance." The 40-year-old Frenchman was considered a rare example of someone who could both command Trump's respect and make him understand the complexities of international diplomacy.
But a series of disagreements has seen their friendship wither. Macron has publicly rebuked Trump for his nationalist policies, his attacks on the Paris climate accord and his withdrawal from the Iran nuclear deal.
The two presidents are set to hold talks on Saturday at the Elysée Palace, the French president's official residence, in Paris.