Trump Won't Participate in Virtual Presidential Debate Against Biden, Planning In-Person Campaign Rally Instead
President Donald Trump said on Thursday that he would not participate in the second debate with Democratic presidential nominee Joe Biden after it was announced that it would take place remotely.
The Commission on Presidential Debates announced on Thursday morning that the second debate between Biden and Trump would be held virtually due to concerns about the novel coronavirus. Trump and multiple White House and campaign officials tested positive for COVID-19 in the days following the first debate on September 29.
"I heard that the commission a little while ago changed the debate style, and that's not acceptable to us," Trump said in a Thursday morning interview with Fox Business host Maria Bartiromo. "I beat him [Biden] easily in the first debate, according to the polls that I've seen. But I beat him easily, I felt I beat him easily. I think he felt it too," the president insisted.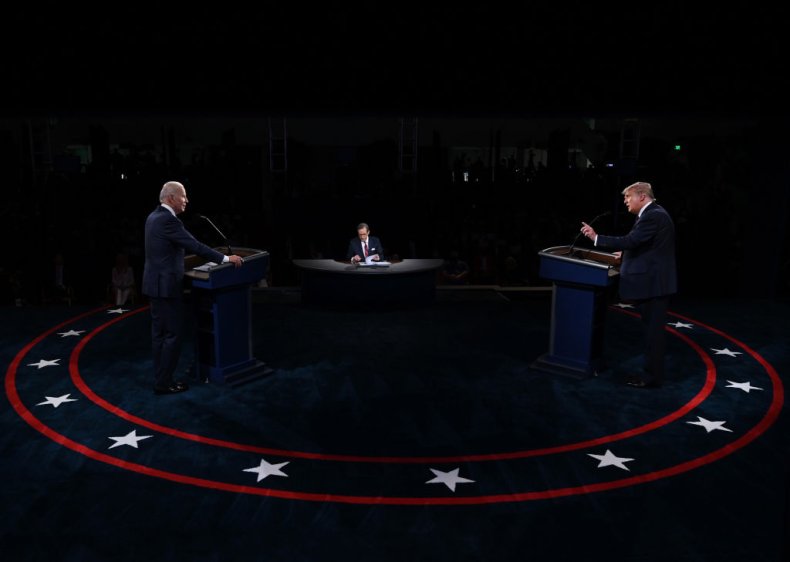 Polls conducted following the debate largely showed that Biden had won by a wide margin. Although Biden was already leading in nearly all national polls prior to the first debate, his lead widened significantly following the president's widely panned performance in the first debate.
Trump went on to complain that the moderators in the debates are against him. However, he said he'd beat Biden in a second debate regardless. "But I'm not going to do a virtual debate," he asserted.
"I'm not going to waste my time," Trump said. "That's not what debating all about. You sit behind a computer and do a debate—it's ridiculous. And then they cut you off whenever they want," he said.
In a statement from Trump's 2020 campaign manager, Bill Stepien, the campaign also said that the plan for a virtual debate was the Presidential Debate Commission's rushing "to Joe Biden's defense" and that canceling the in-person debate is "pathetic."
"Here are the facts: President Trump will have posted multiple negative tests prior to the debate, so there is no need for this unilateral declaration. The safety of all involved can easily be achieved without canceling a chance for voters to see both candidates go head to head," Stepien wrote.
"We'll pass on this sad excuse to bail out Joe Biden and do a rally instead," the statement continued.
Newsweek reached out to the Trump campaign for comment, but it did not immediately respond.
Biden's campaign said that the Democratic nominee would participate in the remote debate. They said the former vice president "looks forward to speaking directly to the American people and comparing his plan for bringing the country together and building back better."
In a statement emailed to Newsweek after Trump's refusal to participate in the debate, Biden's deputy campaign manager and communications director Kate Bedingfield said the Democratic nominee would find an "appropriate place to take questions from voters directly on October 15th."
"Given the president's refusal to participate on October 15th, we hope the Debate Commission will move the Biden-Trump Town Hall to October 22nd, so that the president is not able to evade accountability. The voters should have a chance to ask questions of both candidates, directly," Bedingfield said. "Every presidential candidate since 1992 has participated in such an event, and it would be a shame if Donald Trump was the first to refuse."
Trump's campaign later concurred with Biden's campaign, saying the second debate should be held on October 22 in person. However, the campaign said it was "suspect" that the debate commission had put forward the virtual debate format.
In regards to his health, Trump told Fox Business he now feels "perfect" and thinks he's "better."
"I would love to do a rally tonight. I wanted to do one last night," the president said.
Updated October 8, 2020 at 8:50 a.m.: Additional information and background has been added.
Updated October 8, 2020 at 11:45 a.m.: A statement from Biden's campaign has been added.
Updated October 8, 2020 at 12:58 p.m.: This article has been updated to reflect that the Trump campaign later agreed that an in-person debate should be held on October 22.