Trump Told Woodward 'You Don't Know How Close We Were to War' With North Korea
Watergate journalist Bob Woodward said President Donald Trump told him he didn't know "how close we were to war" with North Korea during one-to-one interviews for his second book on the commander-in-chief and his administration.
Appearing on CBS News' 60 Minutes on Sunday night, Woodward told the network that the American public "did not realize" how close the U.S. had come to conflict with North Korea citing remarks the president made in interviews for his new book Rage.
The veteran journalist also told the show that Trump had instructed former defense secretary James Mattis to shoot down any North Korean missiles aimed at the U.S. during his first year in the White House.
Speaking to CBS News anchor Scott Pelley on Sunday, Woodward said: "I think the public did not realize, and Trump told me repeatedly, you don't know how close we were to war."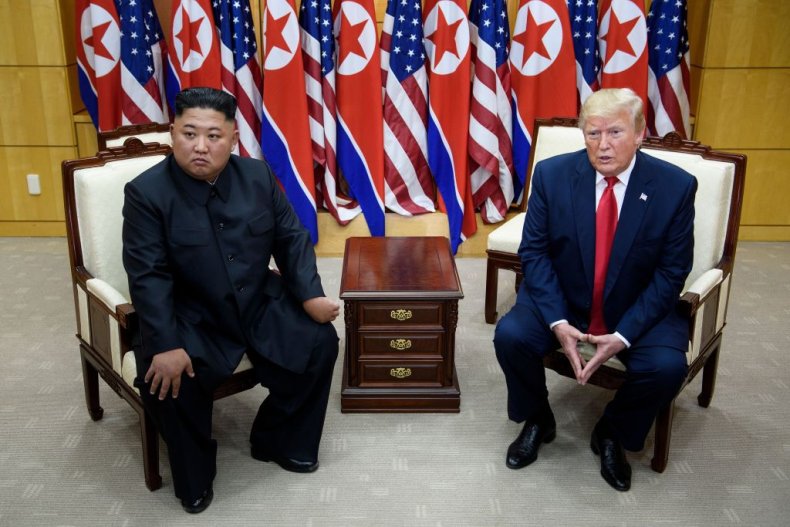 In his new book set to be released on Tuesday, the Washington Post associate editor also reveals details of the reportedly friendly relationship between the president and North Korean dictator Kim Jong Un.
According to letters exchanged between the leaders seen by Woodward, Kim described the relationship between the pair as similar to something from a "fantasy film," and referred to Trump as "Your Excellency" in their correspondence.
Woodward told CBS News last night that the CIA had looked at correspondence sent from Kim to Trump and had "never figured out who was writing them," but said that the letters were "masterpieces" because they appealed to the president's "sense of grandiosity."
In his interviews with the veteran journalist, Trump also said that Kim shared "everything" with him, including a graphic account of his move to execute his uncle Jang Song Thaek in 2013.
Newsweek has contacted the White House for comment. This article will be updated with any response.
Woodward revealed new details of the president's relationship with North Korea's supreme leader a little over a week after a U.S. defense official warned that the hermit kingdom was developing its intercontinental ballistic missile program (ICBM) despite a freeze on tests.
Appearing at a Mitchell Institute for Aerospace Studies webinar earlier this month, Rob Soofer said North Korea was potentially looking to develop submarine-launched weapons as well as extending the reach of its nuclear arsenal.
"We don't know what the risk is because we know that North Korea is trying to increase the size of its ICBM capabilities, maybe even move to a submarine-launched ballistic missile, but we don't know the extent of that," he added.