Since President Donald Trump was diagnosed with COVID-19, Google searches for the drugs and supplements he has taken and their relationship to the disease have spiked. According to Google Trends, more people in the U.S. have been searching for zinc, famotidine (sold as Pepcid), melatonin, and vitamin D in the past week.
However, experts told Newsweek there is little evidence that these products protect against the coronavirus or treat COVID-19, the disease which the virus causes.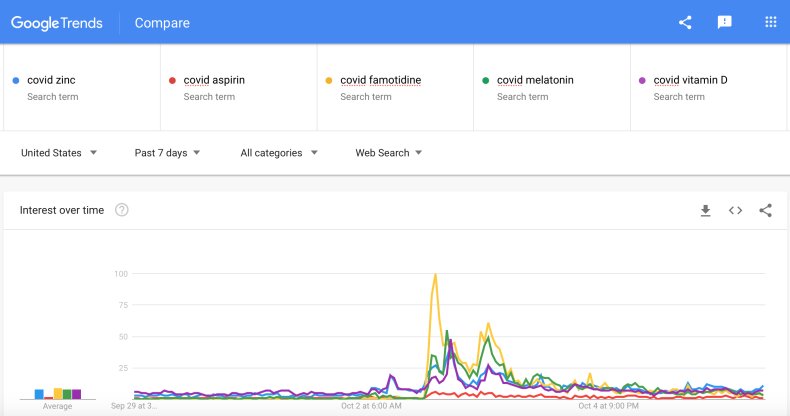 Trump announced he had tested positive for coronavirus Friday and was flown to Walter Reed National Military Medical Center that day, returning to the White House on Monday evening.
Trump has been treated with what has been described as an "experimental cocktail" of drugs. This includes the anti-inflammatory steroid dexamethasone, the side effects of which were widely discussed, the antiviral drug remdesivir, and a monoclonal antibody therapy.
According to a memo issued by White House physician Sean Conley on Friday before the president was hospitalized, Trump is also taking the supplements zinc and vitamin D, anti-histamine and antacid famotidine, the hormone melatonin, and a daily dose of the painkiller and blood thinner aspirin, which can be used to prevent heart attacks.
Joshua Barocas, assistant professor of medicine at Boston University School of Medicine, told Newsweek it is unclear in the memo whether the president was taking zinc, vitamin D, famotidine, melatonin and aspirin, for COVID-19.
Newsweek has contacted the White House for comment.
"There is the chance that the public will rush to think of these medications as standard of care or as 'miracle drugs' as we have seen happen with hydroxychloroquine," Barocas said.
Randomized clinical trials—the gold-standard for understanding whether a drug is safe and effective—may be warranted to explore whether zinc, vitamin D, famotidine, melatonin and aspirin may work against the coronavirus and COVID-19, Barocas said. "But I am concerned that these drugs, which have no proven efficacy, will be touted as life-saving medications. There is simply no evidence for that."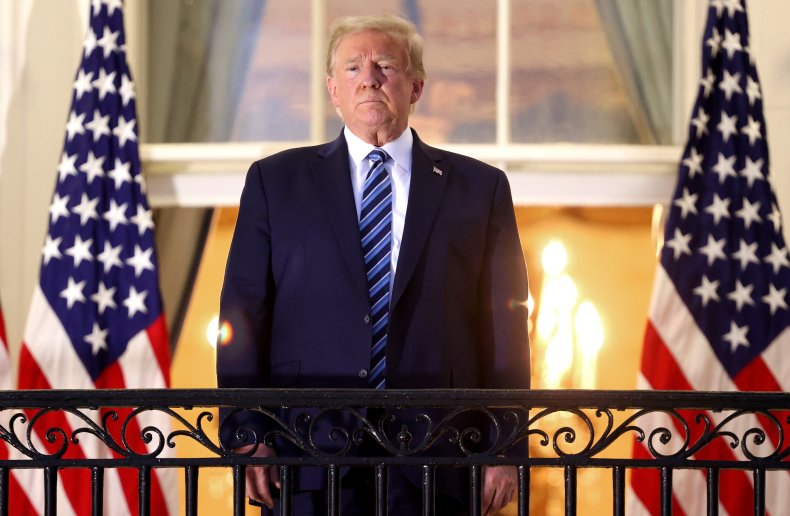 The timing of the spike in searches appeared to have coincided with the release of Conley's memo on Friday. It is not possible to determine whether those searching intended to take the medicines or whether their queries were influenced by the president's treatment.
Searches included "zinc dose for COVID," "melatonin for COVID," "famotidine COVID treatment," "how much vitamin D for coronavirus," "how does pepcid help with coronavirus," "how does melatonin help COVID," and "how much zinc for coronavirus."
Users also asked "what vitamin d for coronavirus," and queried "aspirin for COVID."
"At this point, there is no proven efficacy for any of these medications for COVID," Barocas said. "For instance, small retrospective cohort studies of famotidine—which is not without it's own risks—demonstrate perhaps a decrease in mortality in hospitalized patients with moderate to severe COVID. That said, these are low quality studies and no definitive conclusions can be drawn."
Adequate levels of vitamin D have been linked with a lower risk of poor outcomes from COVID-19, he said, but there is no evidence that people may benefit from taking Vitamin D supplements when it comes to the coronavirus. "Certainly, there is no known benefit of zinc or melatonin."
Daniel Davis, professor of immunology at the University of Manchester, U.K. told Newsweek: "There are some medicines available [for COVID-19] but these are experimental or, in the case of dexamethasone, for example, do not help everyone. There is no miracle cure or treatment at hand."
Christopher Worsham, a pulmonologist and critical care physician at Harvard Medical School in Boston, told Newsweek: "I would hope that a Google search would reveal what these drugs are and what they do. Melatonin, vitamin D, and famotidine are very common drugs but they have no known efficacy against the coronavirus."
Dr. Julian W Tang, honorary associate professor and clinical virologist at the U.K.'s University of Leicester, told Newsweek it was likely the other medications were given as "supportive supplements."
"People need to be cautious about over-extrapolating the clinical outcomes from one individual with COVID-19, regardless of who they are and what treatment they received, to themselves or others," he said.
Professor Sanjeev Krishna of the Institute for Infection and Immunity at the U.K.'s St. George's, University of London, told Newsweek: "The use of any of the currently available interventions (including unproven ones) should never give an individual a misleading feeling of invulnerability against SARS-CoV-2 [the coronavirus], and 'miracle cures' are very rare in medicine."
This article has been updated with comment from Sanjeev Krishna.
Uncommon Knowledge
Newsweek is committed to challenging conventional wisdom and finding connections in the search for common ground.
Newsweek is committed to challenging conventional wisdom and finding connections in the search for common ground.
About the writer
Kashmira Gander is Deputy Science Editor at Newsweek. Her interests include health, gender, LGBTQIA+ issues, human rights, subcultures, music, and lifestyle. Her work has also been published in the The Independent, The Independent on Sunday, The i Newspaper, the London Evening Standard and International Business Times UK.