Trump's Ex-National Security Adviser Says White Supremacists 'Gain Traction' Because President Fails to Condemn Them
Retired Lieutenant General H.R. McMaster, who previously served as Donald Trump's national security adviser, warned that the president's failure to condemn white supremacists emboldens these extremist groups.
During the first presidential debate on Tuesday evening, the president was asked by moderator Chris Wallace to make that condemnation. Instead, he insisted that far-left demonstrators present a greater threat and said the far-right extremist group the Proud Boys should "stand back and stand by."
Although the president and White House press secretary later tried to clarify the remarks and pushed back against criticism, Trump has still not denounced white supremacists.
"It should be super-easy to condemn white supremacists, right?" McMaster told MSNBC on Thursday while discussing the president's comments. "These extremists really gain traction, right, and they draw more people in because there's a perception that they're legitimate and not a fringe, hate-filled movement."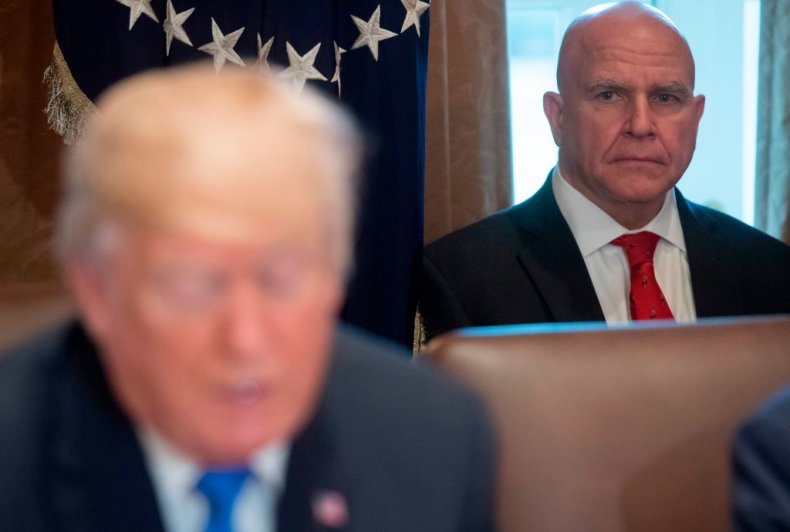 McMaster said that Americans who care about tolerance and democracy "have to be loud and drown out these people who sow hatred and want to divide us." The retired military officer also warned that "the president and others are diminishing our confidence in the democratic process." He said extremist groups "draw power from a sense that people are disenfranchised."
Newsweek reached out to the White House for comment but it did not respond in time for publication.
Press secretary Kayleigh McEnany had a contentious confrontation with Fox News correspondent John Roberts on Thursday, in which he asked her repeatedly if the president condemns white supremacists. "The president has denounced it repeatedly. The president was asked this. You are contriving a storyline and narrative," McEnany responded.
Miles Taylor, who previously served in the Trump administration as the Department of Homeland Security's (DHS) chief of staff, made similar points in a Thursday morning interview with CNN.
"Donald Trump has created, in my opinion, the favorable conditions that have allowed these domestic terrorist groups to rise," Taylor said. The former DHS official explained that the administration "didn't want to pay attention" to right-wing extremists because it sees such groups as "a potential base of support."
Prominent Republicans, including Senate Majority Leader Mitch McConnell of Kentucky and Senator Tim Scott of South Carolina, have said white supremacy should be condemned in the wake of Trump's debate remarks. However, they also suggested that Trump simply "misspoke."
"I think he misspoke. I think he should correct it. If he doesn't correct it, I guess he didn't misspeak," Scott said Wednesday.
McConnell later said he agreed with Scott's remarks. "It was unacceptable not to condemn white supremacists," the majority leader said. "I do so in the strongest possible way."