Trump's Lawyer Rudy Giuliani Claims 'Collusion Is Not a Crime': 'It Was Over With by the Time of the Election'
President Donald Trump's personal attorney Rudy Giuliani asserted that "collusion is not a crime" and defended the president's alleged involvement by saying that, either way, "it was over by the time of the election."
During ABC's This Week on Sunday, host George Stephanopoulos asked Giuliani to comment on the fact that Michael Cohen—Trump's former attorney—provided "valuable information" to special counsel Robert Mueller's investigation into Russian campaign meddling and possible collusion between the then-presidential candidate's campaign team and Moscow officials.
"I have no idea what they're talking about," Giuliani responded. "I know that collusion is not a crime. It was over with by the time of the election."
Stephanopoulos then asked Giuliani whether the president knew Cohen was pursuing the Moscow Trump Tower into the summer of 2016. "Until you actually sit down and answer the questions, and you go back and look at the papers... You're not going to know what happened," the attorney said.
Giuliani also claimed Trump did not know about Donald Trump Jr.'s infamous meeting with Russians at Trump Tower and said he didn't think the president had a tip-off about Wikileaks dumping the DNC and Hillary Clinton's emails, which occurred in the months leading up to the 2016 presidential election. "But if Roger Stone gave anyone a heads up about Wikileaks leaks, that's not a crime," Giuliani added.
Giuliani gave two interviews on Sunday, the other to Chris Wallace on Fox News Sunday, where he denounced Cohen and repeatedly denied Trump had committed any wrongdoing.
"Pathetic. The man is pathetic," Giuliani said of Cohen. "That was a lawyer you were interviewing... He's the guy you depend on to determine whether or not you should do it this way or that way."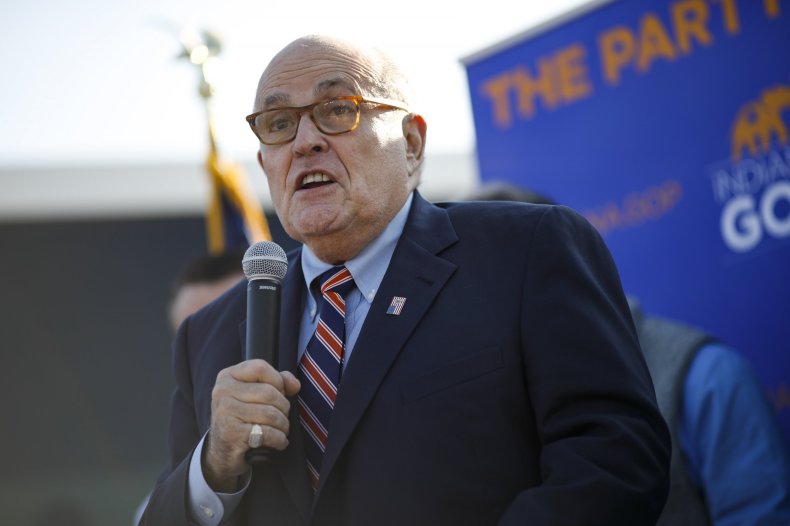 Cohen gave an interview with Stephanopoulos on Friday's Good Morning America, where he asserted that Trump knew about the hush money payments. "Nothing at the Trump Organization was ever done unless it was run through Mr. Trump," Cohen said. "He directed me, as I said in my allocution and I said as well in the plea, he directed me to make the payments, he directed me to become involved in these matters."
On Wednesday, Cohen was sentenced to three years in prison after he pleaded guilty to multiple crimes, including lying to Congress, tax fraud and campaign finance violations. "Today is one of the most meaningful days of my life. The irony is that today I get my freedom back," Cohen said in court. "Blind loyalty to this man led me to choose a path of darkness over light."