Trump's Laying Groundwork to Defend Dr. Oz if He Loses Pennsylvania Primary
Donald Trump is again sowing doubts about the legitimacy of the still unsettled Pennsylvania Republican Senate primary, suggesting without evidence that officials are "finding votes" as ballots continue to be counted.
The former president on Thursday took to Truth Social, his social media platform, to suggest that fraud was preventing Tuesday's GOP primary election from being called. Trump repeated his baseless claim that widespread voter fraud in Pennsylvania and elsewhere robbed him of his reelection. Now, Trump appears to be taking a similar approach should his favored candidate not prevail in Pennsylvania.
The most recent count from state election officials Thursday evening had Trump-endorsed Dr. Mehmet Oz maintaining his lead with 31 percent of the vote. Former hedge fund executive David McCormick was behind by about 1,000 votes.
Election officials are still counting mail-in ballots, which McCormick said Tuesday would put him ahead. In Pennsylvania, election officials are not allowed to open mail-in ballots until Election Day.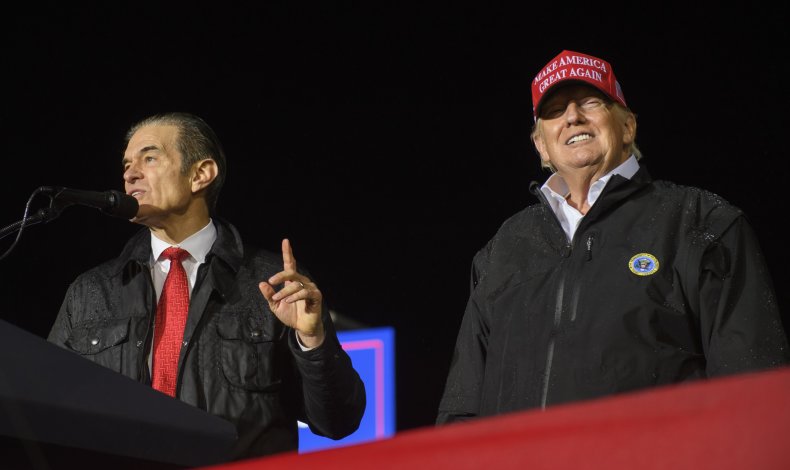 Trump has disparaged voting by mail as being prone to fraud, despite having cast his ballot by mail in Florida.
Although Oz is ahead in the race, Trump has cast suspicion.
"The Pennsylvania Oz race is ridiculous," wrote Trump in his post. "[sic]How long does it take to count votes. France, same day all paper, had VERIFIED numbers in evening. U.S. is a laughing stock on Elections. Stop FINDING VOTES in PENNSYLVANIA! RIGGED?"
A day earlier, Trump encouraged Oz to declare victory in order to make "it much harder for them to cheat with the ballots that they 'just happened to find.'" Trump was panned for the remark on social media.
Pennsylvania is considered a must-win for Republicans for the GOP to take control of the Senate. The race is another test of how effective the former president's endorsement is in pushing his favored candidates to clear victories, as seen elsewhere.
With Oz at only about a third of the vote, political analyst Tim O'Brien said on Twitter Wednesday that Trump's endorsement wasn't having its desired effect.
"Trump couldn't push Oz across the finish line so now he's advising crying fraud," he wrote.
Trump has not provided any evidence of voter fraud in Pennsylvania. On Wednesday, Pennsylvania Acting Secretary Leigh Chapman thanked county election officials and poll workers for "conducting another free, fair, and secure election."
Grace Griffaton, spokeswoman for the Pennsylvania Department of State, told Newsweek in an emailed statement that "the state had a free, fair, and secure election." The statement added that "these attacks against the integrity of our elections are intended to undermine democracy, and we must reject them."
"Allegations of fraud and illegal activity have been investigated thoroughly, and repeatedly debunked and dismissed by the courts," the statement said. "Our county election officials will count every vote and we will oppose any effort to disenfranchise voters, or spread misinformation about the integrity of our voting system."
The Associated Press explained in an article last month that France does see quicker results for its presidential elections. The article noted that the country does not allow mail-in or early voting.
Newsweek has reached out to Trump for comment.
Update 5/20/22, 4:30 p.m. ET: This story has been updated with comment from the Pennsylvania Department of State.